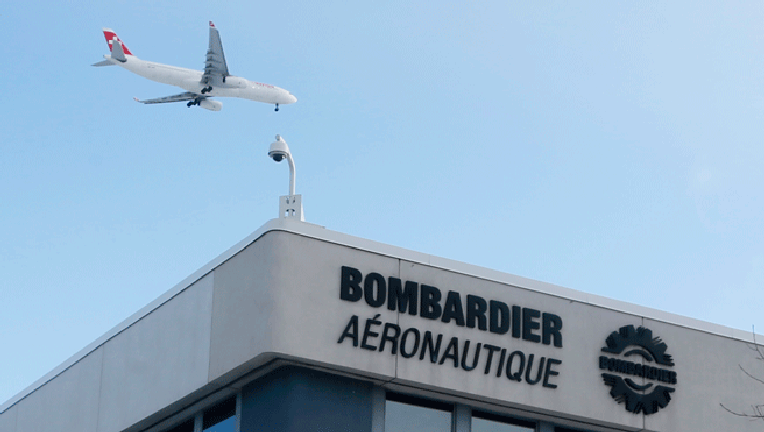 After reporting a quarterly loss, Bombardier Inc said Thursday it plans to raise more than $2 billion in equity and debt, suspend its dividends and shuffle its leadership, bringing in an outsider as chief executive.
The Canadian plane and train maker, which is testing its new CSeries jet that has been plagued by delays and cost overruns, had said just last month it had enough liquidity to fund its development programs.
A former United Technologies Corp executive, Alain Bellemare, will become chief executive on Friday, replacing Pierre Beaudoin, who will become executive chairman. Pierre Beaudoin's father, Laurent Beaudoin, will retire as chairman.
The news comes as Bombardier reported a quarterly loss due to a $1.4-billion charge relating to its decision to suspend development of a new Learjet model, announced last month.
Bombardier said it plans to raise about $600 million in equity and up to $1.5 billion in new long-term debt. Shareholders will need to vote to authorize the company to issue the needed shares at a special meeting.
It will suspend dividends on both Class A and common shares until further notice.
Bombardier said it would explore other options to reduce debt, including "certain business activities' potential participation in industry consolidation."
"This is a new beginning, both for myself and for Bombardier," said Bellemare in a statement. "We must improve profitability and realize the true potential of this great organization."
Bellemare has worked for 18 years at United Technologies, maker of Pratt & Whitney aircraft engines, which power the CSeries. Mostly recently, he headed the company's propulsion and aerospace business.
Bombardier reported a net loss of $1.59 billion, or 92 cents a share, in the fourth quarter ended Dec. 31, after earning a profit of $97 million, or 5 cents per share, a year ago. Revenue grew 12 percent to $5.96 billion.
Excluding the charge related to Learjet, the company earned 4 cents a share, compared with analysts' average estimate of 2 cents, according to Thomson Reuters I/B/E/S.
Bombardier shares closed at C$3.04 on Wednesday on the Toronto Stock Exchange. The stock has lost more than a quarter of its value in the past year. (Editing by Sriraj Kalluvila, Saumyadeb Chakrabarty and Bernadette Baum)