After Karen Mills, What's Next for the SBA?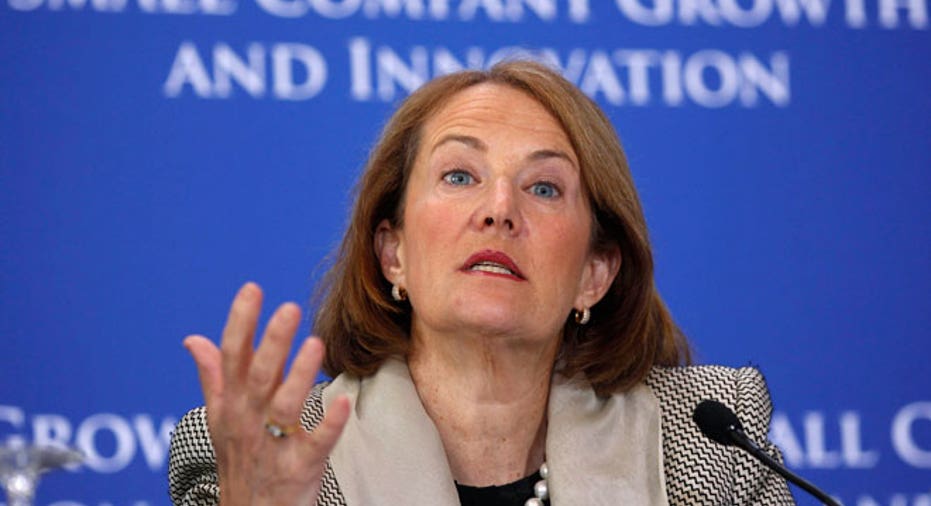 The Obama Administration has yet to appoint a new Small Business Administration (SBA) Administrator, even though Karen Mills announced that she would exit at the end of this month when she takes appointments at Harvard Business School and Kennedy School of Government. Because the job of SBA Administrator, now a Cabinet level position, is so important to the American economy, President Obama is wise to be selective in his choice. And he must make a decision soon.
There are big shoes to fill, as the last two SBA chiefs have been very effective. Mills' predecessor, Hector Barreto served five years as SBA Administrator under President George W. Bush. During his stewardship, the agency exceeded all previous records in small business loans, women and minority owned business support, disaster relief, and private-public sector procurement opportunities. Now a nationally recognized businessman and community leader, Barreto serves as the Chairman of The Latino Coalition, a national organization that represents Latino interests and serves on the Council on Small Business for the National Board of the U.S. Chamber of Commerce.
Karen Mills was appointed SBA Administrator in 2009 by President Obama, who elevated her position to Cabinet-level status in January 2012. Under her tenure, which coincided with the depths of the "Credit Crunch," the SBA backed more than $106 billion in loans to small companies. This included record years of more than $30 billion worth of loan guarantees in both 2011 and 2012. Mills led a charge to make it easier for small businesses to apply for various government-backed loans and automated much of the application process.
Never have political leaders been so focused on entrepreneurship and the flow of capital to startups. This should not come as a surprise since the importance of small business in the U.S. economy cannot be understated. According to the SBA Office of Advocacy's Research and Statistics, firms with fewer than 500 employees:
represent 99% of all employer firms,
provide jobs for over half of the nation's private workforce,
generate nearly two-thirds of all new jobs, and
pay 44% of total U.S. private payroll.
The SBA offers a number of services, including a recently launched online information center to help the owners of small companies with the implementation of the Affordable Care Act's ("Obamacare") regulations. The SBA also provides business counseling and mentoring services, procurement assistance, training, and special programs for women, minorities, Native Americans and veterans.
Most importantly for the economy, the SBA offers a number of very important loan programs, including:
SBA 7(a) Loans: loans that go up to $150,000 available to start a new company or help in the acquisition, operation, or expansion of an existing business. The government backs 75% of the loan, which makes it an attractive option for banks to offer. The 7(a) program also has special funding options for businesses that export to foreign countries or that operate in rural areas. 
SBA Express and Pilot Loans: funding available to active duty military personnel, veterans, and borrowers from distressed communities. SBA Express funding, which comes in loan amounts from $10,000 - $350,000, offers a 50% guarantee on loans, which can help mitigate credit issues such as insufficient collateral or low credit ratings.
SBA CDC/504 Lending Program: a long-term financing tool designed to encourage economic development within a community. It provides funding ranging from $1.5 million to $4 million when meeting job creation criteria or a community development goal. CDC/504 funding is used for fixed asset projects, such as purchasing land and/or buildings, making capital improvements, modernizing or constructing new facilities, or buying long-term machinery and equipment.
SBA Microloans: short-term loans of less than $50,000 to startups, growing small businesses, and some not-for-profit organizations.
SBA Disaster Loans: available through the agency's Office of Disaster Assistance (ODA), this   program provides low-interest, long-term loans for physical and economic damage caused by a declared disaster. 
Small business is America's most powerful engine of opportunity and economic growth, and the SBA plays a vital role in the success of small companies. The agency, which I believe is the most effective government bureau, needs a leader who will be able to build upon the successes of his or  her predecessors and help the American economy continues its rebound.
Rohit Arora is co-founder and CEO of Biz2Credit, an online credit marketplace that connects small- and medium-sized businesses with a network of 1,200+ lenders, service providers, and complementary business tools.  Having arranged $850 million in funding, Biz2Credit is a leading resource for loans, lines of credit, working capital and more.  Follow Rohit on Twitter @Biz2Credit and on Facebook. http://www.facebook.com/businessloan.