After Buffett Buy, BofA Still Has Work to Do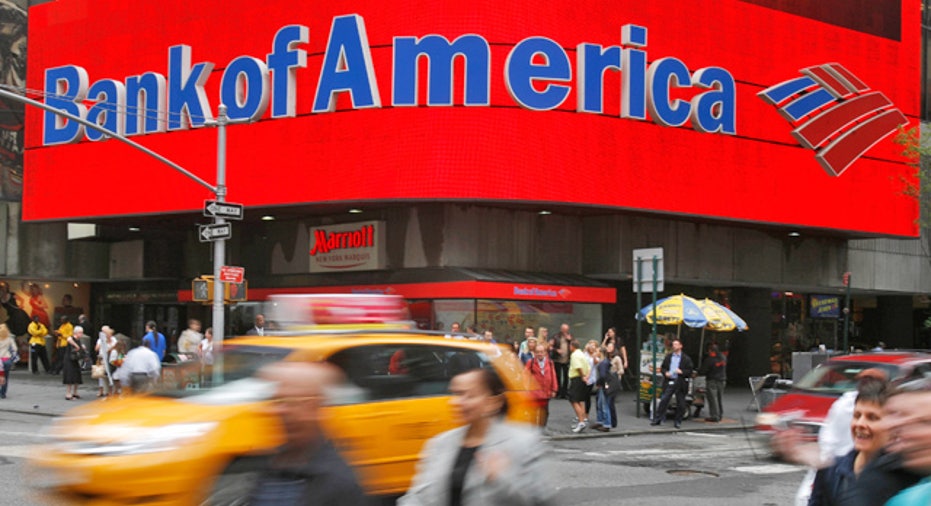 Thanks to Warren Buffetts surprise $5 billion investment, Bank of America (NYSE:BAC) took a serious step on Thursday toward addressing its grave crisis of confidence.
But with the U.S. economy still flirting with a scary double-dip recession and questions lingering about BofAs exposure to legal liabilities, its clear further steps are necessary to right the nations largest bank by assets.
Embattled BofA CEO Brian Moynihan may still need to speed up asset sales, consider raising cash and even fend off further calls for his ouster.
Charlotte-based BofA has been at the center of the tsunami of turmoil slamming Wall Street in recent weeks. Its volatile stock price has become one the best ways to gauge the market's current mood.
Concerns about BofA have focused on a further deterioration in the housing market due to another economic downturn and uncertainty surrounding the extent of the banks mountain of legacy mortgage assets. The bank's shares plummeted nearly 40% in the four weeks ended Tuesday, landing at their lowest level since March 2009.
The market is pricing in the end of Bank of America, said Dick Bove, an influential banking analyst at Rochdale Securities.
Billionaire to the Rescue
In recent days, the cost to insure BofAs debt against a potential default skyrocketed to all-time records, surpassing levels hit when the markets were pricing in the threat of a depression three years ago.
The valuation doesnt make a lot of sense and it makes you worry about what you dont know, said Jefferson Harralson, an analyst who covers BofA at Keefe, Bruyette & Woods. Were worried about what the stock price is trying to tell us.
BofA scored a big win on Thursday when it unveiled a $5 billion investment from Buffett, who received very favorable terms and is widely respected in financial circles.
"I am impressed with the profit-generating abilities of this franchise, and that they are acting aggressively to put their challenges behind them, Buffett said in a statement.
BofA is hoping Buffetts vote of confidence will stem the bleeding, as it did in 2008 when he sank $5 billion into struggling Goldman Sachs (NYSE:GS) in a deal that proved to be mutually beneficial.
The markets share that hope as Wall Street bid BofAs beaten-down stock 9.87% higher to $7.68 Thursday in the wake of the deal and on the heels of a double-digit leap on Wednesday. The cost to insure BofAs debt also plunged.
While confidence in BofA may rise due to Buffetts bet, its important to remember his private deal included very favorable terms: an annual dividend of 6% and warrants to buy 700 million common shares at just $7.13.
If Moynihan really didn't need the money and Buffett really liked the company, Moynihan should have told Buffett to just buy the common shares in the open market, Peter Boockvar, equity strategist at Miller Tabak, wrote in a note.
Capital Levels in Focus
Likewise, Buffett has agreed to buy 50,000 shares of BofA preferred stock, but no common shares. That means concerns about BofAs common equity levels in the event of a negative scenario may not fade.
This doesnt really do anything to bolster those levels, said Jim Sinegal, an analyst who covers BofA at Morningstar.
BofA already needs to raise (or earn) a lot more capital by 2013 to comply with new Basel III standards requiring banks to bolster their balance sheets. BofA is trailing other big banks in this category.
The market thinks they have to raise capital and no one wants to hold the stock if they need to raise capital, said Sinegal. The lower the stock goes, the more nervous people are going to get. It just becomes a vicious cycle.
Bove, who has a buy rating on BofA, firmly believes there is no reason for the bank to raise capital any time soon. He points to the $140 billion in cash and $120 billion in tangible equity the company has as well as widespread predictions it will be profitable over the next two years.
In fact, Bove believes the stock was selling on Wednesday at about a 45% discount to the cash value of the company at liquidation.
The people who have pushed the price of the stock down are not looking at anything related to the companys current balance sheet or current financial situation, said Bove, who has a near-term price target on BofA of $14.
One way to continue the momentum picked up from the Buffett buy could be to speed up asset sales. BofA has already sold 29 businesses since the beginning of 2009, Bove estimates, and plans to unload a host of others. The bank is considering selling at least some of its $20 billion stake in China Construction Bank.
I think some more aggressive actions on that front would do a lot to restore confidence, said Sinegal. The fewer assets you have, the less capital you need.
Will Buffett Infusion Save CEO From Ouster?
Moynihan, 51, inherited a very difficult situation when he became CEO in January 2010. Still, he has been hit with criticism in some corners for his rocky start at BofA. Some believe he has overpromised and underperformed, pointing specifically to failed predictions about a dividend, earnings, loan quality and the direction of the housing industry.
Moynihan dug his own hole and his credibility is very low, Bove said. Still, he doesnt see a reason for his imminent departure.
Sinegal said an early exit for Moynihan is possible, but hed be surprised if it happened in the next quarter or two. He added, I dont think the board wants to replace him based on what may turn out to be a temporary loss of confidence.
Buffetts investment announcement showed strong support for Moynihan, calling BofA a well-led company.
If youre an investor and worried about BofAs management, theres probably no better endorsement, said Sinegal.
Investors appear to be most fearful about the unknown amount of money BofA will have to pay to put to bed an onslaught of legal headaches.
BofA plunged 20% earlier this month when American International Group (NYSE:AIG) unveiled a $10 billion lawsuit alleging the bank committed securities fraud.
BofA is also facing a number of other lawsuits, including an $8.5 billion suit from 22 investors that include the New York Fed, BlackRock (NYSE:BLK) and Pimco concerning $56 billion in toxic securities they bought.
The Buffett deal may buy management further time to hammer out settlements on these and other issues. This in turn would likely give investors greater clarity and quiet the doomsayers.
However, two huge wild cards are still in play and both are out of the control of Buffett and Moynihan: the teetering U.S. economy and worsening European debt mess.
Further trouble on either front could spell disaster for BofA, which has $20 billion in exposure to France and holds roughly $131.8 billion in home equity loans and $303.4 billion in commercial real estate and lease loans. Recent data show delinquencies rising and home prices deteriorating.
Even Bove concedes, If the economy goes into a sustained recession, Bank of America will definitely be hurt.