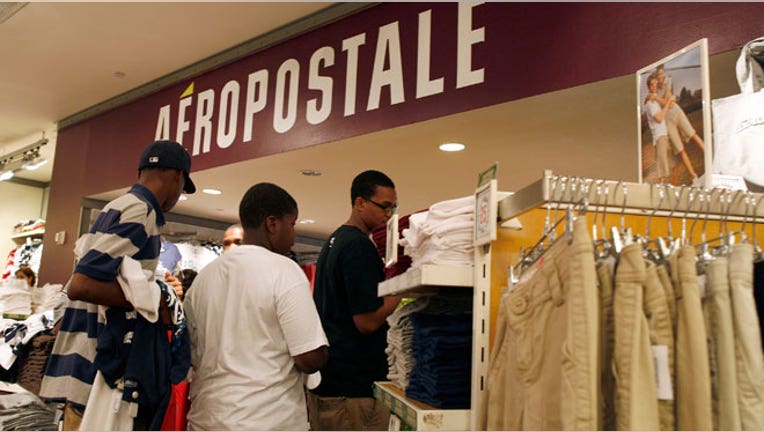 Hit by painfully-heavy promotions, apparel maker Aeropostale (NYSE:ARO) disclosed a deeper-than-feared third-quarter loss on Wednesday and warned of below-consensus holiday results.
The disappointing news from the struggling teen retailer drove its beaten-down shares 5% into the red in extended trading.
Aeropostale said it lost $25.6 million, or 33 cents a share, last quarter, compared with a profit of $25.0 million, or 31 cents a share, a year earlier.
Excluding one-time items, it lost 29 cents a share, trailing forecasts for a loss of 24 cents.
Net sales slumped 15% to $514.6 million, missing the Street's view of $520.2 million. Same-store sales also tumbled by 15%.
"We were more promotional than anticipated in order to strengthen our inventory position going into the fourth quarter," Aeropostale CEO Thomas Johnson said in a statement, adding that the teen retail environment remains "challenging."
Aeropostale projected a fourth-quarter loss of 24 cents to 32 cents per share, far worse than the loss of 8 cents analysts had been modeling.
Johnson said executives were "encouraged" by an "improvement" in sales trends during the Black Friday holiday weekend, but warned of "heightened promotional levels" ahead and "inconsistent" mall traffic this season.
Shares of New York-based Aeropostale shed 4.91% to $8.90 in after-hours trading on Wednesday evening. The slump follows a 3.9% retreat during regular trading that left the retailer 28% in the red on the year.
Last month, Aeropostale installed a poison pill aimed at warding off unwanted takeover attempts. The move came after Crescendo Partners sent the company's board a letter urging it immediately start a sale process.
Aeropostale isn't the only retailer in pain as shares of Express (NYSE:EXPR) plummeted 23% after the apparel maker posted a third-quarter earnings miss and warned holiday season profits would unexpectedly shrink.