Adam West, TV's campy Batman in 1960s series, dies at age 88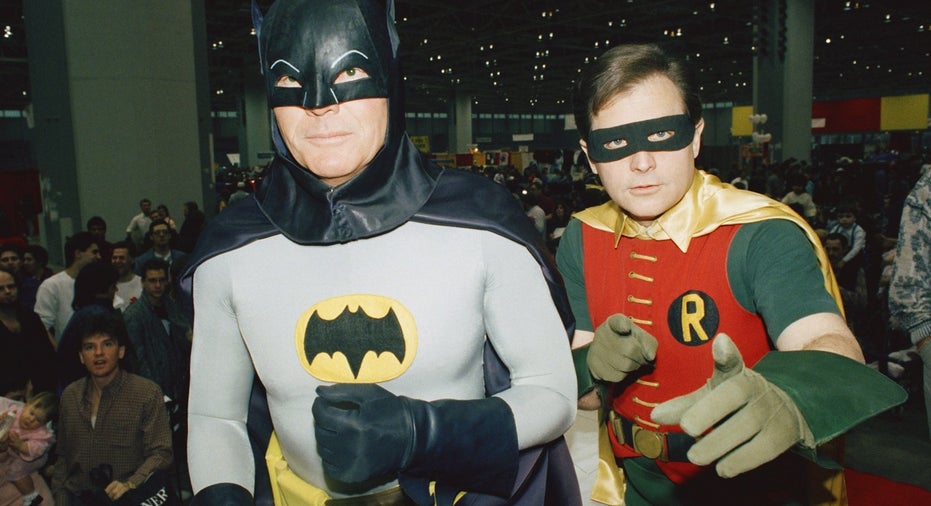 Adam West, who earned a place in American pop culture history with his campy portrayal of the title character in the classic 1960s TV series "Batman," has died at age 88, his family said on Saturday.
West, who was so closely identified with Batman for the rest of his life that it was both a blessing and a curse for him, died on Friday evening after a short struggle with leukemia, his representative told Variety.
"He was the greatest. We'll miss him like crazy," his family said on the actor's Twitter page.
The live-action "Batman" show, starring West along with Burt Ward as his sidekick Robin and a collection of colorful villains, was inspired by a long-running comic book series. It ran only three seasons from 1966 to 1968 on the ABC network, but became a television phenomenon and cult classic. It also spawned a "Batman" feature film in 1966.
West portrayed Batman and his alter ego Bruce Wayne as painfully earnest, straight-laced, clean-cut and trustworthy. The darker aspects of the Batman character - mined so successfully in later film versions - were ignored.
The show's various memorable villains - Cesar Romero as the Joker, Frank Gorshin as the Riddler, Burgess Meredith as the Penguin and Julie Newmar as Catwoman - were allowed to chew the scenery. Numerous Hollywood luminaries stepped in to play Batman's demented adversaries in the show's 120 episodes.
"He was bright, witty and fun to work with," Newmar said on Saturday in a statement. "I will miss him in the physical world and savor him always in the world of imagination and creativity."
After the cancellation of the series, West found it difficult to land other acting jobs, even though he was an established film and TV actor, because he had become so linked to the Batman role.
Eventually he came to accept that his identity was closely intertwined with the masked crime-fighting hero in the black cape whether he liked it or not. He often was hired to play a comically fictionalized version of himself in live-action and animated roles and became a successful voice actor.
On the long-running animated series "Family Guy," he provided the voice of the character Mayor Adam West. He played himself for years on the animated "The Fairly OddParents" and appeared on the venerable animated series "The Simpsons." West also voiced the Caped Crusader and other characters in numerous animated incarnations of Batman.
'CURIOUS STIRRINGS'
"We had some very good writers for the original show," West said in a 2010 interview with the Slice of SciFi website. "They saw the craziness, the comedy. You know, just as he's about to put her in (jail), Batman says to Catwoman, 'You give me curious stirrings in my utility belt.' That's funny stuff."
In protecting Gotham City from super criminals, Batman and Robin invariably would find their lives threatened in some fiendish trap, only to escape using their endless ingenuity.
For example, Robin was once nearly swallowed alive by a giant clam in an episode with the Joker. Batman and Robin were nearly turned into frozen desserts - Frosty Freezies - in an episode with famed film director Otto Preminger as Mr. Freeze.
Like some other actors who became inseparable in the minds of fans from a character they played - Leonard Nimoy as Mr. Spock on "Star Trek" is another example - West long resented his association with Batman but learned to like it.
"I think it was a very simple deduction. I think any intelligent person would come to the same conclusion," he said in 2010. "And that is: if I am being turned down for other roles because of my association with Batman, then maybe what I should do is really embrace Batman. Pursue it and keep it alive, which is what I've been trying to do for 30 years."
Bob Kane, who created Batman in 1939, seemed to agree. West kept a drawing of Batman by Kane, who inscribed it: "To my buddy, Adam, who breathed life into my pen and ink creation."
While struggling to land post-Batman acting roles, West turned to making personal appearances wearing the Batman cape and cowl - some rather undignified, as when he appeared on a Memphis pro wrestling program opposite wrestler Jerry "The King" Lawler.
West was born as William "Billy" Anderson in Washington state in 1928. He took the name Adam West when he came to Hollywood in 1959.
Pre-"Batman," he co-starred in the 1965 Three Stooges feature film "The Outlaws Is Coming" and the 1964 sci-fi film "Robinson Crusoe on Mars." But it was his performance in a TV commercial that caught the notice of the "Batman" producers.
"They'd seen a series of commercials I'd done for Nestle Quick instant milkshake in which I did a kind of spoof on the James Bond character," West told Bizarre magazine in 2004. "They saw the commercials and thought, 'Hey, maybe this is the guy that can play the character in the way that we envision it.'"
(Additional reporting By Frank McGurty in New York and Alex Dobuzinskis in Los Angeles,; Editing by Chizu Nomiyama and Marguerita Choy)