Activist Investor Barington Turns Up the Heat on Olive Garden Owner Darden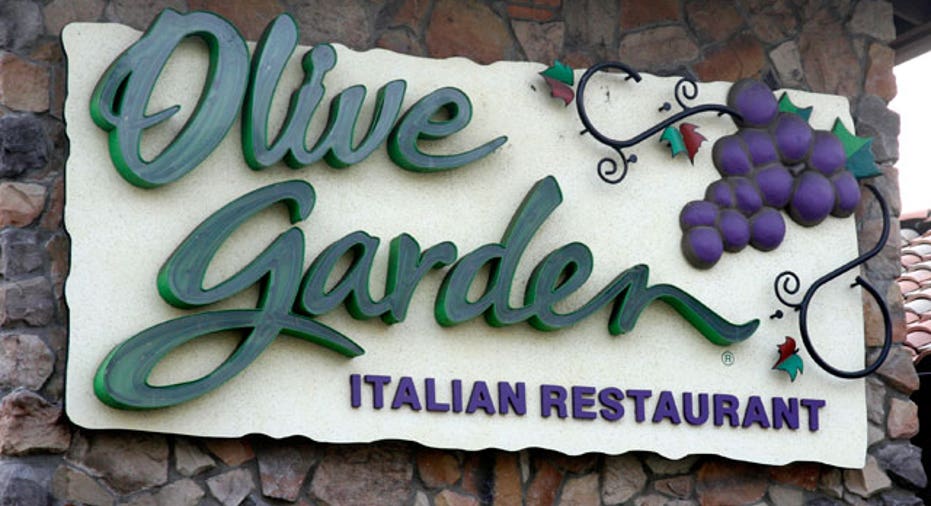 Activist investor Barington Capital issued a new report on Tuesday arguing Darden Restaurants (NYSE:DRI) could be worth up to $80 a share if the Olive Garden parent enacts a series of strategic changes.
That $80-a-share projection represents a 73% increase from Darden's closing price the day before Barington's stake was revealed in October and is above the firm's earlier estimate of $76 a share.
The new assessment is based on a month-long independent review of Barington's recommendations by Houlihan Lokey, a financial advisor.
"Houlihan Lokey's work reinforces our confidence that Darden has the potential to deliver significantly stronger returns for shareholder," Barington CEO James Mitarotonda said in a statement. "We look forward to sharing our updated presentation with the company and remain committed to helping improving long-term value for the benefit of all Darden shareholders."
Like previous criticisms from Barington, the new report argues Darden's acquisitions of five brands over the past six years has made the business too complex to manage.
In addition to Olive Garden, Darden owns Red Lobster, LongHorn Steakhuose, The Capital Grille and Yard House.
"Darden has become, in our view, too complex and burdened to compete with its more focused and nimble competitors," the report said. "We believe that Darden's corporate centralization and resulting internal complexity have contributed to the company's declining financial performance and eroding competitive position."
Orlando-based Darden declined to comment.
Barington recommends Darden create two independent restaurant companies, one mature company that houses Red Lobster and Olive Garden, and a higher-growth one for brands like Bahama Breeze Island Grille and Eddie V's Prime Seafood. The idea is that separate companies would allow management to improve operating execution by narrowing its focus.
"I don't know if it makes as much strategic sense as Barington is making it seem here," said R.J. Hottovy, an analyst at Morningstar. Hottovy noted that while the higher-growth brands "would command a higher multiple," Darden would "lose some value" on the more mature brands.
Yet Barington has not made the sum-of-the parts are greater than the whole argument that activists pushing for a split typically do. Instead, the firm believes the value would be created by the sharper focus and execution.
Morningstar currently has a two-star rating on Darden out of five and a fair value target of $45, compared with the stock's closing price of $52.29 on Monday.
Barington is also calling on Darden to unlock the value of real-estate assets by creating a publicly traded real-estate investment trust, or REIT, and to cut operating expenses by $100 million to $150 million.
If those recommendations are fully implemented, Barington sees Darden's common stock trading at $71 to $80 a share, compared with its close on October 8 of $46.28.
Hottovy said there's "certainly opportunity" on the expense front, calling it "probably the most attainable of the strategic plans" presented by Barington.
Darden has said it is studying Barington's results and has tapped Goldman Sachs (NYSE:GS) to advise it on the matter.
The restaurant company is scheduled to announce quarterly results on Thursday and CEO Clarence Otis, Jr. is expected to take questions from analysts.
"This call will be the most important call of CEO Clarence Otis' career," Howard Penney, a managing director at Hedgeye Risk Management and critic of Darden management, wrote in a recent note to clients. "His choice of direction will determine if a dramatic shift in strategy is pursued at Darden to provide the necessary focus in order to achieve significant increases in shareholder value, or if the company will continue with the status quo."
Penney, who earlier this year called for Darden to hire a new CEO, said investors could see Darden management "digging their heels in and sticking with the 'change nothing' philosophy."
Other outcomes include announcing a "small cut" to the company's growth capital expenditures or conceding to pressure to break up the company, Penney said.
Hottovy said he sees Darden's annual analyst day in February as the "more appropriate venue" to talk about new initiatives, though he said Otis does have to at least address the Barington pressure this week.
Shares of Darden slipped 0.36% to $52.10 Tuesday afternoon, leaving them up 15.6% on the year.