Activision's 'Call of Duty: Ghosts' Tops $1B on First Day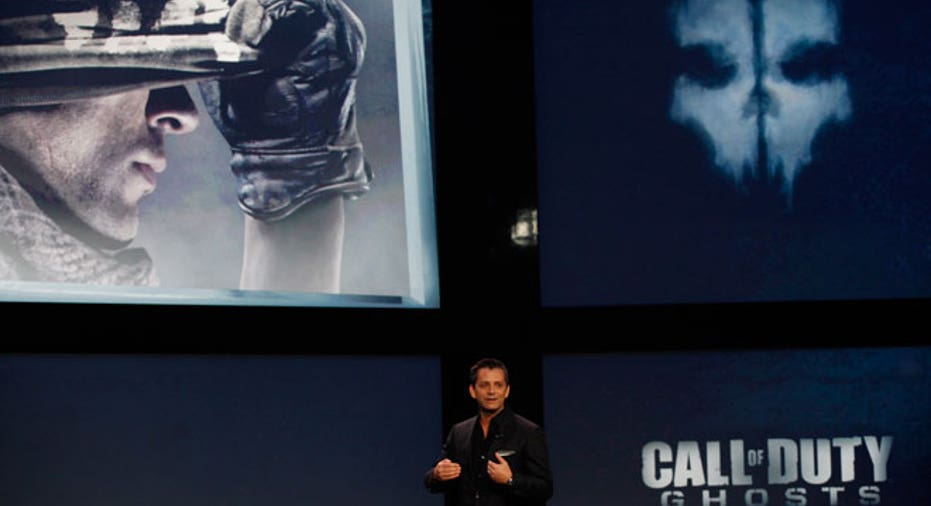 Activision Blizzard (NASDAQ:ATVI) said "Call of Duty: Ghosts," the latest title in its popular gaming franchise, surpassed $1 billion in sales to retail stores on the first day.
The video game is eyeing a record set in September by Take-Two Interactive Software's (NASDAQ:TTWO) "Grand Theft Auto V," which took three days to hit $1 billion in sales to consumers and sold $800 million on launch day.
Last year's "Call of Duty: Black Ops II" reached $1 billion in 15 days, after posting $500 million in first-day sales.
Initial sales of the top video games have come in well ahead of movies and other entertainment. The 2009 movie "Avatar," which topped the $1 billion mark in 17 days, is the only major entertainment release to come close.
"Call of Duty: Ghosts" hit store shelves on Tuesday, with midnight openings at 15,000 locations worldwide.
The $60 military simulation game is available for Sony's (NYSE:SNE) PlayStation 3, Microsoft's (NASDAQ:MSFT) Xbox 360, Nintendo's Wii U and PCs. Versions for the new PlayStation 4 and Xbox One consoles will be released on Nov. 15 and Nov. 22, respectively.
Activision also launched a new mobile app for Google (NASDAQ:GOOG) Android, Apple (NASDAQ:AAPL) iOS and Windows 8 devices.
GameStop (NYSE:GME) said the latest "Call of Duty" is on pace to be the video game retailer's most-reserved title this year.
"This is the must have launch title for the next generation of consoles, and we expect 'Call of Duty: Ghosts' to be the most successful launch title for the Xbox One and PS4 by a wide margin," said Eric Hirshberg, CEO of the Activision Publishing subsidiary.
Activision Blizzard CEO Bobby Kotick added that "Call of Duty: Black Ops II" and its digital content have generated more revenue in the last 12 months than any other console game has in a single year.
Activision is expected to report third-quarter earnings later Wednesday.
Shares jumped 1.2% to $16.73 in early morning trading. The stock was already up 55.6% on the year through Tuesday's close.