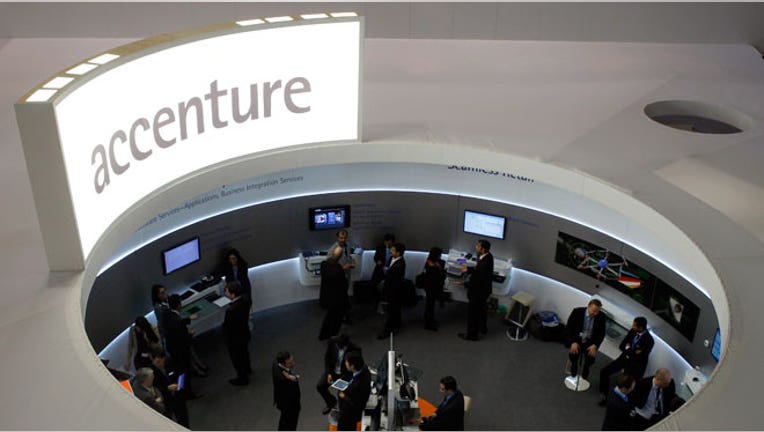 Accenture (NYSE:ACN) said Thursday its second-quarter profit dropped 39%, missing Wall Street expectations even as revenue ticked higher amid record bookings for the consulting firm.
The company reported net income of $671.3 million, or $1.03 a share, compared to $1.1 billion, or $1.65 a share, in the same period a year earlier. Revenue was up 1% at $7.13 billion.
The year-ago period included a $243 million tax benefit, plus $224 million from a reduction in reorganization liabilities. Excluding those items, earnings were $1 a share.
Analysts projected per-share earnings of $1.04 and revenue of $7.21 billion for the latest period.
Shares slumped 6% to $77.93 in recent trading. Through Wednesday's close, the stock was up nearly 1% on the year.
Accenture, which recently became the lead contractor for the ObamaCare website, competes with technology firms like IBM (NYSE:IBM) and Hewlett-Packard (NYSE:HPQ) to win contracts globally. In recent quarters, the Dublin-based company has benefited from stronger results at its outsourcing unit.
New bookings in the second quarter hit a record of $10.1 billion, with consulting bookings of $4.6 billion and outsourcing bookings of $5.5 billion.
Outsourcing revenue jumped 4% to $3.43 billion. However, consulting revenue slipped 1% to $3.7 billion.
Total operating expenses rose 4.5%. Gross margin narrowed to 31.3% from 31.6%.
Accenture raised its full-year earnings guidance, calling for $4.50 to $4.62 a share. It previously anticipated $4.44 to $4.56. Revenue is seen growing 3% to 6%, up from a prior view of 2% to 6%.
For the third period, the company is looking for revenue of $7.4 billion to $7.65 billion, bookending a recent consensus estimate from analysts.
"Looking ahead, we are well-positioned to deliver our business outlook for the year, given our outstanding year-to-date bookings of $18.8 billion as well as the activity and client interest we see in the marketplace," chairman and CEO Pierre Nanterme said.