Abercrombie's 4Q Profits Dive 58%, Top Forecasts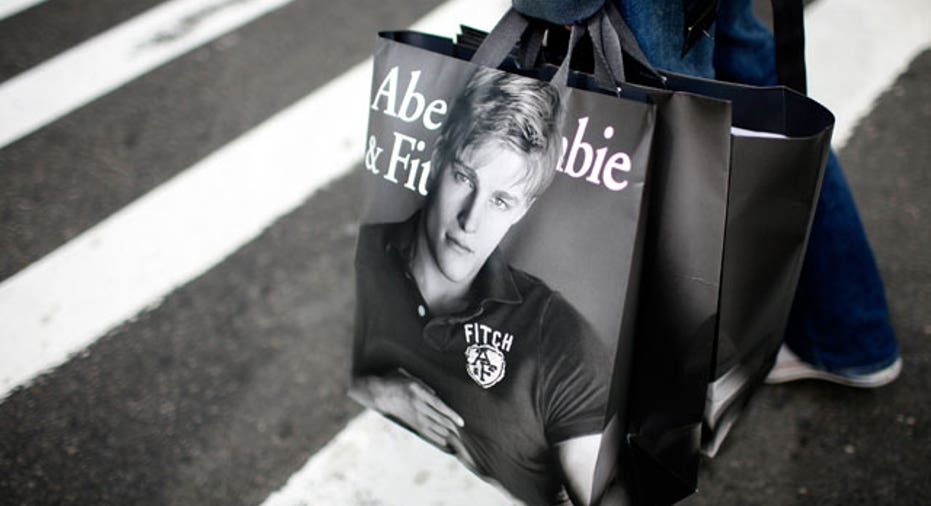 Abercrombie & Fitch (NYSE:ANF) disclosed a 58% tumble in fourth-quarter profits on Wednesday, but the struggling teen apparel maker's profits still managed to easily exceed investors' fears.
Shares of A&F advanced 5% on the earnings beat and enthusiasm for the company's $150 million accelerated share buyback program.
The retailer said it earned $66.1 million, or 85 cents a share, last quarter, compared with a profit of $157.2 million, or $1.95 a share, a year earlier.
Excluding one-time items like $36.8 million in charges tied to the restructuring of the Gilly Hicks brand, it earned $1.34 a share, which is well ahead of the Street's view of $1.03.
Revenue fell 12% to $1.3 billion, trailing consensus calls for $1.36 billion. Same-store sales slumped by 8%.
A&F cited "a challenging retail environment, particularly in the teen space."
The company said U.S. net sales tumbled 13% to $852 million, while international revenue declined 9% to $447 million. Direct-to-consumer revenue jumped 18% to $315 million.
"It is important that we return to positive growth, particularly in our core U.S. business, and the steps we are taking as we execute against our long-range strategic plan should put us in a position to achieve this," A&F CEO Mike Jeffries said in a statement.
Looking ahead, A&F projected full-year EPS of $2.15 to $2.35 on a high-single digit decline in same-store sales and a 20% jump in direct-to-consumer sales. Analysts had been calling for EPS of $2.33.
Meanwhile, A&F said its board of directors approved a $150 million accelerated share repurchase to be executed during the first quarter. The buybacks are on top of existing authorization of 16.3 million shares.
Shares of New Albany, Ohio-based A&F rallied 4.61% to $37.65 in premarket trading on Wednesday. While A&F has gained 9% so far in 2014, it remains down 21% over the past year.
Frustrated A&F shareholders have pressured the company to make changes, including last month stripping Jeffries of his chairman title in favor of former Sears (NASDAQ:SHLD) CEO Arthur Martinez.
Earlier this week, activist shareholder Engaged Capital nominated a slate of five candidates to the A&F board.
"For far too long, stockholders have suffered under the failed leadership of a board that has lacked the independence necessary to properly act as our fiduciaries," Glenn Welling, chief investment officer at Engaged Capital, wrote in a statement.