Ab InBev Profit Capped by Weak U.S., Brazil Recession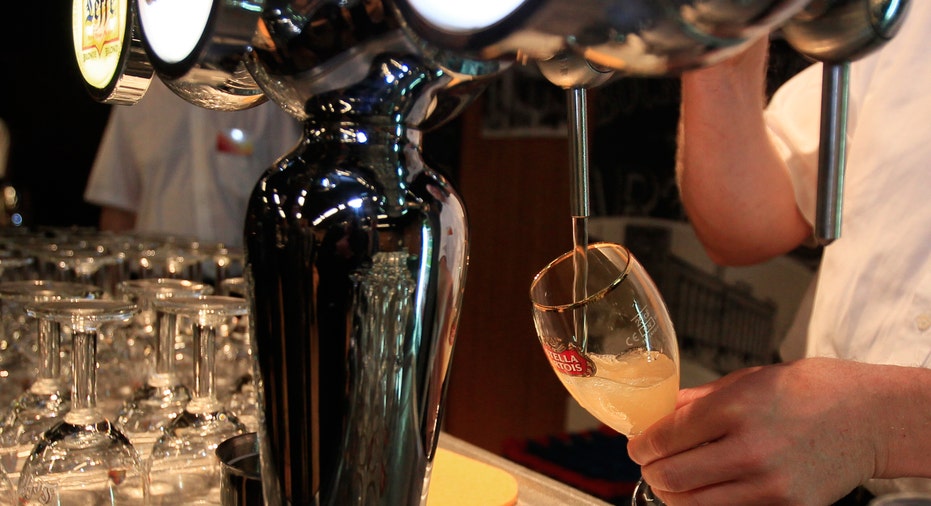 Anheuser-Busch InBev, the world's largest beer maker, increased earnings by less than expected in the third quarter as U.S. consumers drank less, Brazil fell into recession and Mexican cost savings dropped sharply.
The maker of Budweiser, Stella Artois and Corona has coped with past sales falls by raising prices and selling more premium beers, but the strategy had limited impact in the United States and Brazil in the three months to Sept. 30, depressing earnings in its two largest markets. Overall volumes dropped 2.7 percent.
The brewer's shares were down 0.9 percent at 86.40 euros by 1030 GMT, making them the worst performer on the STOXX European food and beverage index and among the weakest of all European blue chips.
"I'm not too sure about the fourth quarter either. I think that could be quite tough," said Societe Generale beverage analyst Andrew Holland, who recently upgraded the stock to "hold" in the expectation of strengthening U.S. wage growth.
"There's not much comfort from the underlying U.S. beer market and I can't see the Brazilian economy suddenly turning around in Q4."
AB InBev reported a 1.3 percent like-for-like rise in third-quarter earnings before interest, tax, depreciation and amortization (EBITDA) to $4.75 billion, against an average forecast of $5 billion in a Reuters poll of nine analysts.
The brewer, which sold more than one in five beers drunk worldwide last year, blamed wholesaler inventory cuts in the United States, its largest market, the timing of price increases in Brazil and reduced cost savings in Mexico - down to $10 million from more than $200 million a year earlier.
"We believe that the third quarter was a one-off in terms of EBITDA performance and is not reflective of expected future trends for the business," the company said.
CHINESE AND MEXICAN BUD BOOST
The brewer did benefit from consumers trading up to premium brands Harbin and Budweiser in China, more than making up for reduced volumes because of cold weather.
In Mexico, meanwhile, a strengthening economy led consumers to drink more and swallow price increases, with increasing numbers also switching to more expensive Bud Light.
AB InBev is the market leader in the United States, Brazil and Mexico - three of the four beer markets generating the most profit - but volume growth was minimal in Brazil. The country fell into recession in the first half of the year, though the soccer World Cup tournament provided a sales uplift in the second quarter.
Europe was also weak, with Russian volumes down 20 percent and consumption falling elsewhere because of very wet weather that dampened sales in the usually busy month of August.
The brewer repeated its view that volume trends would improve in the United States and that sales in Brazil and Mexico would return to growth this year. The company suffered declining sales last year in all regions but Asia-Pacific.
AB InBev's performance chimed in part with Dutch rival Heineken, which last week reported lower than expected third-quarter sales, citing Europe's wet summer. [ID:nL6N0SH0XO}
The growth ambitions of world's top brewers are relying increasingly on Latin America, Asia and Africa amid subdued consumer spending in slowly recovering Europe and limited U.S. expansion.
Still, growth in a number of emerging markets has slowed and consumers there also drink less when it rains, as Heineken discovered in Nigeria and SABMiller in central provinces of China.
More muted growth has led some analysts to suggest that the industry is ripe for further consolidation, with speculation that fierce cost-cutter AB InBev could have SABMiller in its sights.
"M&A remains part of our DNA, but given the brands we have, the market positions we have, we don't feel any pressure for M&A transactions," Chief Financial Officer Felipe Dutra said in a conference call. (Editing by David Goodman)