Aaron Hernandez's Death Could Protect Estate From Victim Lawsuits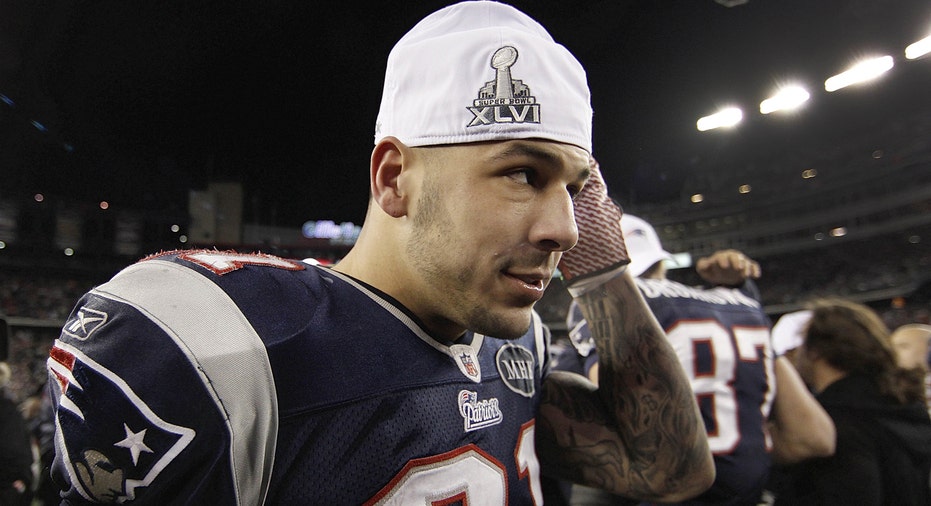 In a surprising twist, Aaron Hernandez's apparent suicide this week could protect his estate and remaining financial assets from civil lawsuits – including the one filed by the family of his murder victim, Odin Lloyd – according to legal experts.
At the time of his death, Hernandez's legal team was appealing his 2015 conviction for Lloyd's murder. The former New England Patriots star was serving life in prison without the possibility of parole. With the appeal left unresolved, the ruling against Hernandez will likely be vacated due to a legal tenant called "abatement ab initio," or "from the beginning."
Under Massachusetts law, the death of a defendant prior to the conclusion of his appeal renders the initial ruling void, according to Michael McCann, a Sports Illustrated legal expert and law professor at the University of New Hampshire. The lack of a guilty verdict on Hernandez's record would complicate any attempt to secure a financial payout from his estate in civil court.
"Hernandez's suicide doesn't end the possibility of civil liability, but it may make it harder to obtain," McCann told FOX Business.
Hernandez, 27, was found hanging in his prison cell just hours before his former Patriots teammates visited the White House to celebrate their win in Super Bowl LI. The apparent suicide occurred just days after Hernandez was acquitted of the murders of Daniel de Abreu and Safiro Furtado near a Boston nightclub in 2012.
It's unclear if Hernandez had any significant financial assets left at the time of his death, after years of criminal and civil legal battles. The Patriots voided the majority of his $40 million contract after his arrest in 2013 for Lloyd's murder. Hernandez's home in North Attleboro, Massachusetts is worth an estimated $1.3 million, according to various reports.
An attorney for Lloyd's mother, Ursula Ward, told the Boston Globe that the family is still pursuing a wrongful death suit against Hernandez. The attorney, Douglas Sheff, said the court has already ruled in Ward's favor, adding that he does not expect that a lack of a criminal conviction on record would affect the court's judgment on financial damages.
But the effect of Hernandez's death on Ward's case and any other civil lawsuits, such as those filed by the families of Abreu and Furtado, has yet to be determined.
"Victims can still bring civil lawsuits, which are not contingent upon a criminal conviction," McCann said. "That said, those lawsuits are more likely to prevail if there is a conviction, since a conviction requires 'beyond a reasonable doubt' and all but ensures that civil liability – which only requires preponderance of evidence – is also proven. Also, some evidence used in the criminal trials may not be admissible in a civil trial."
Aside from the implications in civil court, an erasure of Hernandez's criminal conviction could impact the Patriots. The franchise refused to pay the $3.25 million left on his $12.5 million signing bonus after his arrest, the Associated Press reported. In addition, as an NFL player for three years, Hernandez would, in theory, be eligible for a league pension of unknown value.
With the grounds under which the Patriots terminated his contract no longer in play, Hernandez's estate could argue that he should receive his remaining bonus and pension pay, lawyer Michael Coyne told CSN New England.
The Patriots and the NFL have yet to comment on the situation.