Aaron Hernandez Suicide Notes Revealed to Family: Report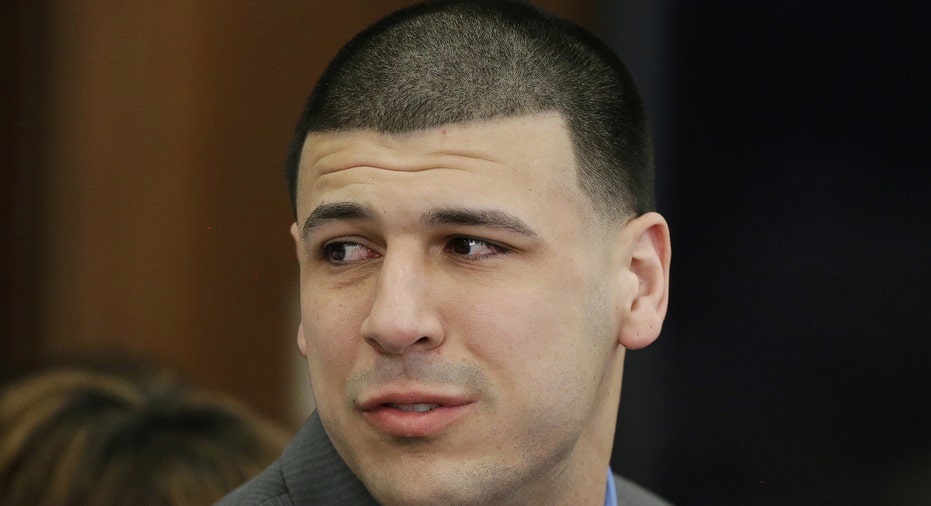 A Massachusetts judge ordered Monday that authorities release the contents of former New England Patriots star Aaron Hernandez's three suicide notes to his family members, including fiancée Shayanna Jenkins-Hernandez, the Associated Press reported.
The judge granted the request filed on Jenkins-Hernandez's behalf despite an ongoing investigation into the circumstances of his death. Worcester District Attorney Joseph D. Early Jr.'s office had purportedly refused to allow the Hernandez family to view the suicide notes because of the investigation. Early's team will be allowed to redact key information to protect the case's integrity.
Hernandez left three suicide notes in his jail cell next to a copy of the Bible, according to the AP. The 27-year-old, who was serving a life sentence at a Massachusetts correctional facility for the murder of former friend Odin Lloyd, was found hanging in his cell on April 19 with Bible verses scrawled on his body.
A Massachusetts medical examiner later ruled Hernandez's death a suicide. The former NFL tight end hung himself just days after he was acquitted for the 2012 murders of two men near a Boston nightclub.
Authorities have yet to comment on the contents of Hernandez's suicide notes. Family members and close friends gathered for an invite-only private funeral in Hernandez's hometown of Bristol, Conn. on Monday.
A legal expert told FOX Business that Hernandez's conviction for Lloyd's murder could soon be vacated due to a Massachusetts legal principle that can void sentences if a defendant dies before the appeal process is complete.