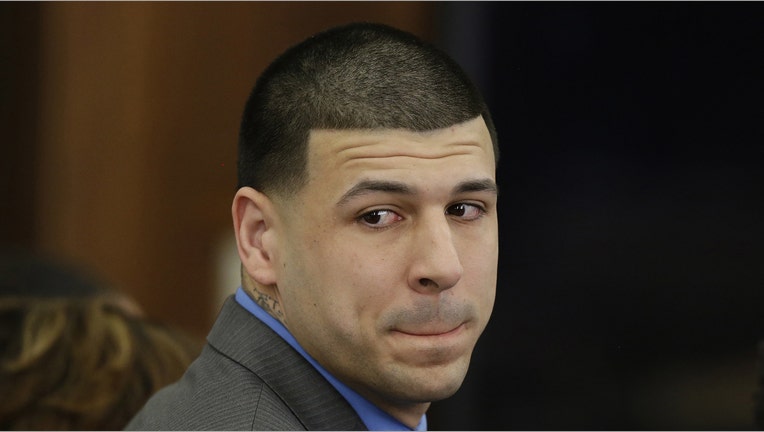 Lawyers representing the families of murder victims Daniel de Abreu and Safiro Furtado in a wrongful death lawsuit against Aaron Hernandez's estate called Tuesday on his former employer, the New England Patriots, to compensate their families.
"We would welcome the Patriots looking into that issue and doing the right thing, which is to compensate the victims," said Kenneth Kolpan, attorney for the de Abreu family, according to the Boston Globe.
Hernandez, who played for the Patriots from 2010 until his 2013 arrest for the murder of Odin Lloyd, was acquitted last April for the 2012 murders of de Abreu and Furtado after a confrontation at a Boston nightclub. Hernandez hung himself in his prison cell just days after the verdict was read.
In a separate comment, William Kennedy, who represents the Furtado family, said any compensation from the Patriots would "make amends" for the victims' deaths.
A Patriots representative did not immediately respond to a request for comment.
Calls for compensation occurred after a lawyer for Ursula Ward, the mother of Odin Lloyd, also called on the Patriots to pay the $6 million bonus Hernandez was owed before his arrest. Ward has a separate pending wrongful death suit against Hernandez's estate.
A Massachusetts judge posthumously vacated Hernandez's conviction for Lloyd's murder last May due to a legal tenant that calls for sentences to be voided if a defendant dies before the appeal process is complete. Prosecutors have since challenged the judge's decision.
While the value of Hernandez's assets is not known, various reports say the estate is essentially worthless, aside from a $1.3 million mansion in North Attleboro, Massachusetts.