Aaron Hernandez Murder Conviction Should Not Void After Suicide: Prosecutors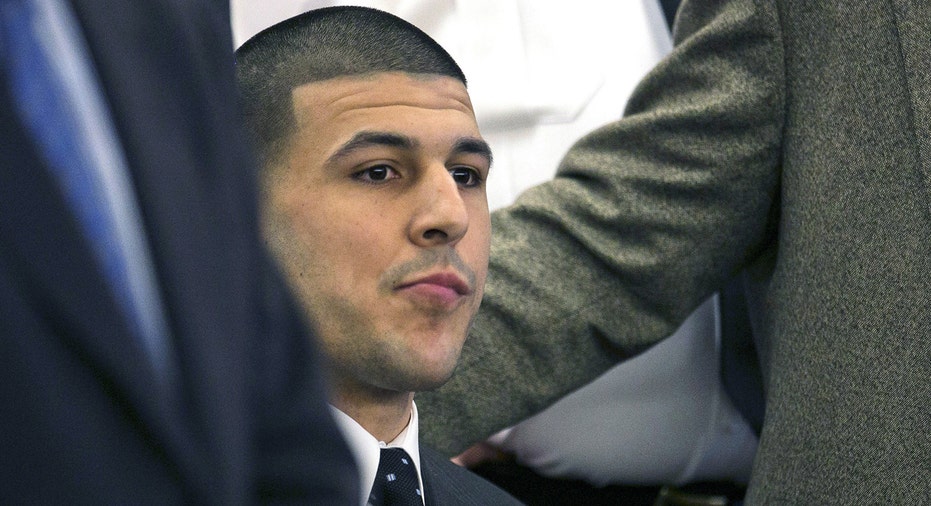 Prosecutors in Bristol County, Massachusetts issued a court filing on Monday to dispute an attempt by Aaron Hernandez's lawyers to vacate the former New England Patriot star's murder conviction after his April 19 suicide, the Associated Press reported.
Hernandez's lawyers argued last week that his conviction for the murder of Odin Lloyd in 2013 should be voided under a Massachusetts legal principle called "abatement ab initio," which allows for a verdict to be vacated if the defendant dies before the appeal process ends. Hernandez was found hanging in a Massachusetts prison cell before his appeal could be completed. The Worcester County District Attorney's office ruled his death a suicide.
Prosecutors say Hernandez's suicide should not serve as grounds to dismiss his conviction because his death "is a result of his own conscious, deliberate and voluntary act," the AP reported. In addition, the filing notes that abatement has rarely been used in practice, and that Hernandez's appeal of the guilty verdict had a "negligible probability of success."
Investigators have yet to publicly identify a motive for Hernandez's suicide. A Massachusetts judge ordered last week that prosecutors release the contents of three suicide notes left in Hernandez's prison cell to his family, despite an ongoing investigation into the circumstances of his death.
Legal expert Michael McCann told FOX Business last month that a vacated prison sentence could make it easier for Hernandez's estate to protect any remaining financial assets from future civil lawsuits.
The Boston Herald reported that Hernandez's estate is worth close to zero, with the ex-NFL star's $1.3 million North Attleboro home as the only remaining asset.