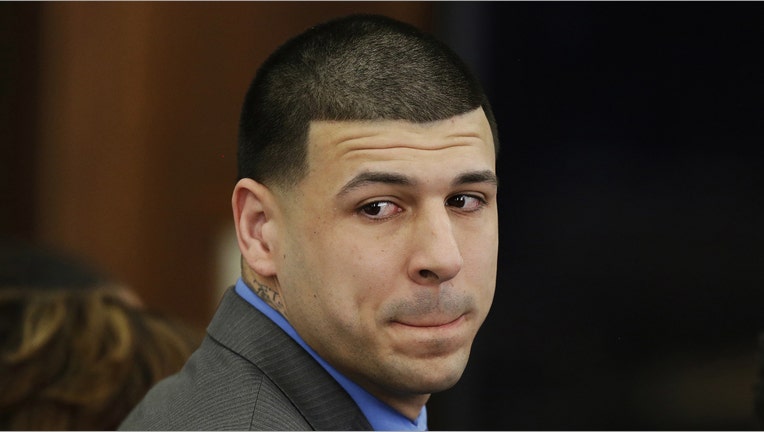 Aaron Hernandez, the former New England Patriots tight end who was serving a life sentence for murder, killed himself in his prison cell Wednesday morning, according to the Massachusetts Department of Corrections.
A former fourth-round draft pick, Hernandez spent three seasons with the Patriots before he was arrested and later convicted for the 2013 murder of his former friend, Odin Lloyd. Hernandez's death came just days after he was acquitted of murder charges in connection with a 2012 shooting.
News of Hernandez's apparent suicide went public just hours before the Patriots were slated to arrive at the White House to celebrate their victory last February in Super Bowl LI.
"We are aware of the reports but I don't anticipate that we will be commenting today," Patriots spokesman Stacey James told the Associated Press.
But not all the Patriots are heading to the White House to meet with President Trump. At least seven players -- including star quarterback Tom Brady -- opted out of the visit.
Brady, who was originally expected to join the Super Bowl champs in Washington D.C., told ESPN Wednesday morning that he would not attend due to "personal family matters."
While Patriots owner Robert Kraft, head coach Bill Belichick and Brady are known Trump supporters, several of the team's players have spoken out against him. Defensive end Chris Long (now with the Philadelphia Eagles), safety Devin McCourty, tight end Martellus Bennett (now with the Green Bay Packers) and running back LaGarrette Blount all cited their opposition to the Trump administration's policies in explaining why they won't attend the White House ceremony.
"When my son grows up and I believe the legacy of our president is going to be what it is, I don't want him to say, 'hey dad, why did you go when you knew the right thing was to not go?'" Long said in a video entitled "Standing Pats" for Green Stripe News, an anti-discrimination activist group.
Linebacker Dont'a Hightower and defensive tackle Alan Branch were also expected to skip the visit, but not for political reasons.
Hightower told ESPN in February that he had already "been there, done that" after visiting the White House when the Patriots won in 2014, while Branch said he planned to spend the time with his family.
Kraft, a longtime friend and political supporter of Trump, dismissed  public scrutiny about which Patriots players would or would not attend the ceremony as a non-issue.
"The facts are, we've had the privilege of going to the White House five times in the last 16 years," Kraft told FOX Business last February. "Every time that we go to the White House, there's about a dozen players who don't go. This is the first time there's been any publicity, so you might ask, why is that? And is there an issue that's trying to be drummed up?"
Brady, whom Trump routinely references as a close friend," told NBC's "Pro Football Talk Live" earlier this year that "everybody has their own choice" when it comes to whether to make the trip to the White House.
"There's certain years, like a couple years ago, I wanted to go and didn't get the opportunity based on the schedule — we didn't get told until I think like 10 days before we were going, and at that point I had something I'd been planning for months and couldn't get there," Brady said.
It's fairly common for players on championship teams to miss the White House visit for scheduling conflicts, personal reasons or myriad other issues.
This isn't the first time an athlete has skipped for visit for political reasons. In January 2012, former Boston Bruins goaltender Tim Thomas opted not to meet with then-President Obama due to disagreements with his policies.
The Associated Press contributed to this report.