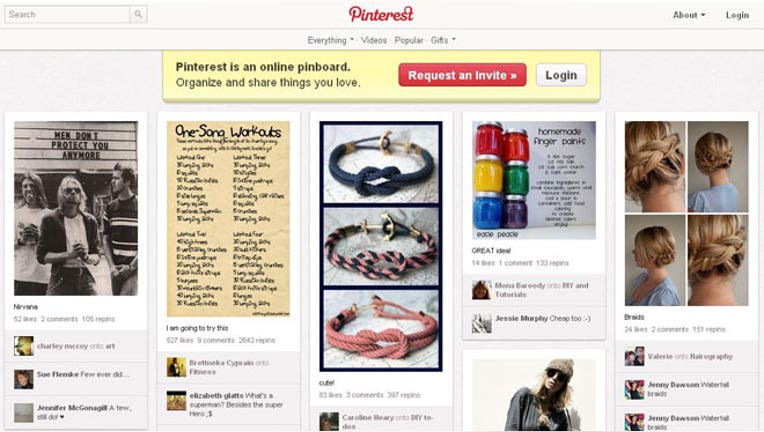 If your business can relate to customers with enticing visuals, then Pinterest — the social media darling of the year — is for you. Here's why.
In early 2012, Sue Zimmerman, founder and owner of a boutique in Cape Cod, Massachusetts, started a Pinterest page to help promote her business, SueB.do. Today, referrals from the relatively new social media network represent 75 percent of the retailer's online sales. Her physical store still dominates annual sales thanks to the busy summer season, but she's committed to maintaining her presence on Pinterest.
"I am a visual thinker and have products that are pretty to look at, so Pinterest is a great opportunity to link back to my blog and website," she says. Like other Pinterest enthusiasts, she enjoys the site because the boards (categories of images, or "pins") are permanent, unlike a tweet or Facebook update that's here today, gone tomorrow. That permanence, she says, can help create a strong brand image and relationship with customers and followers.
Do you really need another social network? First, consider that Pinterest isn't just the new kid on the block, but a novel social network because of its focus on images and "pinning," which is a snappy way to share content without having to actually write something.
6 reasons to start pinning today
1. It's on fire! Pinterest is a booming social media space where your customers might be hanging out — particularly if you sell consumer or lifestyle-oriented products and services.
"In 2011, Pinterest wasn't on the radar, and now it has a 12 percent market penetration," remarks Laurie McCabe, co-founder of the SMB Group, which recently surveyed 665 small and medium businesses on their social practices. Forty-five percent of companies surveyed said that Pinterest creates better interactions with customers and prospects, the second-highest method after LinkedIn and industry forums. Pinterest is also the second-highest method for lead generation and sales (36 percent) and competitive intelligence (31 percent) over Facebook, Twitter and YouTube.
2. Get started in minutes It takes a few minutes to open a free Pinterest account and start pinning, repinning and creating boards — without any instructions. A business could feasibly spend five or 10 minutes a day maintaining its boards by adding new pins and repinning or commenting on the pins of colleagues and friends. To make it even easier to pin an image, you can download the Pin It button to your browser or use the Android, iPhone or iPad app to snap images and pin them on the go. Pins link back to the item's source page, including your e-commerce site.
"Of all the networks, this is one of the easiest to use because it's just images," says Kathryn Rose, a social media strategist and trainer for everyone from startups to multimillion-dollar corporations. For many, Pinterest is a refreshing break from social media tedium, suggests Jason Miles, vice president of advancement at Northwest University in Kirkland, Washington, and co-author of the soon-to-be-released book "Pinterest Power." "People are fatigued by Facebook, and many still don't understand Twitter."
3. Slick viral marketing can boost leads and sales Miles got interested in Pinterest when his wife's business, Liberty Jane Clothing, began to receive a lot of referral traffic from the site. After creating boards and doing their own pinning, revenues doubled and have remained at that level since.
"Other than Twitter, no other social network promotes link sharing so quickly or elegantly," he says. The statistics back this up: RJMetrics reports that 80 percent of pins are repins. "When you're using Facebook, all you can see is how many people hit the 'like' button. But with Pinterest, people are actually putting the content on their own boards," McCabe says.
4. Create a permanent playground for marketing Miles calls Pinterest a "visually based bookmarking system for people who love to curate and collect things." Given the long "shelf life" of boards, Pinterest can become a powerful social tool for marketers.
"It's almost like a whole collection of display ads," Miles remarks. A company might use Pinterest as a second website to store images, build up keywords and links for SEO, and pin how-to information — for instance, recipes from a restaurant or chef, or exercises from a physical therapist. Pinterest also has loose rules for contests and sweepstakes compared with Facebook and other sites, according to Rose: "Anyone who repins an image could enter to win, and you link to an opt-in page on your site."
5. Crowdsource for ideas Rose looks at the boards of her followers to see what they're pinning, which gives her an idea of what clients are interested in buying and doing. Companies can create boards that relate to their product lines — "Beautiful Shoes," for example — and, as another tactic, see what followers like and repin.
6. Tell a story Pinterest can give a small company a colorful and creative way to tell its story to the public. This doesn't mean pinning a bunch of merchandise — but instead, items that relate to the company's brand, values and worldview. "You can show your business in a broader sense or create a 'How We Began' board," Rose suggests.
The rules for engagement on Pinterest are the same as on any other social network: Build a following by posting visually appealing content (make sure you have rights or permission to use the images), share and engage before selling, include useful links and information, and nurture your profile by repinning items. But there's one tip that matters most, according to Miles: "Define your ideal target customer and create a profile that is appealing to that person. It's that simple!"
© Business on Main. Sign up for our Main Street Authority newsletter to get articles like this delivered monthly to your inbox.