A Graduate's Guide to Buying a First Car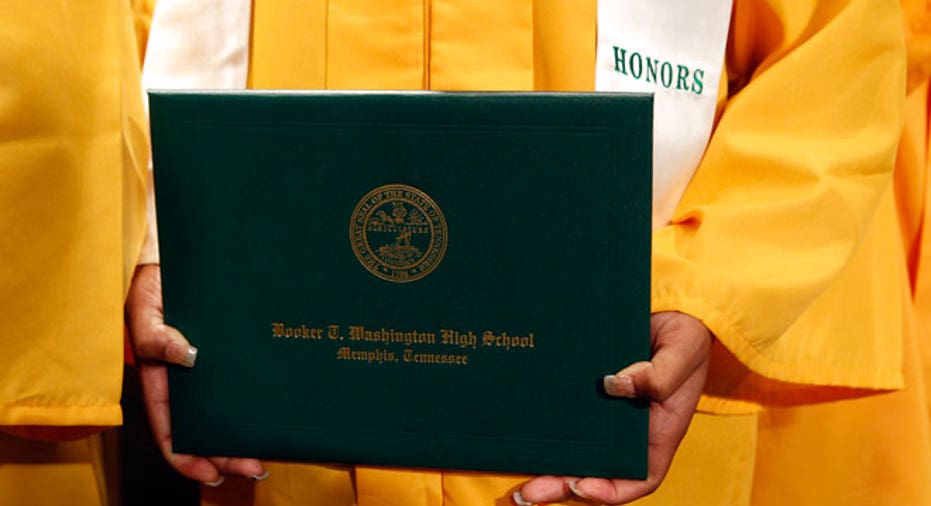 Grads and Getting to Work or Class
Graduates, start your engines.
For many, June means graduations and new beginnings. Whether you're a high school graduate heading off to college or a college graduate heading to a new job, you'll need a way to get there.
Transportation is a must for the grad, but it doesn't have to kill your savings or drain your pocketbook.
"Here's a heretical notion: Buy a car you like," says Jack R. Nerad, executive editorial director of Kelley Blue Book. "Don't, however, mortgage your future just to drive a cool car."
Safety should be a top priority when buying a car, especially if you want to save. According to Tara Baukus Mello, Bankrate.com's Driving for Dollars adviser, grads can save on car insurance by getting a safe vehicle.
And practicality is a must, says Tony Molla, spokesman for the National Institute for Automotive Service Excellence in Leesburg, Va. Basic transportation for an office job might require only a subcompact, while another job may require the utility of a hatchback.
One thing you don't want is to miss class or work. So look for a dependable vehicle. Here's how a graduate can find a car that's reliable, safe and cool, without robbing a bank.
Budget for Total Car Cost
Price tags aren't the only thing you need to consider when a grad is buying a car. He'll need to budget for all current and future expenses. According to Warren Clarke, automotive content editor for Edmunds.com, monthly car payments and related expenses should not exceed around 20% of your net income.
"Remember that any vehicle comes with ongoing costs for fuel, regular maintenance, insurance and things like tolls or parking expenses," Molla says. Depreciation, interest on financing, taxes, fees and federal tax credits also play a part.
Don't leave out other monthly expenses when buying a car. Factor in rent, student loan payments, health insurance costs and other debts. The more those expenses cut into your net income, the less you'll have for car expenses, Clarke says.
Pay for Your Own Ride
Many graduates come out of school with a weak credit history, if any at all. That can make financing tricky. But there are some options when buying a car.
Have a parent co-sign for the car loan. "This enables young drivers to qualify for loans that may not have been open to them otherwise and can help them build a credit history," Clarke says.
If you can't find a co-signer, look for other ways to lower the cost of your car such as incentive programs from manufacturers. Honda, Toyota and General Motors all currently offer new-car discounts to grads.
"Many car manufacturers will give a boost to young drivers because they'd like to get them into the fold," Nerad says.
Mello says to look for an auto loan before car shopping, and be cautious of financing at the dealership. She advises to check with local lenders and credit unions, whose car loan rates may be 1% to 2% less than banks.
If you can pay in cash, don't let anyone talk you out of it. "Paying in cash makes the deal cleaner and easier to calculate. There's really no downside, if you have the cash," Nerad says.
Keep Car Insurance Costs Low
Insurance costs are typically more expensive for younger drivers, especially if they're younger than 25. "Young drivers are riskier for insurers because they take more risks and are less experienced behind the wheel," Nerad says.
You can't change your birthday, but there are other ways to keep premiums low.
Be mindful of car insurance premiums when you're buying a car. "Certain models have steeper insurance costs than others, and you'll want to factor this into your buying decision," Clarke says. Generally, less expensive cars are cheaper to insure.
Good driving behavior also can help you save. Clarke says tickets for speeding and other traffic violations can raise premiums. Look for safe-driver discounts to save some cash. Discounts can range from 10% to 45%, depending on the carrier and its policy.
The amount of coverage you carry also can lower premiums. "Take a look at what coverage you really need. Talk to your auto insurance agent about programs for young drivers that can provide adequate protection at the lowest possible cost," Molla says.
Car insurance companies offer discounts for good students, so keep your GPA high if you're a high school graduate going to college. Car features such as antitheft devices, air bags and antilock brakes are premium droppers.
Decide on New vs. Used
There's no right or wrong when it comes to deciding between new and used cars. Both have their pros and cons.
"One benefit of buying new is the fact that the vehicle is still within the manufacturer's warranty," Clarke says. Warranties can ease a lot of the risk associated with repairs.
New cars also are much more likely to offer the latest in technology and safety features, Clarke says. Crash-avoidance technology is becoming more common on newer models, but there generally are more standard safety features as well.
Used cars are a more frugal option for the recent grad. "Used cars typically offer more car for the money because somebody else experienced the major depreciation of the first few years of ownership," Nerad says.
As long as the used car is five years old or less, you shouldn't have to compromise reliability, safety or model choice, Bankrate's Mello says. She advises to look at certified pre-owned cars, which may be a bit more expensive but often get benefits from automakers such as free maintenance or free roadside assistance.
Be a Savvy Car Shopper
"Getting a good deal is really a matter of doing your homework," Mello says. Start car shopping by doing research online. Third-party vehicle-information sites offer oodles of information on new and used cars.
Shopping online is also a frugal move. "We recommend shopping via a dealership's Internet department. This department almost always offers lower pricing than you'll find with the dealership's traditional sales team," Clarke says.
Most salespeople in the Internet department work on salary and get bonuses based on volume, not commission. You can do the deal online or speak with someone from the Internet department in person. Make sure to test drive the vehicle before making a decision.
The Internet department doesn't have to be your go-to option. Molla says great deals are everywhere. Check out private party buys and places such as CarMax, the pre-owned car firm, in addition to online shopping.
Don't be afraid to haggle. "It's always worth trying to negotiate for a better price," Nerad says. "One key bit of advice: Don't be afraid to walk out of the dealership or say 'no' to a deal. The 'today only, never to be repeated' deal just doesn't exist."