A Glimpse Into the Tech-Savvy Future of Super-Sized Arenas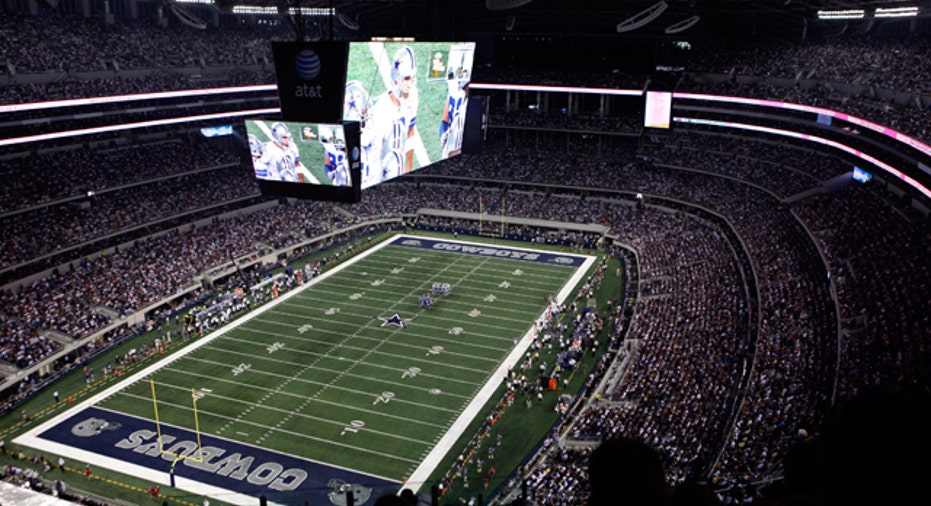 With the cost of attending live sporting events skyrocketing and the La-Z-Boy looking much more appetizing, professional teams like the San Francisco 49ers and super-sized arenas like the Patriots' Gillette Stadium are trying more than ever to fill seats.
The desire to grow the bottom lines of professional sports teams has sparked a huge effort over the last few years to improve the in-person experience for fans.
Part of that effort has been focused on juicing up massive stadiums, wiring them with up-to-date networks that allow teams to increasingly meet the bandwidth-hungry needs of their fans and provide technologically-savvy services.
Theoretically, these so-called "stadiums of the future" would provide game goers unobstructed access to WiFi, allowing fans to give their 3G and 4G a break while accessing both usual and game-specific apps on their mobile devices that enable fans to, say, order concessions or check on bathroom wait times from their seat. Other services include finding empty parking spaces, checking up on fantasy teams and perhaps, most notably, seamlessly watching replays from inside the arena.
Game-day apps already exist. Dasdak, for example, partnered with the Washington Nationals last year to enable fans to order concessions via a mobile device. The reason there's not more wide-use of these platforms is twofold: either there isn't enough bandwidth to enable fans to access apps in a sold-out 60,000-seat stadium, or fans simply aren't aware of their existence.
Cue companies like Silicon Valley-based Brocade (NASDAQ:BRCD), which scored an exclusive contract to provide networking communications infrastructure to the 49ers' new 68,500-seat stadium scheduled to open in 2014, and New Hampshire-based Enterasys, which is the official network provider of the New England Patriots and Boston Celtics.
The two have been busy over the last few years updating 15-year-old stadiums with modern capabilities, empowering tens of thousands of fans to simultaneously access an arena's WiFi to take advantage of the plethora of apps that enrich the in-game experience.
"Certainly interactivity with fans is gong to be something that I think will be the big selling point," said Michael Cramer, former president of the Texas Rangers and Dallas Stars.
Of course, rewiring a stadium as big as the Dallas Cowboy's $1.15 billion monstrosity can be an extremely costly venture.
For many, though, improving the live-game experience for fans has become an imperative amid the ever-improving at-home experience -- where WiFi is abundant and 60-inch HDTVs show crystal-clear RedZone and replays – especially as the economy tightens its chains around fans' wallets.
"Venue operators and teams are really challenged to make sure the experience rises to that level and justifies the expense they're occurring for coming to a game," said Courtney Brunious, Assistant Director of the University of Southern California's Sports Business Institute.
The most profitable teams might decide it's worth the cost. A vast majority of teams in the National Football League are in the black, with the league's most profitable team, the Dallas Cowboys, being valued last season at $2.1 billion, raking in a whopping $500 million in revenue, according to Forbes. While television network fees help, much of their money was made from the stadium, including ticket sales,  concessions and sponsorships with companies like Ford (NYSE:F) and Bank of America (NYSE:BAC).
The same, however, can't be said for other sports, particularly the National Hockey League, where nearly half of the league's teams lost money last season, according to Forbes.
Ticket sales, meanwhile, continue to be a sore spot. While the Red Sox set a record in 2012 for the longest regular-season sellout streak in major U.S. sports history, and the Vancouver Canucks extended their sellout streak this year to more than 407 consecutive home games, there's no hiding the fact that economic realities have caused people to take pause when deciding whether to attend live games.
"They're clearly concerned about the dollar now," said Cramer, who currently serves as professor of sports and media at the University of Texas at Austin. "With the price of tickets going up, there's a real need to figure out a way to keep people sitting in their seats at games."
In an effort to address that, teams are looking to leverage their stadiums' assets "so that fans have a more immersive experience than they do at home," said Brocade chief technology officer Dave Stevens.
Before the start of the 2012 football season, Enterasys installed high-density WiFi at the Patriots' Gillette Stadium in Foxboro, Mass. that essentially cuts through the usual bogged-down networks caused by excessive 3G traffic and provides all fans high-speed wireless connectivity. It was a quasi-test run, and after success this season, Enterasys and the Patriots plan to expand services going forward.
The Patriots' game-day app allows fans to see camera angles and replays in real time, one of the biggest benefits of watching games at home. The NFL's second most valuable team, which raked in some $380 million in sales last season, did this by implementing its own camera angles in the arena, giving it the ability to show replays in real-time just as networks do.
"One of the greatest things of going to a sporting event is the community that forms," said Enterasys CEO Chris Crowell. "Now, you can get that same community while in stadium but also get the benefits of watching high-def TV at home."
In the future, he said, the Pats would like to incorporate richer game-day apps, perhaps one day even allowing premium fans to listen into live audio between coaches and players in the huddle.
All of those improvements down the road can lead to increased revenues, whether it's providing special services to premium fans for a fee or incentivizing them to buy concessions by eliminating the long-line factor.
"Theoretically, that can keep the price down on the main event, which should be helpful in keeping people in the seats," Cramer said.
One last interesting, but possibly far-fetched, revenue driver for professional sports teams down the road could be using virtual technologies, such as holograms, to project a replica of the game into a nearby facility, allowing teams, in theory, to charge for the second-hand viewing.
Of course, some of that is far away. The key for now is just future-proofing current stadiums as much as possible.
"Unless you have a reliable, secure infrastructure, those apps don't work," Crowell said.