A Glimpse Inside Zynga's Real-Money Gambling Playbook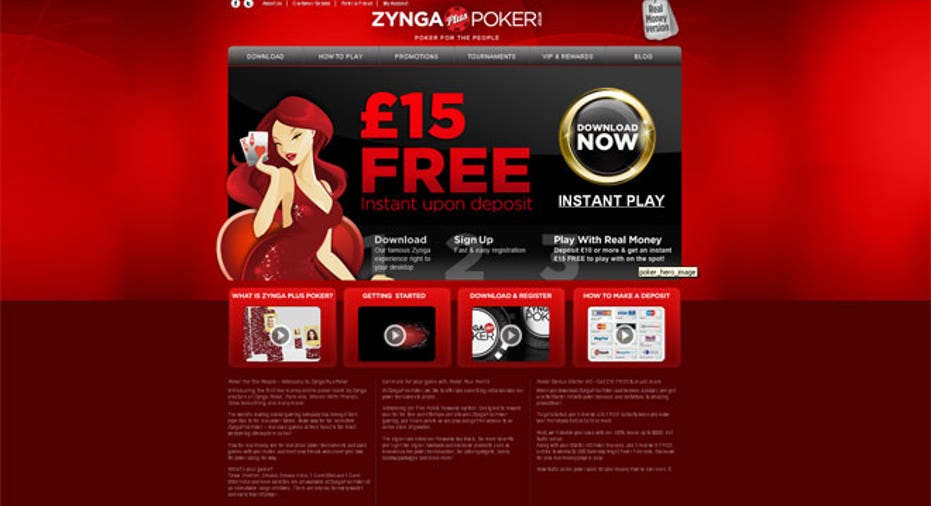 Zynga (NASDAQ:ZNGA) will give a sneak peak of what the future of real-money gambling on social networks will look like at a small gaming summit in Barcelona on Thursday.
While the remarks made by Sean Ryan, head of Zynga's game partnerships at Facebook, will not necessarily be new, shares of Zynga popped in early trade Wednesday as investors approved of the game maker's gradual transition to online gambling.
The San Francisco-based company, which launched its first real-money poker site in the regulated U.K. market earlier this year, will likely unveil the Facebook (NASDAQ:FB) version of its gambling games there within a month, with mobile soon to follow.
The games, including ZyngaPlusPoker and ZyngaPlusCasino, which Ford will showcase at the summit on Thursday, will continue to be developed and operated in the U.K. through its strategic partnership, bwin.party, one of the world's largest online gambling companies.
Zynga sees the U.K. as a test market, a way to evaluate whether the product is feasible and profitable, all while having the benefit of a legal regulated market and the expertise of a seasoned gambling company.
As for the U.S., it still eyes an entrance there eventually, though it will likely take some time as gaming companies take advantage of newly-approved laws in New Jersey and Nevada by applying for licenses to open shop, a process that could take a year.
Zynga hasn't unveiled metrics of its poker and casino games since they launched in April, but it believes the real-money Facebook games could be a game changer, luring in the general U.K. population that has known Zynga for years as a social gaming pioneer.
What will be interesting about the four versions – web and download (both available now in the U.K.) and Facebook and mobile – is that players' digital wallets will be transferrable across the platforms, allowing them to pick up and play at various locations.
"They'll see if this is a viable product and see how it can move forward" if it is, a person close to Zynga's plans told FOX Business.
Ryan told Venture Beat that social gaming continues to be Zynga's "heart and soul," but that gambling is a logical extension for fans who want to bet their own money.
Shares of Zynga were up 2% in recent trade to $3.41. They have risen more than 22% since Zynga named Microsoft's (NASDAQ:MSFT) Xbox chief Don Mattrick as its new CEO on July 1 to work hand-in-hand with founder Mark Pincus.