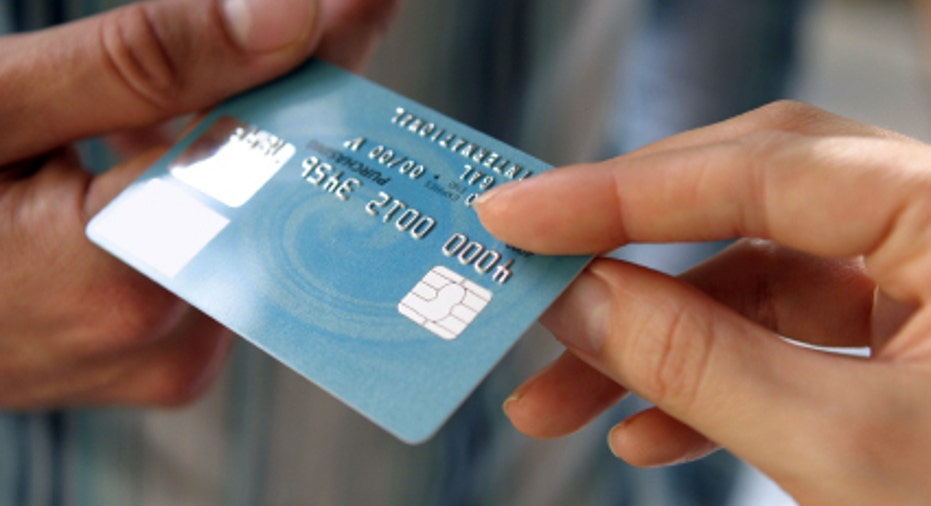 Fifty years ago, the Beatles signed their record deal with EMI, found a new drummer, and started recording their classic songs. In September 1962, with no clue about the fortunes they'd amass as one of the world's biggest rock and roll acts, the Fab Four had to borrow money from manager Brian Epstein for airfare to London for their first recording sessions at studios on Abbey Road. Within a few short weeks, they recorded "Love Me Do," their first single, and "Please Please Me," their first number one hit.
Today, news reports estimate Paul McCartney's personal net worth at over three-quarters of a billion dollars. And, for all we know, the next Beatles are bootstrapping their own recording sessions with help from a credit card instead of a manager. But that got our team thinking about the ways you can think about your own financial stories through song. Therefore, we present our own Beatles anthology:
I Want to Hold Your Hand
It's okay to feel happy inside when you touch your credit card, especially if you carry one of the brands rated highest for customer service. Discover and American Express both earned 5 out of 5 Power Circle marks on the 2011 J.D. Power Credit Card Satisfaction Survey. If you've got a problem, they can't hide: just contact them online or by phone.
From Me to You
Banks want to keep you satisfied, making rewards credit cards more popular than ever among consumers. Although more than half of us prefer to redeem rewards points for cash, credit card issuers instill loyalty by offering discounted merchandise and luxury experiences. For instance, Chase Ultimate Rewards members can book exotic vacations, schedule indoor skydiving jumps or land a walk-on role in a Rockettes musical. Just call on them, and they'll send you along.
Ticket to Ride
American Express and Citibank both want to do right by their cardholders, offering exclusive access and pre-sale opportunities to sporting, arts, and entertainment events. For example, American Express cardholders enjoyed a full day's head start when selecting tickets for Paul McCartney's three most recent tours. Citi Private Pass members get first dibs on tickets for Madonna, Rod Stewart and Stevie Nicks. If you're tired of ticket scalpers driving you mad, carry a credit card with entertainment benefits.
Day Tripper
If your last travel rewards card only took you half the way there, consider getting help from a credit union that routinely gets its members out of sticky situations. The PenFed Premium Travel Rewards American Express Card offers no foreign transaction fees, no annual fee, and a complementary concierge service that can help you get the best flight, the cleanest hotel and the hottest restaurant reservations. With five rewards points for every dollar you spend on airfare, you'll be playing more than one night stands.
We Can Work It Out
Life is very short, and there's no time for fussing and fighting over late fees, penalties and other financial misunderstandings. Citi Simplicity offers a compelling proposition: just promise to stay in touch with the bank, and they won't charge you late fees or hike your APR if you accidentally miss a payment. Only time will tell if their experiment pays off, but eliminating the fear of unexpected credit card fees can help you get more settled in the rest of your financial life.
Get Back
Other banks might say you've got it coming when they deny your credit card application due to a low credit score. Capital One begs to differ. The bank supplements credit scores with information from its massive consumer database. The bank offers credit cards for fair credit with reasonable fees and finance charges. When your credit score really needs some work, you can leave a deposit of a few hundred dollars on file to qualify for a Capital One Secured MasterCard. If you pass the audition, they'll either extend your credit line beyond your deposit or offer you a new, unsecured credit card.
Let It Be
When you find yourself in times of trouble, you want a low interest credit card that can help you float emergency expenses without huge finance charges. The Iberiabank Visa Classic offers one of the lowest variable interest rates on the market, featuring everyday APRs in the single digits for cardholders with excellent credit.
If you need someone to whisper words of wisdom about picking the best credit cards, seek advice from the CardRatings.com Ask the Experts columnists or visit the credit card forum. Whether your fortunes are closer to those of Paul McCartney or Pete Best, the right credit card could in time save you enough money to treat yourself to a Beatles box set or collectible doll.
The original article can be found at CardRatings.com:A Card Day's Night