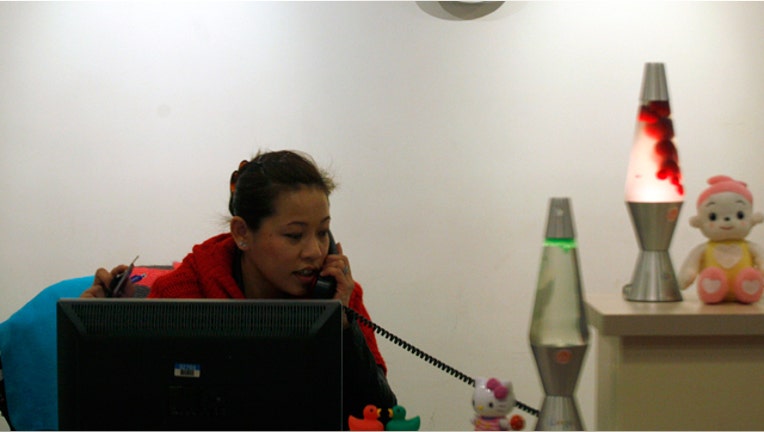 For small business owners, sometimes size matters. And even if your business is really just a two-man show, cheap and simple Internet-based technology can make it look like a large enterprise.
Sunnyvale-Calif. based 8X8 (EIGHT) provides small businesses Internet telephony services that not only enable all calls to appear to be coming from the main office, but also a menu of selections and voice recording and conferencing, for a fraction of the cost of traditional telecommunications systems.
"A lot of small business owners are frustrated about the connectivity challenge," when it comes to using a mobile phone to conduct business, said Chief Executive Bryan Martin. "This is much more professional."
With smartphones playing a critical role in extending business communications systems, 8x8 responded and added an Android application to its offerings earlier this month.
With the app,  iPhone and Android-based smartphones can act as the office's desk phone allowing employees and owners to place and receive calls out in the field (or at line in Starbucks) with the customer being none the wiser.
The app also gives owners a corporate directory and the ability to transfer calls to employees, said Martin. The app works in conjunction with the company's monthly service and is included at no extra cost.
In addition to the app, 8X8 gives small businesses access to high-definition audio IP telephone systems at a subsidized price, similar to telecommunication giants' offers to cut rate prices on a phone if the customer signs up for a long-term contract.
According to Martin, 8x8's entry-level IP phone would cost small business owners $25 while it would cost north of a $100 in a store. Currently 8X8 supports PolyCom and Aastra phones and is in talks about supporting Cisco (NASDAQ: CSCO) phones as well.  The phones 8X8 sell range from $25 to $349.
8X8 sends customers as many Internet phones as needed and setup is easy:  customers just need to plug the phone into the network. The service costs $20 to $25 per extension and 8X8 can port an existing phone number or give the business a new phone number.  The monthly fee also includes unlimited local and long distance calling.
For $49.99 a month per extension, a business owner can get 8X8's Virtual Office Pro Unified Communications Solution, which combines basic communications  with a hosted PBX phone service, unlimited Web conferencing, Internet fax,  call recording and archiving, voice mail management and video chat.
Martin said the call recording and archiving feature has been popular among small business owners because the down economy created a more litigious climate and owners want to keep better conversation records.
8X8 isn't the only telecommunications company offering Internet-based telephone services to small businesses. Earlier this year AT&T (NYSE:T) unveiled its Office@Hand app, which allows users to configure their office phone system while on the go. Still, Martin said what sets his company apart is its catering to small businesses, or what he calls, micro businesses.
"Our average size business is about eight lines and employ five to six people," said Martin. "The market has been fragmented and we find small business owners are confused about what they should be using for their business."