8 Ways to Save Money on Wedding Gifts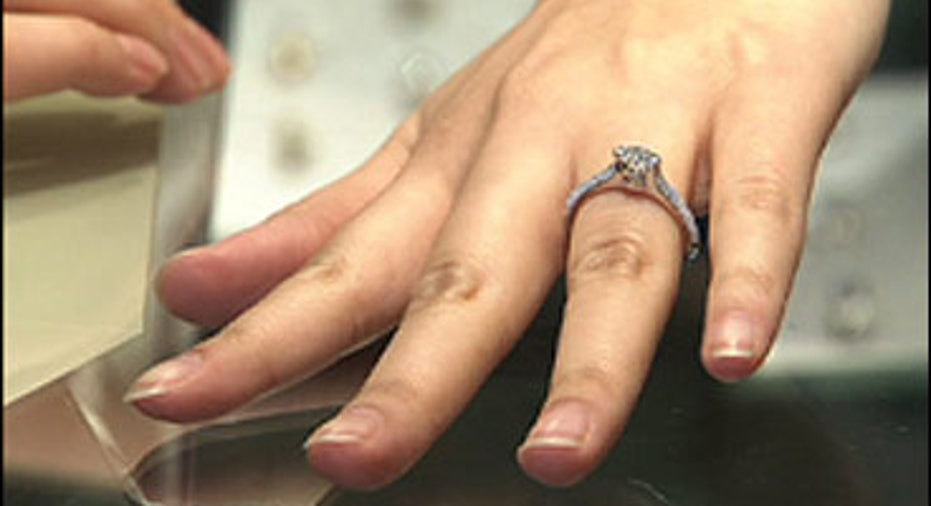 The wedding invitation: treat or trap?
In an era of belt-tightening and beefed-up emergency funds, it can be a financial quandary. Between the engagement party and the big day, the multitude of gifts required for multiple showers, bachelor and bachelorette parties, and -- of course -- the big event itself, can leave a wedding guest flat broke.
"This obviously can add up very quickly," says Amy Eisinger, associate editor for WeddingChannel.com.  "It is an expensive honor to be a wedding guest."
So what's a budget-minded attendee to do?
Here are eight wedding gift secrets to help you find your way without losing your mind or your wallet to wedding fever.
Setting a Total Gift Budget is Smart, not Stingy
Keep it in perspective. If you were invited, (absent rare instances of wedding gift greed), it means you are special to the couple or their family.
And while a wedding gift is never demanded as the price of admission, it's become a custom.
One smart approach: Plan ahead.
Early in the game, come up with an overall dollar limit of what you want to spend on gifts for this wedding, says Eric Tyson, author of "Personal Finance in Your 20s for Dummies." Then decide, of that amount, how much you want to spend for each gift-giving occasion or party.
Whatever limit you set, put aside the bulk of it for the main wedding present, Eisinger says.
On average, guests typically spend $60 to $120 for the wedding gift, she says. Friends average about $79, and family members tend to spend a little more averaging about $146, according to a 2010 study by WeddingChannel.com.
And be realistic. "I couldn't remember five of my wedding gifts," Tyson says. "It's more meaningful to look back at pictures of the wedding and see the good time you shared. People understand that not everyone has a six-figure salary."
You Don't Have to Use the Registry
The wedding gift registry is not a menu. You're allowed to improvise.
"Not everybody is aware of that," says Peggy Post, author of "Emily Post's Wedding Etiquette" and director of The Emily Post Institute. "It's up to the gift-giver to select a gift."
Guests want to select something "they hope the couple will like," she says. "But there is no rule that they have to select something off the registry."
However, not everyone agrees. "We always suggest that people try to stick to the registry," Eisinger says. "The couple created the registry because there are things they really want and really need."
That said, "if you want to go off the registry, try to keep in mind what the couple might actually really want and need," she says. "This is not the appropriate time to give gag gifts."
Or you can use the registry to get an idea of what the couple needs, says Tyson. Then select something appropriate (on or off the list), with your budget in mind, he says.
"You have to be careful not to fall prey to the notion that your affection for people is equated with the money you spend on the gift," Tyson says.
Group Gifts Are Great
Good news for wedding guests who can't spend $100 for a sterling silver tea spoon and still cover the rent: Group gifts are not considered cheap.
Group gifts are an excellent idea, Eisinger says. And they are becoming increasingly popular. It's another way for guests to manage costs and still stick to the registry.
Multiple Parties, Multiple Gifts?
It's the popular wedding guest's worst nightmare: Every party, shower and pre-wedding fete requires yet another gift. How can anyone without  "his or her royal highness" after their name even afford it?
But you don't have to show up with a gift for every occasion, Post says.
"If you're invited to more than one shower, I say be smart about it," she says. "If you feel you're breaking the bank, go with a smaller gift. Attendants, especially, get invited to a lot of showers. You don't have to take a gift to every single shower. Or maybe you don't go to every shower."
Eisinger recommends a slightly different approach.
"It is appropriate to bring a small token of appreciation to each one of the parties you're invited to," Eisinger says.
But don't be afraid to get creative and personal. Some suggestions: compile a book of your favorite recipes, frame a special photo or assemble a small gift basket.
Not Going? Still Send a Present
A wedding gift should never be "expected," Post says. Whether you attend the wedding or not, a gift is traditional.
And if you're not attending, "I recommend that you do send a gift," she says. "That's been the custom in our culture for many years," she says. "Generally, you're invited to a wedding because people know you. (And invitees) are excited and want to do something."
So sending a little something, if you can't make the big event, is a nice gesture, she says.
The one exception: if you and the couple aren't close, Post says. Say it's a third cousin you haven't spoken with in 20 years, or a former co-worker you never see. Then you can -- with a clear conscience -- send a nice card with a note, she says.
But not everyone agrees. And you have to consider your own finances.
"I don't buy into this 'Just because you get invited, you have to send a gift,'" Tyson says. "How about calling a person and congratulating them and catching up? Some might find that more meaningful than getting a carving knife in the mail."
Destination Weddings Have Different Gift Rules
"You're never obligated to give a wedding gift," Eisinger says. And at a destination wedding -- where you've probably spent a lot already just to attend -- the happy couple might not even be expecting a gift, she says.
Still, "it's easy to do something small and inexpensive to show that you're thinking of them," she says.
Some ideas: a nice bottle of Champagne, some mugs or a card with a gift basket.
Busted: The One-Year Rule
Everyone has heard about this one: The "rule" of etiquette that allows guests up to one year to send the happy couple a wedding gift.
The truth: It's an urban legend, probably started by disgruntled groomsmen to annoy a bride.
"If you're sending a gift after the wedding, it's really too late," Eisinger says.
The best policy (budget permitting) is to send the wedding gift before the big day. And never carry a gift to the wedding itself, she says.
But if you're absolutely pressed and can't afford a gift before the wedding, at least keep it to within six months of the big day, Eisinger says.
Cash, Gift Cards and Charity Donations Rock
Want to give something the couple wants but can't afford anything from the registry?
Opt for a gift card from a store that is on the registry in an amount you can afford.
"Gift cards are a wonderful idea, especially if you're going to get one from the same store where they are registered," Eisinger says.
Also accepted everywhere: cash. "You can write a check," she says. "You have gone off the registry, but chances are the couple will be very happy."
For the royal nuptials, William and Kate asked their guests to forgo gifts and instead send a donation to one of several charities.
If your favorite wedding couple is doing likewise, it makes gifting easy and fun. After making a donation, Eisinger says, simply send the couple a nice card and let them know that a donation has been made to the charity in their names.