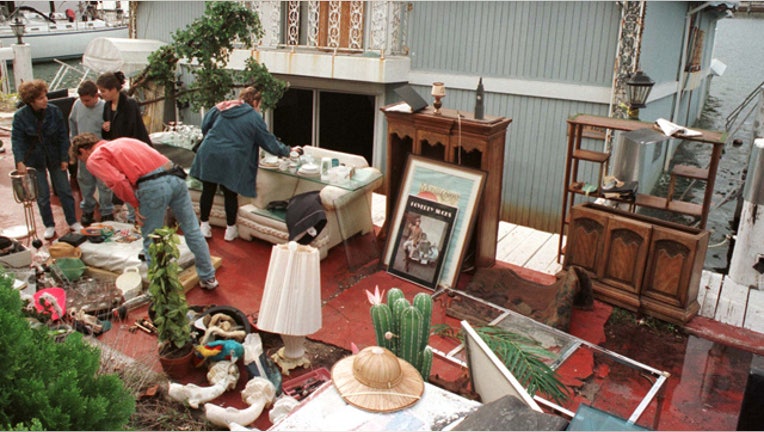 After all the hard work you did spring cleaning, a garage sale is a great way to get rid of things you no longer want, and make a little extra cash.
Here are some tips from Beth Zeigler, owner of Bneato Professional Organizing, on how to make sure your garage sale is a success.
No. 1: Make sure you have enough items to sell.  If you only have a small collection of items, you may be better off donating them to a charity. Or if you're set on selling, team up with friends.
"Get your neighbors involved, a group effort is awesome," Zeigler said. "Then you have helpers to help you sell all day." Keep in mind what items sell well at garage sales—music CDs, children's toys, books and vinyl records, she said.
No. 2: Price everything beforehand. Shoppers will feel more comfortable at a sale with prices that are pre-determined, Zeigler said, so that they don't have to consult you each time they are interested in buying an item. If you don't have the time to price each individual item, like small trinkets, set up a table where everything is $1 or $2.
No. 3: Organize, organize, organize. People attending garage sales know they are looking at used items, but that doesn't mean they don't want to shop in an orderly environment. For example, Zeigler said clothing always sells better when displayed on a garment rack, and cleaning things goes a long way.
"No one wants to look through stuff that is dirty or gross," she said. "Keep it looking like a store—replenish tables with other items after selling things to keep it looking full." Also, make sure you have enough change, a calculator, bags and newspaper to wrap up the items you sell for customers.
No. 4: Advertise. Getting the word out there is half the battle, and Zeigler suggests pulling out all the stops. Listing a garage sale on Craigslist, using social media and of course, hanging signs around the neighborhood.
"It doesn't need to be anything fancy, just bright paper with black lettering," she said. "And, take it down when you are done."
No. 5: Have a clean-up plan. Make sure you know when you plan to close up shop at the end of the day, and make sure you have enough people to help you. Also, have a plan of action for the items you didn't sell.
"Will you give stuff away?" Zeigler said. "Or put it on Freecycle.com? Make sure you have a breakdown and clean-up plan."
No. 6: Have fun. Make your garage sale a place where customers are drawn to, with music and a lively atmosphere. If you're big on social media, Zeigler suggests live tweeting or taking pictures.
"If you are active, people will stop by," she said.