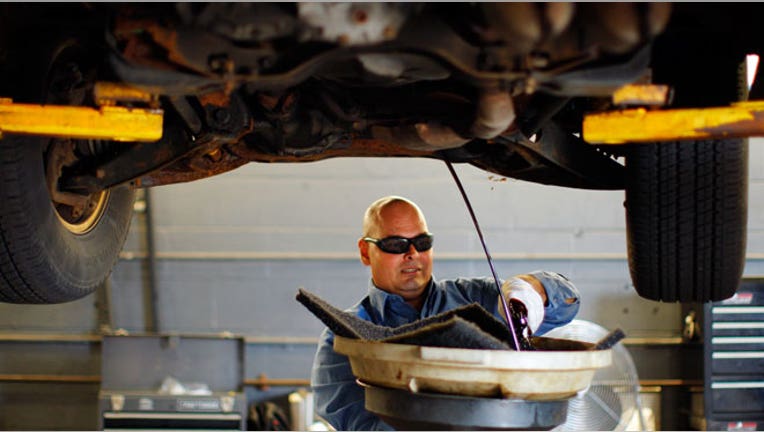 Ever been hit with a whiff of sweet syrup or rotten eggs while driving? It may be the car reaching out, telling you it's sick.
The Car Care Council (CCC) released a report this week connecting a vehicle sniff test to mechanical problems. Ignore that delightful "burning carpet" odor and the brakes may fail on the highway. Beyond the danger, overlooking the warning could leave you with a nauseatingly large garage bill.
Here are the CCC's top six stink signals of potential troubles that should be checked by a mechanic:
Burnt rubber: This smell could come from slipping drive belts or misplaced loose hoses that might be rubbing against rotating accessory drive pulleys. Check for yourself only when the engine has cooled, the council notes.
Hot oil: It may mean oil is leaking onto the exhaust system. To verify a leak, look for oil on the pavement or smoke coming from the engine area.
Gasoline: This familiar odor is likely signaling a gas leak, probably in the fuel injector line or gas tank. "Any smell of fuel can result in a possible fire hazard, so immediate attention should be given," the council warns.
Sweet syrup: It may indicate that engine coolant is leaking from the cooling system. Never remove the radiator cap when the engine is hot, says the CCC.
Burning carpet: The stench could point to brake trouble. "Have your brakes checked right away, especially if this smell is happening during normal driving conditions," the council suggests.
Rotten eggs: This smell "is never a good one," says the CCC, "and could mean a problem with your catalytic converter not converting the hydrogen sulfide in the exhaust to sulfur dioxide properly." It can also signal a poorly running engine that could lead to a catalytic converter "meltdown."
"Unusual smells can be the sign of serious, and potentially costly, trouble for your vehicle," says Rich White, the CCC's executive director, in a press statement. ""When you smell any peculiar odor, you should not ignore it."
Penny Gusner, the consumer analyst for CarInsurance.com, adds that you should be aware of any strange odors after an accident because there could be insurance implications. A typical policy will not pay to repair any additional damage to your vehicle that may come from driving it with an existing mechanical problem. Gusner's advice is to have the auto towed to a garage to better ensure your crash coverage isn't compromised.
When cars break down, there's insurance that can help
A standard car insurance policy doesn't cover mechanical problems separate from an accident, but mechanical breakdown insurance (MBI) does. You can purchase the coverage through a car insurance company, an auto dealership and financial institutions such as a bank or credit union that handles vehicle financing.
While MBI doesn't cover normal maintenance and wear-and-tear on your car, it can add a layer of protection on top of an extended warranty or help cover costs after your warranty expires. The policies typically allow customers to buy repair coverage for a certain number of miles or months.
The cost for MBI varies, depending on the car's age, mileage, history and other factors. Deductibles also vary -- for example, Geico's MBI policy carries a $250 deductible.
A minimum policy may cover repairs such as these:
Transmission and transaxle cases and their internal components
Engine parts such as the oil pump, pistons, timing gears, flywheel and valves
Drive axle housings and internal components, axles and joints
Purchase more insurance and you can add electrical, cooling, steering, air conditioning and fuel system repairs into the coverage. MBI policies do handle garage-time in different ways; some only pay for repairs done at a car dealership or by a preferred mechanic, while others allow you to pick any authorized mechanic.
Further, most MBI policies also cover costs associated with breakdowns, such as towing and rental car coverage, along with 24-hour roadside assistance and lock-out service.
Also, keep in mind that MBI may not be the smartest way to go. Edmunds.com, the auto pricing site, says it could be more cost-effective to save the money you'd spend on MBI and hold it in reserve to pay for any mechanical issues that arise.
MBI will not affect your regular vehicle coverage, according to the Property Casualty Insurers Association of America (PCI) .
There's no connection between mechanical breakdown insurance and car insurance, because the breakdown insurance only covers repairs, which are not part of your driving record unless they are needed because of an accident. If you have an accident, those repairs are covered by your auto insurance, according to the PCI.
Thinking of buying some MBI? The PCI suggests asking the following questions before moving ahead:
Does the policy fit with my manufacturer's warranty?
What repairs are covered and which ones aren't? What are the exclusions?
Can I have the car repaired anywhere?
Is there a network of mechanics I can use if I need a referral?
Is there a fee schedule that needs to be met or will the policy cover any amount a mechanic charges?
How much is the deductible?
The original article can be found at Insurance.com:6 stinky smells that spell car trouble