5 Ways to Get More Financial Aid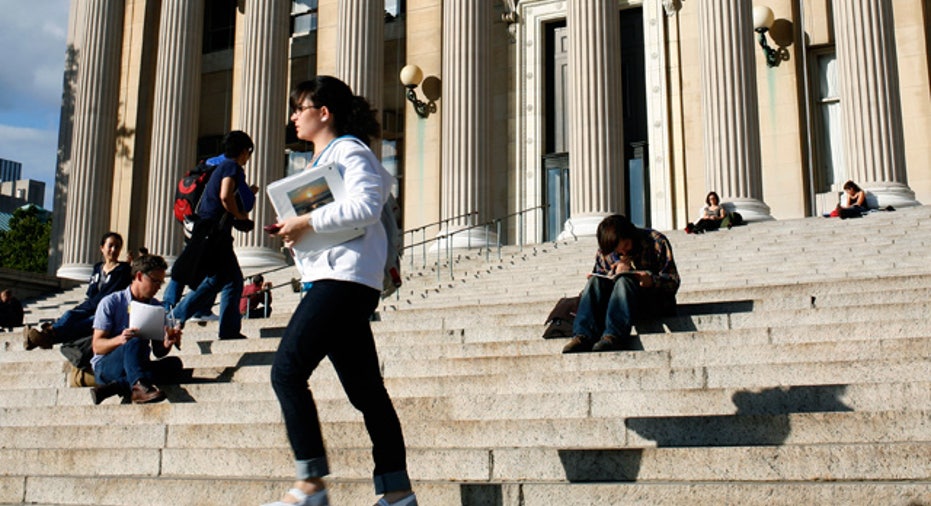 The excitement of fat-envelope college acceptance letters can be quickly dampened by the too-thin financial aid award letters families have received in the last few weeks.
As tuition soars and families grapple with the after-effects of the recession, the number of college-bound students applying for financial aid is up by one-third since the 2008-09 school year, says Mark Kantrowitz, publisher of scholarship matcher FastWeb.com. But the amount of aid available hasn't kept up. The end result has been less financial assistance to go around.If your child's dream school didn't offer such a dreamy financial aid package or you're baffled by one institution's generous offer compared to another's paltry promise, listen up: There are ways to boost your aid, even now.
Francine Smith knows the drill well. Her middle child is a freshman at Amherst College — his first-choice school and his father's alma mater. But attending meant appealing to the school's financial aid officials for more money, namely to match the extra $6,000 her son was offered by Hamilton College.
Smith, a mother of three who was widowed eight years ago had another son in college and was facing a serious health issue. She met with college officials to explain the family's situation. She also presented proof of the competing aid award and her son's diligence in seeking outside scholarships. Amherst matched Hamilton's aid offer. "If you're honest, and you're willing to do some work, too, I think the colleges are pretty receptive and want to help you," says Smith, whose older son is a senior at Princeton University.
Here are five strategies to boost your aid or reduce the costs of college:
Appeal—with evidence. Financial aid officials are used to getting appeal letters so consider the bar raised. "Perseverance isn't paying off as much," says Don McMillan, a college consultant with Howland, Spence & McMillan in Boston. "You have to be concise and submit something substantive."
If you have extenuating circumstances. Colleges are skeptical of job-loss or hardship appeals and are considering them more carefully. Provide proof your of job loss and length of unemployment or other financial issues like high medical bills. You might not receive an adjustment to your aid package right away, says Larry Dannenberg, founder of College Solutions, an admissions and financial aid consultancy. Don't give up. If you can afford to enroll, appeal again a few months. "You're more likely to get additional assistance for (these) circumstances if you're already attending," says Danneberg.
If Big U offered more. If College A is the one your child prefers, but the school offered you $10,000 less in merit aid than a competitor school, you — or your child — can write a concise letter stating that you'd really like to attend College A, but received more generous aid from a competing school; ask the school to reconsider their aid offer. "Colleges respond better when there is competition," says Dannenberg. Include a copy of the award letter from the competing school and if your child has had some significant achievement or award since first applying to the school, include that information in the note.
A discrepancy in need-based awards is more likely to be matched, as in Smith's case, experts say. Merit aid is trickier for colleges to match, depending on how much money a particular school has to hand out and, sometimes, how badly they want a student. A non-Ivy private school or a school one tier down in prestige, for example, might offer more than an Ivy for a choice students. McMillan says sometimes Ivies will add to their aid offers but not match those from elite privates.Network and research. Smith's oldest son spent about 30 hours researching and applying for outside scholarships, netting about $4,000, some of it renewable for future years — not a bad return per hour. Putting the effort into applying for such awards shows schools you're committed to helping yourself — not just to asking them to help you. "Often students don't want to apply for small scholarships. They say it's too much work," says Kantrowitz of FastWeb. Many scholarships are awarded by late April, but some have May and June deadlines. Aggregators like FastWeb are the quickest way to find them.
But don't stop there. "Look at every place you or anyone in your family has been involved with since your birth," says Dannenberg. That includes camps, elementary schools, religious groups, clubs, employers and fraternal organizations. Kantrowitz says bulletin boards in local community colleges and libraries will often advertise local scholarships — even the coupon section in the Sunday paper will advertise scholarships from big companies like Best Buy. If the groups you target don't offer scholarships, write a letter asking them to consider doing so. Explain your affiliation, college acceptance status and, Danneberg says, follow with something like: "It's a financial reach for us and I'm looking for scholarship opportunities. Do you have any or would you consider one?"
Spend your summers elsewhere. If the school allows transfer credits, your child can spend a summer or two in class — at a cheaper public school in your home state. Credit hours for an in-state resident can be as low as a few hundred dollars. Complete 15 credit hours and even at $400 per hour, you'll spend just $6,000. Junior could then graduate early and if you're a full-paying family, you'll knock off upwards of $25,000 for a final semester's tuition and fees. (Make sure the college doesn't charge an early-completion fee).
Prepay. Not many people have $200,000 lying around. But, if your child gets a merit award, of say, $10,000 and wins a few small scholarships, your share of the bill might be $35,000. Paying for four years upfront at today's rates — $140,000 in this example — will save you in the end, says Danneberg.
"Effectively, you are locking in a 5% to 6% return on investment after tax and if your child got merit money, you're getting better than that," he says. That's because college tuition and fees have risen at roughly double the rate of inflation every year, often more. Most schools will carry merit aid through all four years when you prepay and in some cases, schools will add in a small discount. You can use your 529 and other dedicated college savings accounts toward the bill, just as you would paying by the year.