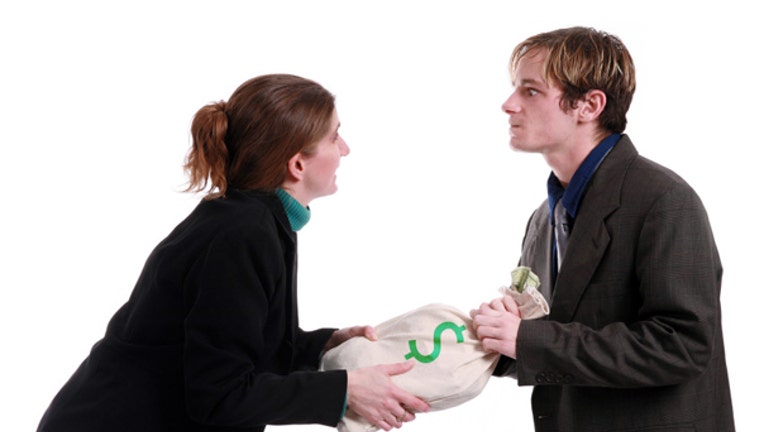 Money often tops the list of topics that married couples argue about, but insurance issues can be just as financially and emotionally costly.
Relationships can be complicated and insurance almost always is, so when the two intertwine, there's always the chance there will be misunderstandings that can lead to both insufficient coverage as well as marital distress.
"Insurance issues are serious and shouldn't be taken lightly," says Paul Blanco, managing director of Barnum Financial Group, a MetLife office in Shelton, Conn. "You should be proactive, not reactive, when it comes to insurance."
Here are five mistakes to avoid:
1. Neglecting to name your spouse as the beneficiary of your life insurance policy. One worst case scenario is when an ex-spouse is still the named beneficiary on a life insurance policy because the policy was never updated. But even just forgetting to name a beneficiary can be a problem, says Joseph Montanaro, a certified financial planner with USAA in San Antonio, Texas.
"States have different rules about this, but in some scenarios a spouse could get half or less of the insurance proceeds if there's no beneficiary and no will," says Montanaro. "Whenever you have a life event such as a job change or getting married, you should look at your insurance coverage and your beneficiaries."
Sometimes life insurance policies are part of a divorce agreement, says Blanco, but he recommends that you tell your new spouse about the policy. He says you should check your group life insurance policy at work and your private life insurance to make sure the beneficiaries are updated.
2. Not listing your bad driver spouse on your car insurance policy. "Failure to disclose your spouse, who has a bad driving record, on your insurance application in order to save money on your premiums can result in a denied claim, policy cancellation, and even criminal prosecution for insurance fraud," says John Foster, vice president for personal lines at Penn National Insurance in Harrisburg, Pa.
Most states require licensed drivers living in the same household to be covered under the same insurance policy, but some states and some insurance companies allow you to exclude a driver. You may need to supply proof that the driver is covered by another policy.
The risk of excluding your spouse is that if your spouse ever drives the car, there won't be any insurance coverage for that driver, says Montanaro.
"Most insurance companies have multicar discounts and other discounts, so your premiums may be cheaper if you keep your insurance coverage together even with one driver's bad record," says Blanco.
3. Not admitting your bad credit before you get married. "Full disclosure is always the best idea before marriage," says Montanaro. "Credit issues have a long reach in a variety of ways including car insurance premiums, finding a place to live and even a job."
Foster says that state laws regulate how an insurance company can use your credit report.
"Car insurance companies have been using credit reports to set rates for several years," says Blanco. "It's important to ask questions about how your credit score will be used. Will both spouses' credit be reviewed or just one?"
You may be able to get separate car insurance policies, but Blanco says you won't necessarily save money because you'll lose multi-car and multi-driver discounts.
Fixing your credit takes a while, but you can start by paying your bills on time and reducing your use of credit cards.
4. Failing to properly insure your valuables and your home. A house fire or severe storm that causes significant damage to your home or collectibles is something no couple wants to experience, but neither of you should be finding out after the fact that your property wasn't sufficiently insured.
Homeowners need to be certain their insurance coverage is for their home's replacement value, not the actual home value, Blanco says. Replacement value means you're covered for an entirely rebuilt home, which could cost more than the purchase price because of construction costs.
Additionally, you and your spouse's collection of fine art, antiques or treasured musical instruments, even your wedding rings, may be worth thousands, but if you don't buy special insurance coverage and need to make a claim, your reimbursement might be minimal. Many policies limit coverage for valuables to $1,000 to $2,000.
"If you have valuable property you need to add specific coverage," says Montanaro. "Blanket coverage on your jewelry can cost as little as $5 or $10 a month and there's no deductible."
Blanco says people often "get it and forget it," failing to update their homeowners insurance when they acquire new valuables. So if you and your spouse are collectors, be sure to keep an inventory, have it appraised and buy an endorsement on your home insurance policy.
5.Letting your insurance policy lapse for non-payment. If you're the spouse that pays the bills, make sure you do your job. If your auto insurance policy lapses, you won't be covered if you get in a car accident, and likewise with home insurance and damages to your house. Even if you don't experience such worst-case-scenarios, you will have to re-apply, may have to pay higher rates and could face new limitations on your coverage if you let your policy lapse.
Given the consequences, it's prudent to be aware of grace periods for insurance payments, which vary by state, says Montanaro. Most car insurance policies don't have much wiggle-room -- if your payment isn't received before 12:01 a.m. of the expiration date, your policy ends immediately. However, most states require car insurers to issue a 10-day notice of cancellation. Some states require this to be a separate notice while others allow insurers to include it on the bill, which may be easy to overlook. Making things even fuzzier, some insurers say though your policy may be canceled, it doesn't automatically go into effect in all cases.
For example, according to Nationwide's website, "Depending on your state, your policy can be canceled even if it's a day late, but the cancellation probably would not take effect immediately. Laws vary from state to state governing when an auto insurance company can cancel your policy and how quickly it can take effect."
"A lapse of car insurance coverage may also result in the person being eligible only for non-standard insurance, which may be significantly more expensive," says Foster.
A similar problem can happen if your homeowners insurance lapses. Foster says your mortgage lender can automatically purchase coverage and then hold you responsible for the premiums. Typically, home insurers will issue a cancellation notice 10 days prior to the cancellation date.
Life insurance companies usually have longer grace periods compared to home and auto carriers. "Life insurance policies typically have a 30-day grace period, but if you get it reinstated you may have to disclose new health issues and your premium could go up or the insurance company could decide not to reinstate the policy," says Blanco.
The original article can be found at Insurance.com:5 insurance mistakes that can ruin a marriage