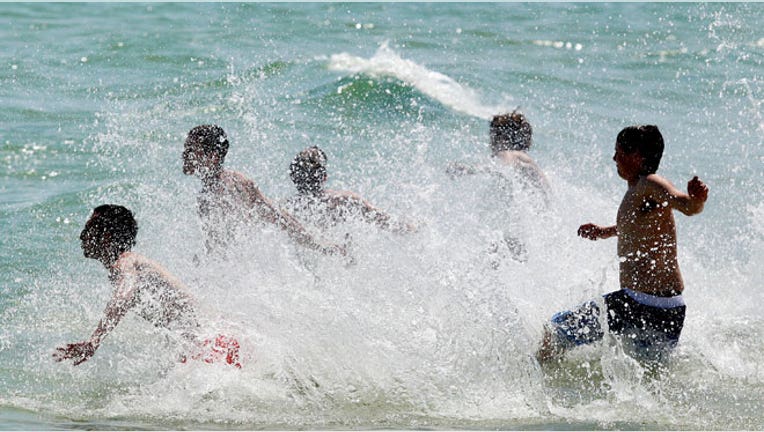 As I was driving through the snow and slush in Manhattan a couple weeks ago, I noticed a cryptic sign on the roof of the cab in the next lane.
"Winter Blows," it read.
That's for sure, I thought. The two words were printed on a black and white photo of a huge snowdrift that had completely enveloped a parked car on a city street.
It turns out, the ads were part of a $2 million marketing campaign by the tourism office of Pinellas County on the west coast of Florida. "We wanted to create a social and digital buzz in our biggest domestic markets, which are the greater New York area and Chicago," said David Downing, executive director of Visit St. Pete/Clearwater.
The marketing effort went so far as to hire people in those cities to build snowmen that looked like hitchhikers, which held signs that read: "Florida."
Imagine getting paid to build a snowman?
St. Pete–Clearwater, Florida
It was cool enough to make me do a little research, and although the ads were targeting Millennials, I was pleasantly surprised at what a fabulous destination St. Petersburg/Clearwater would be for families with kids too.
Let's start with the gorgeous, calm Gulf Coast beaches, fully-equipped with plenty of lifeguards. The Clearwater Marine Aquarium is a favorite for kids. You can also visit an authentic sponge-fishing village at Tarpon Springs. Downing says a visit is like going back in time, as it was founded by Greek fishermen and still has a third generation mostly-Greek population.
The restaurants are amazing and a great value. From Honeymoon State Park, you can take a boat over to Caladesi Island and go kayaking through the Mangrove Tunnels. Best part yet, a family of four can stay at the Sheraton Sand Key Resort for five nights, for about $2,700, including airfare, or the more upscale Loews Don CeSar Hotel for just under $3,000, according to Donna D'Andrea, owner of D'Andrea Travel in Amityville, N.Y.
However, perhaps due to the effective "Winter Blows" campaign, most of the hotels in the St.Pete/Clearwater area are sold out for Easter week, so you will have to travel after April 12 for those rates and availability.
Grand Canyon
In fact, if you'd like to get away with the family over the Easter holiday, and you didn't book anything in advance, there's one trip that makes sense, financially - go  hike the Grand Canyon.
D'Andrea suggests flying into Phoenix and driving into the beautiful red mountains of Sedona and staying for two nights on your way to the Canyon. In Sedona, the Sky Ranch Lodge or Arroyo Roble Hotel and Creekside Villas are nice and very reasonable. At the Canyon, value-seekers can stay a quarter of a mile away from the rim at Maswik Lodge, or Bright Angel Lodge. Rim-side choices include Thunderbird Lodge or Kachina. From New York, D'Andrea says the trip would cost around $1,800-$2,400 (family of four, 5 nights), not including rental car, meals or taxes, depending on hotel choice. From San Francisco it would be slightly less, about $1,620-$2,220.
Cancun, Mexico
If you absolutely need to go south, you'll have to pay more than double, according to Dawn Bloom, a travel consultant for Liberty Travel. She said there's availability at the Grand Oasis Cancun, but it would cost at least $6,400 from New York and just slightly more from San Francisco (family of four, for 5 nights). That price includes all meals and taxes, but the same trip drops to $2,900 after Easter.
Costa Rica
The best tropical value this spring, according to D'Andrea, is Costa Rica. After April 12th, a family of four can fly non-stop from New York to the all-inclusive Riu Guanacaste for seven nights, for just $4932. At the more upscale RIU Palace Resort, it would be $5,380. And, there are direct flights from Dallas, Houston, Miami, Atlanta and New York.
Disneyland, Paris 
Since Europe is effectively on sale with the strong U.S. exchange rate, I think Disneyland Paris is an interesting option now. Spring airfares to Paris are significantly lower than summer rates. If you're adventurous, Europe's Disneyland isn't nearly as crowded as Orlando. The kids will love it and parents can spoil themselves with the usual French degustation of champagne and fine cheeses at lunchtime. After April 12th, a family can stay at The Dream Castle Hotel, near the park, for about $4,700, including airfare to Paris, according to Bloom.
So if your winter blew, your spring doesn't have to. There are some financially sound ideas, especially for those who can be flexible and perhaps wait another week to get away.