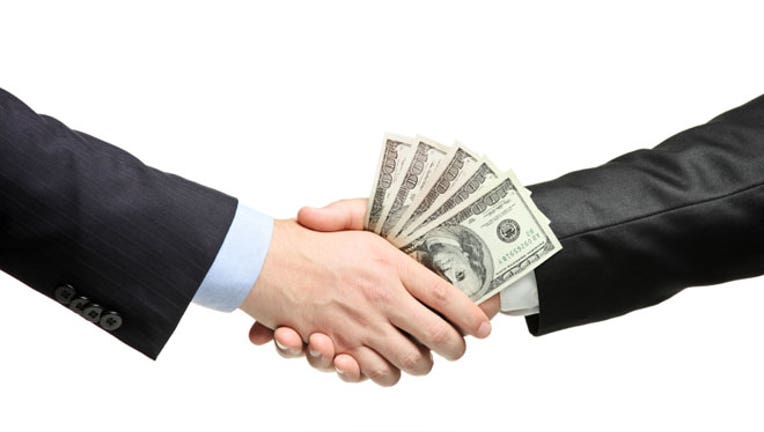 Ah, Father's Day. It's always a dilemma.
Dads can be tough to buy for. Often they don't even know what they want. Plus, in these instant-gratification, credit-happy days, if something has struck Dad's fancy, chances are he's already bought it. Either that, or it's out of range for him and anyone else in the family. A Ferrari in the driveway would make for a Father's Day to remember, but unless you are Mark Zuckerberg's dad, that's not likely to happen.
So what can the typical family give Dad this Father's day to bring a smile to his face? How about some good news on the financial front? Face it, when someone in the family mentions money to Dad, it usually ends up with him having to reach into his wallet or write a check. For this Father's Day, think about the types of financial news that Dad would really like to hear from his family. Here are five examples that could brighten his mood in a hurry.
1. "Honey, it's on me."
It's a fast-changing world, but it seems one of the most persistent traditional gender roles is that Dad pays the check when the family eats out. There isn't much (if anything) in the way of scientific data on this, but next time you are in a restaurant, take a quiet head count of who you see reaching for the check at family tables.
A variety of etiquette blogs point out that it's OK when a woman wants to pay -- but they say it in a way that suggests that this is still far from the norm. Well, at this point in time it should be more than just OK for Mom to pay for dinner -- and not just on Father's Day. Now, some fathers are old-fashioned, if not still a little chauvinistic. However, given the price of eating out these days, few will object too strenuously if Mom says it's on her.
2. "Dad, I got a scholarship."
If you are a high school junior or senior, chances are your parents are awake at night worrying about a few things, and how they'll pay for your college may be one of the most prominent. According to the College Board, the average four-year private school costs $29,060 a year to attend. However, the average student only pays a net of $13,380 after grants and scholarships are factored in.
If you can save your parents close to $16,000 a year, that's a gift both Dad and Mom will remember long after Father's Day. In all, students receive about $112 billion a year in grants and scholarships, so grab your share! A good place to start is going to the FAFSA website, where you can fill out a federal financial aid application.
3. "Honey, I got us a better deal."
Managing family finances today equals a near-constant battle against rising prices. There are opportunities to do better though, such as finding cheaper alternatives to cable television, negotiating better insurance rates or finding higher savings account interest rates. The mother who does these things for Dad gives a gift that will keep on giving.
4. "Dad, I got a job."
Unemployment rates for 20- to 24-year-olds are still well into double-digits. This creates a burden on today's youth, but also on parents who are having to support their children longer than they expected. Making the extra effort to find a job will take a load off Dad's mind -- and his bank account.
5. "Honey, I got a raise."
A recent report by Pew Research found that the percentage of married couples in which the wife was the highest earner, while still in the minority, have more than tripled since 1960. To apply this long-term trend to the current situation, you might note that over the past year, the unemployment rate has been coming down, indicating that the job market is getting stronger. That could make this a good time to ask for a raise.
Any one of the above would be a welcome gift for Dad. All five would probably make his year. Not all of these can be conjured up at a moment's notice, but perhaps that's the point. Working throughout the year to ease Dad's financial burdens might be the best gift of all. After all, these are year-round burdens. Increasingly, mothers are sharing that burden, and as kids grow up, they should look to contribute as well.
Of course, money is no substitute for love. But making an effort to share someone's burden isn't about money. It's about showing you care.
The original article can be found at Money-Rates.com:5 financial gifts Dad really wants