5 Downsides to Prepaid Debit Cards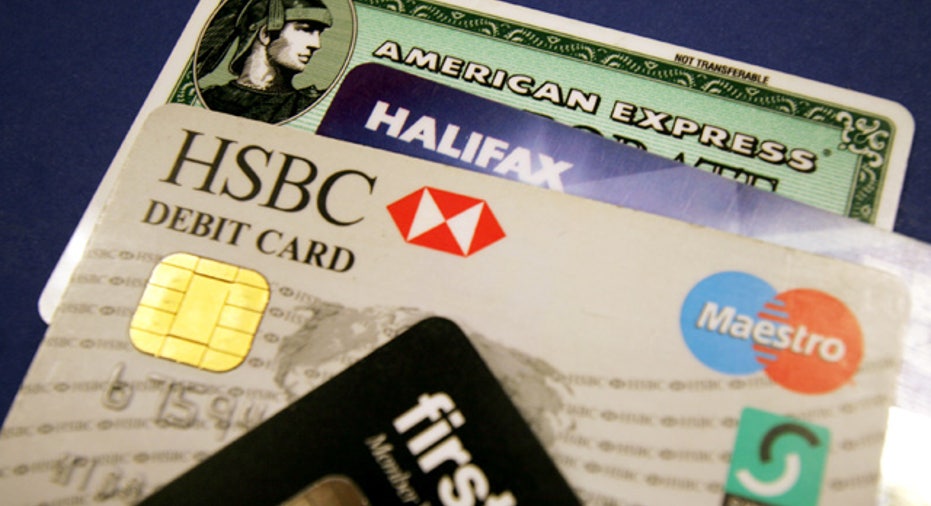 With celebrities hawking prepaid debit cards these days, it's easy to be swayed by hype.
Witness the cards' ballooning growth. By 2013, the prepaid card market is set to more than double from $330 billion in 2009, according to Mercator Advisory Group near Boston.
But these cards have weak consumer protections, according to a Consumers Union report on prepaid cards. Some have extra fees. Others have come and gone (witness the Kardashian Kard). And users can have difficulty building a credit history.
"It's hard finding all the fee information," says Jean Ann Fox, director of financial services at the Consumer Federation of America.
Prepaid debit cards are reloadable and work much like regular debit cards. According to Consumers Union, their target is the unbanked, or the growing number of low-income consumers who don't have a bank account.
Even so, there are benefits. Some people use prepaid debit cards to stick to a budget or dish out money to kids at college. They also make sense for people who are concerned about identity theft. "They limit your exposure," says Ben Jackson, a senior analyst at Mercator Advisory Group.
But before buying, follow these pointers on what to consider.
Users Face Lots of Fees
A slew of fees can quickly ding your prepaid debit card.
Fees may be charged for activation, withdrawals, overdrafts, paper statements, balance inquiries and even dormancy. For example, all 19 prepaid cards studied by Consumers Union charge fees for withdrawing cash from ATMs, ranging from 99 cents per withdrawal to $2.50.
But dormancy fees, or fees charged for nonuse of a card, are the most problematic, says Suzanne Martindale, an associate policy analyst at Consumers Union. "They would never happen with checking accounts," she says, adding that customer service fees can also add up.
The difficulty in computing card costs is in finding a fee schedule for prepaid debit cards, she says. "The packaging doesn't list them," Martindale says. "So you may find fees after the fact, unlike checking accounts."
Also, fees vary widely. So make a list of the ways you'll use the card -- such as online -- and compare fees for those transactions.
Still, some cards do carry low fees. The Mango Prepaid Card offered by Mango Financial Inc. has no hidden fees. Walmart's Moneycard also has simple fee schedules that are easy to understand.
Fewer Consumer Protections
Unlike traditional debit cards, prepaid debit cards have less government oversight.
For example, if prepaid cards are lost or stolen, they're not protected by the same regulations and safeguards that traditional debit cards are, according to a Consumers Union report.
"There are only voluntary contracts, subject to change at any time," Martindale says. "If your card is stolen, you may lose your money."
Prepaid cards are usually cobranded with Visa or MasterCard insignias. But their zero-liability protection on traditional cards, in which the holder isn't liable for fraudulent charges, is more limited with prepaid debit cards. "There are loopholes," Martindale says. "You can only challenge two a year."
Traditional debit card owners fare better. If a traditional card is stolen or lost and you report it within two days, your liability is limited to $50.
Difficulty Building Credit History
Prepaid debit cards look like credit cards, but there's one key difference. They usually don't log your credit histories.
"Very few cards offer this service," Martindale says. "If they do, they charge unbelievable amounts."
Many card companies claim they will report your history to the credit bureaus, but don't. Others actually report to an alternative credit reporting service, such as PRBC, or Payment Reporting Builds Credit, but not to the major bureaus. "So there's little or no benefit," she says.
What's more, you're not building a relationship with a bank. "Think about the short term and the long term," Jackson says. For example, prepaid debit card companies usually don't offer additional accounts, such as savings accounts, that can help you to grow assets.
"The cards are mainly transactional tools," Jackson says.
Instead, think about getting a secured debit card. It's backed by deposits you make to a bank, and it can help you build a credit history.
Note Term and Card Changes
Prepaid debit card terms -- and even the cards themselves -- can come and go.
Take the Kardashian Prepaid MasterCard, which was pulled from the market in November. The card carried a picture of the glam trio of sisters. But this celebrity plastic was packed with hidden fees and weak consumer protections, says Consumers Union. Fees included $1.50 for ATM withdrawals, $1 to check balances and even $6 to cancel an account. But that's not all. A six-month plan cost $59.95; for 12 months, $99.95.
"This is a shape-shifting market," Martindale says. "Fees keep changing. And the Kardashian card was off the market after bad press."
Consumers must stay on top of prepaid debit card term changes, too, she says.
Tough to Follow Transactions
Tracking prepaid debit card transactions can be hard.
"You could get double-swiped," says Fox. "And you don't usually get paper statements."
Since 18 out of the 19 prepaid debit cards studied by Consumers Union charge fees for balance inquiries, it can set you back. The fees range from 45 cents to $1 per inquiry. Also, 15 of the 19 prepaid cards charge fees for paper statements ranging from $1 to $5.95 per statement.
However, all 19 issuers provided free access to account statements online, says the Consumers Union report.