5 Ballparks That Will ding Your Wallet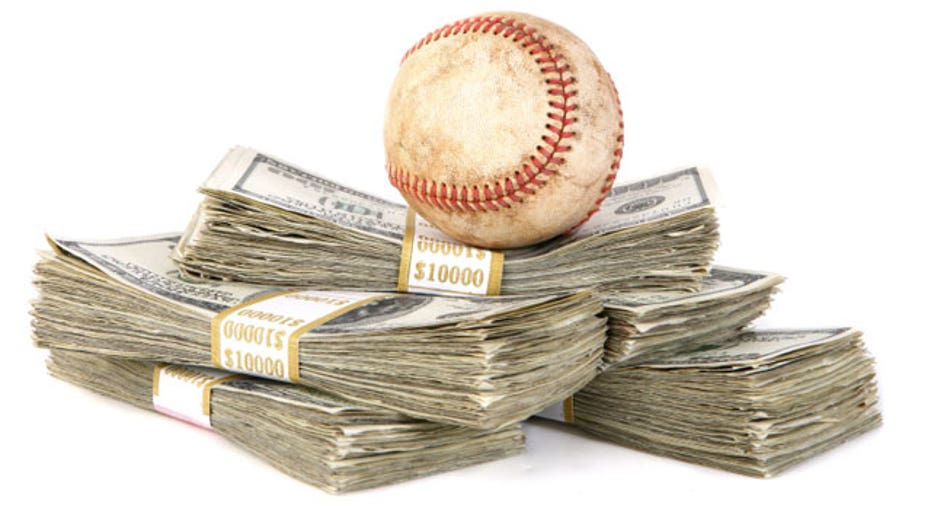 The next time someone serenades you to take them out to the ballgame, maybe ask them to choose between peanuts or Cracker Jack.
A recent report shows some Major League Baseball parks will cost a pretty penny for that unrivaled experience of spending a warm evening at the yard this season. Many parks remain one of the better bargains in town, but the pastime isn't exactly cheap.
The San Francisco Giants have sold 7,000 season tickets since their World Series win last fall, and despite that decreased ticket supply in AT&T Park, they can still be an affordable draw.
"Winning the World Series doesn't mean you can go crazy," said Russ Stanley, managing vice president, ticket sales and services, for the Giants. "We spend a lot of time and energy trying to figure out what the price is on all of our tickets."
If you live in a major market with a marquee stadium though, baseball is likely going to be a hot ticket.
The average fans will spend $197.35 on a visit to a Major League park in 2011, according to Team Marketing Report, a sports marketing firm that surveyed all 30 Major League clubs on fan costs at the start of the season.
The figure is based on the Fan Cost Index, which takes into account: four adult tickets, two small draft beers, four small soft drinks, four regular hot dogs, two programs, two of the least expensive adjustable hats and parking for one car.
So which ballparks are the most expensive this season?
Fenway Park, Home of the Boston Red Sox
Beer: $7.25Hot dog: $4.50Baseball hat: $20
Remember when the Boston Red Sox were those lovable losers, all quaint and nostalgic, if only they could get that elusive championship? Me neither.
Two World Series wins in the last seven years and a national memorabilia-wearing mass that makes the Red Sox hat like this decade's cargo shorts will do that. It will also help make Fenway Park in Boston the most expensive park experience in the country on average.
Nostalgia certainly plays a major role as well, as that is something Fenway will arguably always lead the majors in. It is the oldest park in the big leagues and will mark its 100th birthday next season.
The average admission into this baseball shrine is $53.38, and a fun game to play during a slow inning is figuring out exactly how much you paid per inch of leg room (hint: a lot). The real kicker is the Fan Cost Index for Fenway, which leads the league at just more than $339 and is probably a bit more than you were planning on spending for your "Field of Dreams" re-enactment tour.
According to Team Marketing Report, Fenway also leads the league in beer and cap prices and is second in parking -- $27.
Once the cost is stomached, there is something very surreal about looking out at the Green Monster for the first time and feeling how intimate a baseball game can feel in a down-home park filled with the faithful, new or old. It's not cheap, but for fans of any team and baseball purists, many would argue that it's worth every penny. Or Benjamin.
Play-ball tip: Hit the bars before game time, with highest average beer price in the majors -- $7.25.
Yankee Stadium, Home of the New York Yankees
Beer: $6Hot dog: $3Baseball hat: $25
Speaking of history lessons, the House that Ruth Built got a 21st century take with the new Yankee Stadium, now in its third season and carrying every bit of colossal clout that the original impressed on fans through the generations.
Whether fans love the New York Yankees, hate the Yankees or despise the Yankees, there really is no getting around that this stadium is baseball's mecca.
The stadium's goods include the largest high-definition screen in sports in center field (103 feet by 58 feet), its timeless white lattice, and its own hall of fame which practically rivals the actual hall of fame. Do all these things merit spending $338 on a visit? Yep, that's the Yankee Stadium Fan Cost Index, or what you and your crew should expect to spend in order to experience all of this baseball glory while watching the most iconic team in American sports.
The average premium seat is priced to befit a palace, at $312.11.
You'd be excused if you expected the price to include a personal meet and greet with A-Rod or a Derek Jeter cameo on your city softball team. The inability to pen Jeter in at cleanup behind Uncle Joe hasn't seemed to stop the throngs of every baseball stripe from taking in that Americana experience of baseball at Yankee Stadium, no matter the cost.
More than 3.7 million fans made the trip last season, and if there's some financial solace for fans in 2011, it's that the average ticket price (excluding premium seats) of $51.83 is the same as last year.
Play-ball tip: Take public transportation. The average parking price is $35.
Wrigley Field, Home of the Chicago Cubs
Beer: $6.50Hot dog: $4.50Baseball hat: $20
Not many professional sports teams can point to losing as a successful marketing gimmick.
The Chicago Cubs likely wouldn't agree that failing is to their benefit, and their fans certainly wouldn't call their perennial losing charming. What can you say, however, is that despite the Cubs' title drought (103 years and counting), the team is generally one of the league leaders in attendance year in and year out -- with prices to match.
Cubs fans are remarkable for being some of the most simultaneously resigned yet optimistic fans in the game, but you can only give so much credit to the more than 3 million paying customers who showed up last year when they're saying "wait till next year" in one of the greatest sports venues still standing.
The friendly confines of Wrigley Field was built in 1914 and is seemingly more remedial and alluring than ever. Wrigley Field is the only ballpark in the five most expensive to have a drop in the Fan Cost Index for 2011 -- down 1.2%, to $305.60.
The $46.90 you'll spend for an average ticket doesn't turn to magic pretend money once you enter a living legend like Wrigley. It just probably won't hit you as hard as the iconic brick wall lining the field when you realize how many generations have taken in a game from your very vantage point. And watched the Cubs lose. Not a steal by any means, but maybe best considered as a gilded, living history lesson.
Play-ball tip: Buy a soda and hot dog, skip the hat.
U.S. Cellular Field, Home of the Chicago White Sox
Beer: $6.50Hot dog $3.50Baseball hat: $13
The Chicago White Sox may not be quite the darlings of the baseball world that their north side brethren are, but that's what you get for being the one team in town to win a championship inside of a century.
Playing second fiddle in the Windy City doesn't change the fact that they still play in one of the largest sports markets in the country, and the prices reflect that. U.S. Cellular Field came into the season with an average ticket price of $40.67.
"We traditionally make small, incremental increases in our ticket prices to keep up with market value," says Marty Maloney of White Sox public relations. "We again kept the ticket increase small at what we believe to be a manageable difference from last year."
There is a perception held by some that the White Sox are the blue collar club in Chicago, which wouldn't seem to gel with the reality that they're ranked as the fourth most expensive park experience in baseball. To their credit, the Sox, like many clubs, make a concerted effort to make their product financially manageable for all fans and not just those with top hats and pocket watches. Deep discounts are offered on select games for kids ($1 tickets), students, families, large groups, military personnel and seniors. Maloney also pointed to parking prices being flat compared to last year in addition to most concession items.
"Year over year, fans are very pleased with our offerings," Maloney says. "We do not hear much negative feedback on prices."
Play-ball tip: Go on one of nine "Value Mondays," when tickets are half-price.
Citi Field, Home of the New York Mets
Beer: $5.75Hot dog: $5Baseball hat: $16
The New York Mets inaugurated Citi Field at the start of the 2009 season after 44 seasons in the late Shea Stadium, which now rests in peace under a parking lot.
Teams tend to ride the opening of new ballparks to quick contention and an infusion of talent. But sometimes, that isn't what happens. Step right up and meet the Mets!
If you would like to visit the shiny new venue named for the international bank, you'll have to break one, as it turns out. Citi Field is the fifth-most expensive park in the Bigs for 2011, according to Team Marketing Report. The Fan Cost Index for this season (four adults and the works) will average $241.74. That sum might even be palatable when distracted by an exciting, winning product on the field, but Mets fans can finish this sentence for you.
The average ticket price actually dropped 1.3% from 2010, to $31.81 for an adult.
That doesn't seem all that bad, even when considering overall tickets and concessions were up 6.5% year over year.
Play-ball tip: Try for weekday games, and avoid big draws like the Phillies to find the best deals.