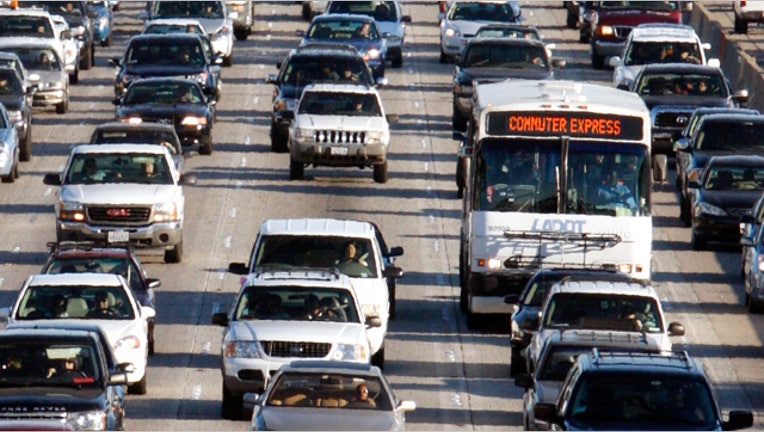 Sitting in rush-hour traffic is never fun, but what can make it downright painful is being stuck in traffic in a vehicle that burns through gas too quickly or is way too loud to have a conversation.
While the car industry has gone to great lengths to make vehicles that are fuel efficient and block out noise, there are still cars and trucks on the market that are great for the open roads, but should be left in the garage when maneuvering rush-hour traffic is needed.
Different cars appeal to buyers for all sorts of reasons, but if most of your days are spent in rush-hour traffic, you'll want to avoid vehicles that have costly miles-per-gallon totals, are too loud or offer a bumpy ride -- cars better suited for off-roading. With that in mind, here are five 2014 vehicles you may want to avoid if heavy traffic is part of your daily commute.
Chevrolet Corvette Coupe
Price: $51,000 Gas mileage: City - 17 Highway - 29
Sports car lovers or people who grew up in the '70s and '80s look at the Chevrolet Corvette as the quintessential sports car. After all, it has looks, speed and a long history behind it. But that doesn't mean it is the best car for sitting in traffic.
Yes, the 2014 Chevrolet Corvette is going to be lots of fun to drive when there isn't a ton of cars and trucks right in front of you, but it doesn't do that well when it comes to fuel economy, compared to other cars.
If you have your heart set on a Corvette, you will welcome its active fuel management technology. Chevrolet's technology deactivates four cylinders when maintaining a consistent speed, even if it's 10 mph, and gives drivers access to all eight cylinders with one touch of the accelerator, resulting in better fuel economy.
Jeep Wrangler
Price: $22,395 Gas mileage: City - 17 Highway - 21
There are some vehicles made for streets and highways, and there are others that are ideally suited for off-roading. That's where the Jeep Wrangler comes in. The 2014 Jeep Wrangler may be appealing for rides to the beach and even on it, but if you are struggling through long commutes filled with rush-hour traffic, the rugged ride of the Jeep Wrangler may not be for you.
There are some attributes that could outweigh the rough ride for some car buyers. For instance, the Wrangler can boast of some fuel efficiency, thanks to its 3.6-liter, six-cylinder engine. The Jeep Wrangler is also full of safety features, many of which you won't need navigating through traffic. Some of the safety features include antilock brakes, hill-start assist and hill-descent control and a tire-pressure monitoring display system that could be handy if you ride over a nail on your commute home.
Audi TT RS
Price: $39,900 Gas mileage: City - 22 Highway - 31
Stop-and-go traffic can be annoying in a car, but do it in a vehicle that has a manual transmission and it can be pure hell. There's nothing worse on your state of mind, let alone the wear and tear on your car, than having to shift gears every few seconds because of bumper-to-bumper traffic.
Because of that, car buyers who spend their mornings and evenings in rush-hour traffic may want to forgo the manual transmission for an automatic. While the traditional stick shift is going the way of the dinosaur as more manufacturers trade the traditional manual transmission for a hybrid one, one car that can be sold only with a stick is the Audi TT RS. If you drive in heavy traffic, you might want to steer clear.
The stick may be an annoyance, but the 2014 Audi TT RS has everything car enthusiasts would want, including a 2-liter turbocharged TFSI engine and Audi's all-wheel drive and cutting-edge interior technology. But for commuters, it will all be lost on the constant stop-and-go traffic.
Mercedes Benz E350 Sedan
Price: $51,900 Gas mileage: City - 21 Highway - 30
For many people, their cars are an extension of themselves and because of that, they won't think twice about plunking down thousands of dollars for a new ride. If you fall into that category but commute in traffic each day, you may want to rethink the high-end luxury car.
Sure, you'll sit in traffic in style, but you'd better hope there are no potholes or road construction that can result in dings and dents to your car. A great example of a car to avoid because of the chance that your ride will get scuffed up is the Mercedes Benz E350.
This bank-busting luxury vehicle has all the amenities a car lover could dream about, including the Nappa leather multifunction heated steering wheel, the optional panorama roof and the 14-way power front seats with memory. But getting a new paint job because a rock scratched your door is going to cost you. If you still are convinced that a Mercedes is best for your traffic-laden commute, you may want to go with the C250 Sport Sedan, with an MSRP of $35,800 -- $16,000 cheaper.
GMC Yukon
Price: $44,445 Gas mileage: City - 15 Highway - 21
Large SUVs are ideally suited for big families, but if you are taking this vehicle back and forth to work each day in rush-hour traffic, it will not only drain your bank account, it will test your patience as you try to maneuver in and out of traffic. Even the most passive drivers will run into a situation where they will have to dart out of the way to avoid an accident, and the GMC Yukon isn't going to cut it.
Granted, you can feel safe in this large SUV if an accident occurs. But for commuting, you may want to find an alternative.
That's not to say the Yukon doesn't have attributes that SUV enthusiasts will applaud, such as third-row seating, the available touch-screen navigation system and the optional rear-vision camera system.
Still want to buy the Yukon? Make sure it comes equipped with the available Autoride real-time damping system that is engineered to give you a smooth ride with precise control, which can come in handy on less-than-smooth roads.