23 Must-Have Alexa Skills for Your Small Business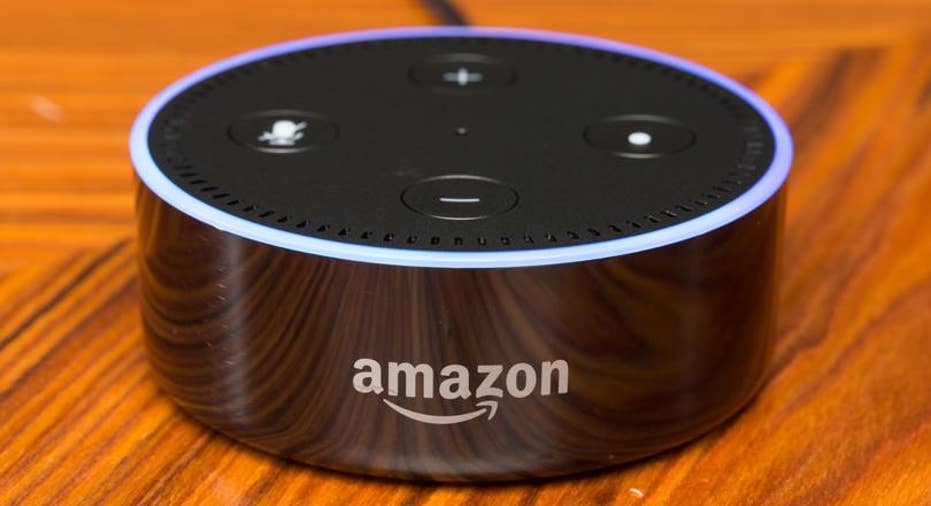 Amazon's Alexa and other digital assistants are changing the way we get information and control our smart homes. They are fundamentally altering the way in which we interact with our computing devices. We've only scratched the surface of what voice-activated intelligence can do and, thanks to the Alexa Skills Kit, anyone can create a skill for Amazon's versatile digital assistant.
Through the Alexa Skills Kit, we're starting to see the potential of devices such as the Amazon Echo, Amazon Echo Dot, and Amazon Tap beyond amusing parlor tricks. Through each new, innovative Alexa skill created and added to the list, we're seeing the difference a voice-activated digital assistant can make to the day-to-day operations of your small to midsize business (SMB).
Companies and developers are building more Alexa skills by the day. Setting up an Echo or other connected Alexa device in your office can already start paying dividends for everything from scheduling and productivity to email marketing and website monitoring. Below, we've combed through the current skills catalog and compiled a list of 23 must-have Alexa skills you can enable today for your SMB.
Calendar, Conferencing, and Scheduling
1. Conference ManagerBuilt by Vonage, the Conference Manager skill syncs with Google Calendar to identify your next conference call and save you the hassle of dialing in. Conference Manager scans your calendar, dials the conference number, enters your meeting or participant code, and then calls you through your Alexa-enabled device. All you need to say is "start my call." The skill currently supports a number of conferencing services, including Cisco WebEx Meeting Center, Citrix GoToMeeting, and Vonage Business.
Example command: "Alexa, tell Conference Manager to start my conference call."
2. Email AssistantFor the salesperson or employee who's constantly on the go, the Email Assistant skill is an easy way to get travel details. Built by productivity software provider EasilyDo, this skill lets you ask Alexa about your flight, hotel, or car rental details, and parses your inbox to read back travel details. It works with Exchange, Gmail, iCloud, Yahoo, and other email providers; though, if you want to connect multiple Gmail or other email accounts, then you'll need to make an EasilyDo account and manually add them. We'd like to see this skill evolve past simple travel details into a more full-fledged, voice-activated email skill, but Email Assistant is a good start.
Example command: "Alexa, ask Email Assistant what time my flight leaves."
3. FreeBusy Scheduling AssistantFreeBusy Scheduling Assistant helps you coordinate meetings and stay on top of your schedule. Once enabled, you can ask Alexa to check if a contact is available at a certain time, and to schedule events or conference calls (though it isn't quite as good at managing conference calls as the aforementioned Conference Manager). It's more useful as a way to quickly check your schedule and avoid conflicts before scheduling a meeting. The skill syncs with a number of calendars, including Exhange, Google Calendar, iCloud, Microsoft Outlook, and Microsoft Office 365.
Example command: "Alexa, ask FreeBusy to see if Juan is free for a phone call on Thursday, February 23."
4. Quick EventsQuick Events lets Alexa add events to your primary Google Calendar. It checks for conflicting events and asks for confirmation before adding an event. Alexa will also prompt you for all of the information it needs to schedule an event within the conversation. Events are scheduled for 50 minutes by default but you can specify any custom length. The skill also supports multi-day events and all-day events.
Example commands: Alexa: "What would you like to add to your calendar?"You: "Add a meeting with Juan."Alexa: "For what day should I schedule the event?"You: "For Tomorrow"Alexa: "At what time should I schedule the event"You: "At 2pm."
Communication and Collaboration
5. Chat Bot for SlackSlack is addicting. While the popular collaboration app doesn't have an official Alexa skill, the Chat Bot for Slack skill is a decent stand-in. Once enabled, the skill allows links to your Slack account and lets you post to Slack using your Alexa device by simply saying your message and the channel into which you want your message to post.
Example command: "Alexa, tell Chat Bot I want to post 'My train is delayed' to the #status channel."
6. Edit DocsWhile not created by Google, the Edit Docs skill is a great way to create and edit Google Docs on the fly via Alexa, and to make sure you get that great idea on paper before it's gone. Edit Docs needs to sync with a Gmail account and Google Drive, and then the skill lets Alexa list your 10 most recently used files, create or open a Google Doc, Sheet, or Slide, and edit or add to that file.
Example commands: "Alexa, ask Edit Docs to list my files please.""Alexa, ask Edit Docs to create a document called Ideas." "Alexa, ask Edit Docs to update the file Ideas with…."
7. MastermindThis is one of the hottest Alexa skills available and for good reason. Mastermind lets you access your phone's notifications, get and send text messages, initiate phone calls, get caller ID, launch apps, and more. It's a voice-activated productivity and communications powerhouse. The skill is currently in closed beta due to high demand but, when you enable the skill, you'll be added to a waitlist.
Example command: When your phone rings, say "Alexa, Ask Mastermind Who's Calling." To send unwanted calls to voicemail, say "Alexa, Ask Mastermind to Reject Call."
Data and News
8. Startup SignalOne of Alexa's most natural uses is as an instantaneous source of searchable information. Startup Signal focuses that skill to give you real-time business news updates. Once enabled, Alexa will give you news flashes on startups, angel investors, venture capital (VC) firms, corporate investors, and regions related to startups. It's an easy way to stay on top of the business world and make sure your startup or SMB jumps on an opportunity the moment it arises.
Example command: ""Alexa, what's my Flash Briefing?"
9. Voice MetricsVoice Metrics takes that real-time data briefing and customizes it to whatever business data is top-of-mind for you. The skill requires an Amazon account and a Zapier account to help you create a custom business briefing. Voice Metrics integrates with services such as Google Sheets, Slack, and any other data source integrated with Zapier to pull data on anything from sales needs and new customers to the status of each department in your company. The skill takes some customization but the data you get in return is worth it.
Example command: "Alexa, ask Voice Metrics for my Briefing."
10. Web AnalyticsOn top of news and curated data, Alexa can also give you real-time website updates. Web Analytics syncs with Google Analytics to give you updates on your website's traffic and visitor numbers. Instead of logging into Google Analytics, you can enable this skill to ask Alexa for real-time website traffic numbers at any time. You can also focus your queries further to drill down on metrics such as average session duration and pages per visit.
Example command: "Alexa, ask Web Analytics for the complete report."
Logistics, Management, and Finance
11. BMC SoftwareFor any business invested in the BMC Software ecosystem of DevOps, IT management, or asset management software like BMC Track-It!, this skill might be for you. BMC Software is putting together new cloud services in Amazon Web Services (AWS), and is making the results of these compliance-focused services available through Alexa with the BMC Software skill.
Example command: "Alexa, open BMC. What is my non-compliance?"
12. Expense TrackerExpense tracking is a necessary tedium for every business. The Expense Tracker Alexa skill creates a financial overview and manages expenses. At this point, it's more personal than business-focused, letting you add expenses to default categories such as clothes, food, fun, household, and work. If your business wants to track specific expenses, then you can create new categories. Alexa will also give you a summary of all your spending per category with the command "Alexa, ask Expense Tracker for my report."
Example commands: "Alexa, ask Expense Tracker to add the category food reimbursement.""Alexa, tell Expense Tracker that I paid 10 dollars for food."
13. Rhino Fleet TrackingIf you have a business that deals with the logistics of drivers, deliveries, and shipment tracking, then the Rhino Fleet Tracking skill is for you. If you have a Rhino Fleet Tracking account, then you can enable this skill to ask Alexa for the locations of your vehicles and drivers. You can also assign drivers to vehicles on the fly and search for drivers who are at a specific landmark.
Example commands:"Alexa, tell Rhino to list my drivers.""Alexa, ask Rhino where Steve is.""Alexa, ask Rhino where device Jeep is.""Alexa, ask Rhino to assign driver Steve to device Jeep."
14. ShopifyIf your business has an e-commerce component and uses popular software Shopify, then the company has built an Alexa skill just for you. The Shopify skill enables Alexa to pull information on orders, inventory, and store performance summaries. Currently, the skill lets you ask for weekly or monthly store summaries, orders and sales reporting data, specific order information, product fulfillment information, average-over-value over specified time periods, and a summary of your best-selling products.
Example commands:"Alexa, ask Shopify to tell me about my store this month.""Alexa, ask Shopify what my sales were this week.""Alexa, ask Shopify for my order breakdown.""Alexa, ask Shopify which products need to be fulfilled this week.""Alexa, ask Shopify what my best-selling products are this month.""Alexa, ask Shopify to find the average order value in September."
15. TFM ToolThe TFM Tool skill can look up transaction codes based on debit and credit accounts. This tool uses four- digit Speculative Grade Liquidity Ratings (SGLs) to look up transaction codes from the US Treasury Finance Manual (TFM). For any business that needs to regularly look up transaction codes, this skill is a must-have.
Example command: "Alexa, ask TFM Tool for the transaction code to account number 012345."
16. WebHRAlexa can also help you manage your human resources (HR). If your business uses the affordable WebHR platform, then the WebHR skill can help you manage employees. The skill lets Alexa surface information on employee demographics, who showed up for work today, upcoming birthdays, staff meetings, employee demographics, and more.
Example command: "Alexa, ask WebHR how many male and female employees we have."
17. Work Time TrackerWork Time Tracker is a simple skill for tracking work units throughout the day. Once enabled, you can ask Alexa to start tracking for a work unit and stop when you're done. You can then ask for total work times and the skill will give you a summary of all work units. More features are planned, according to the developer.
Example commands: "Alexa ask Time Tracker to start tracking.""Alexa ask Time Tracker to stop tracking.""Alexa ask Time Tracker for total time."
Marketing and Sales
18. Authentic Digital Marketing Tips Digital marketing agency Authentic has built a Digital Marketing Tips skill that can serve up a daily tip, a random tip, or tell you yesterday's marketing tip. For the small business owner who can't afford a marketing department or consulting agency, this skill is an easy way to learn as you go.
Example command: ""Alexa, ask Authentic to give me a random tip."
19. Brand HaikuBased on Joseph Benson's book, Fifty-Seven Brand Haikus, this skill plays 57 concise bits of brand wisdom through Alexa. Brand Haiku describes how to build and sustain a brand, and how customers think, behave, and choose brands. These tips go hand-in-hand with the digital marketing skill above for a daily Alexa crash course in marketing your business.
Example command: "Alexa, ask Brand Haiku to play a haiku."
20. SalesTalkThe Sales Talk skill combines customer relationship management (CRM) and business intelligence (BI) in one voice-activated package. Developed by BI provider Skillsai, once enabled with an account, you can use this skill to ask Alexa for available sales data such as unit sales or best/worst sales reports. The platform also has an integration available for the WooCommerce WordPress extension.
Example command: " Alexa, ask Sales Talk what my best-selling sales day was this week."
Productivity
21. Scrum MasterFor all you fans of the Scrum agile software methodology, you'll go nuts over this Alexa skill. Scrum Master helps you effectively run a Scrum meeting and get real-time updates from your team as you work on a project.
Example command: "Alexa ask Scrum Master for the time."
22. Skill FinderThe best way to stay productive with Alexa is to consistently search for, enable, and test out new skills, more of which are added by the day. Skill Finder was developed by Amazon itself, and is by far the easiest way to discover Alexa's newest and top skills. Once enabled, Alexa will give you the "Skill of the Day" and let you search for skills across specific categories in the catalog.
Example commands:"Alexa, tell Skill Finder to give me the 'Skill of the Day."'"Alexa, tell Skill Finder to give me top skills.""Alexa, tell Skill Finder to list categories.""Alexa, tell Skill Finder to list the newest skills in the productivity category."
After Alexa lists a category, you can say "Alexa, tell me more about number three."
23. Task MasterTask Master is a skill that syncs directly to the popular Wunderlist task management app. If you have a Wunderlist account, then you can enable this skill to access your Wunderlist task lists, find out what is due, and add tasks.
Example command: "Alexa ask Task Master to review my inbox. What is due today?"
This article originally appeared on PCMag.com.