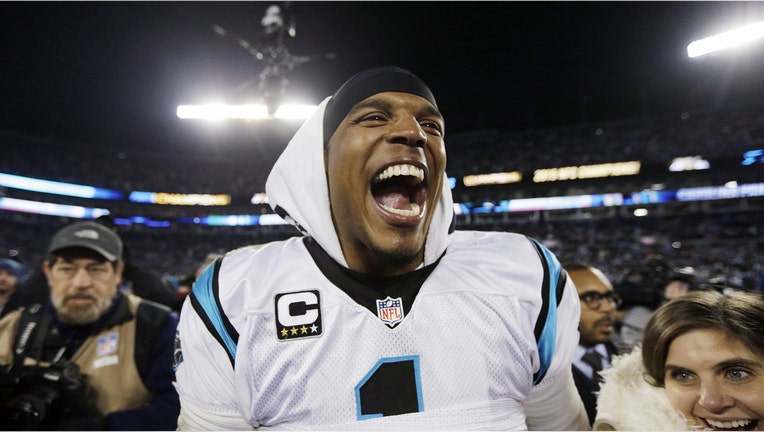 Sportsbooks are offering the usual slate of interesting – and at times ridiculous – prop bets as the Denver Broncos prepare to face the Carolina Panthers in Super Bowl 50 this Sunday. Football fans can place money on everything from whether Panthers quarterback Cam Newton will have a record-setting performance to which song Coldplay will play first during this year's halftime show.
When the Broncos last played in the Super Bowl in 2014, fans could place wagers on how many times Denver quarterback Peyton Manning would say his patented phrase "Omaha" during his pre-snap reads. Before last year's Super Bowl between the New England Patriots and the Seattle Seahawks, one prop bet scenario asked if Bill Belichick, the Patriots' curmudgeonly head coach, would smile on the sideline at any point during the game.
Several of this year's props revolve around Newton and Manning, the two biggest stars of Super Bowl 50. Wagers can be placed on whether Manning, 39, will announce his retirement after the game, or how many times Newton will do his trademark "Superman" celebration. And of course, fans can make the traditional bet on what color Gatorade will be dumped onto the winning coach's head.
Super Bowl 50 will kick off from Levi's Stadium in Santa Clara, California on Sunday, February 7th at 6:30 p.m. ET on CBS. A list of the 17 most interesting prop bets can be found below, courtesy of Bovada Sportsbook, but a total of more than 500 wagers are being offered.  (Odds accurate as of 1/29/2016 and subject to change)
Pre-Game
1. Coin Toss
Heads: -105 (20/21)
Tails: -105 (20/21)
Denver Broncos
2. Will Peyton Manning announce his retirement in the postgame interview?
Yes: +500 (5/1)
No: -1000 (1/10)
3. Will Peyton Manning be seen crying at any point during the entire broadcast?
Yes: +600 (6/1)
No: -1200 (1/12)
4. How many times will Archie Manning be shown on TV during the broadcast?
Over 1.5: Even (1/1)
Under 1.5: -140 (5/7)
Carolina Panthers
5. How many times will Cam Newton do the "open shirt Superman" motion during the game?
Over 2.5: Even (1/1)
Under 2.5: -140 (5/7)
6. Will the Panthers player who scores their first TD give the football to a boy or girl?
Boy: -200 (1-2)
Girl: +150 (3/2)
7. Will Cam Newton break the Super Bowl record for most rushing yards by a QB?
Yes: +275 (11/4)
No: -450 (2/9)
General
8. How many times will "dab" or "dabbing" be said by the announcers during the broadcast?
Over 2: Even (1/1)
Under 2: -140 (5/7)
9. Will [CBS officiating analyst] Mike Carey be wrong about a challenge?
Yes: +110 (11/10)
No: -150 (2/3)
10. Will there be an earthquake during the game?
Yes: 10/1
11. How many times will the Golden Gate Bridge be show during the broadcast?
Over 0.5: -300 (1/3)
Under 0.5: +200 (2/1)
12. What color will the liquid be that is poured on the winning coach?
Orange: 5/4
Blue: 3/1
Clear: 4/1
Yellow: 4/1
Red: 6/1
Green: 10/1
Purple: 10/1
13. Team to score first in the game
Carolina Panthers: -150 (2/3)
Denver Broncos: +120 (6/5)
Halftime
14. Which song will Coldplay play first during the halftime show?
Adventure of a Lifetime: 2/1
Fix You: 7/2
A Sky Full of Stars: 9/2
Viva la Vida: 5/1
Clocks: 15/2
Speed of Sound: 9/1
Head Full of Dreams: 10/1
Paradise: 10/1
15. What color will Beyonce's footwear be when she comes on stage for the halftime show?
Black: 3/2
Gold/Brown: 5/2
White: 11/4
Silver/Grey: 19/4
Any other color: 7/1
Post-Game
16. Who will the Super Bowl MVP mention first?
God: 2/1
Team: 2/1
City/Fans: 6/1
Coach: 15/2
Family: 15/1
None of the above: 9/4
17. Who will be named Super Bowl 50's MVP?
Cam Newton: 5/7
Peyton Manning: 11/4