15 Fun, Easy Ways to Wrap Gift Cards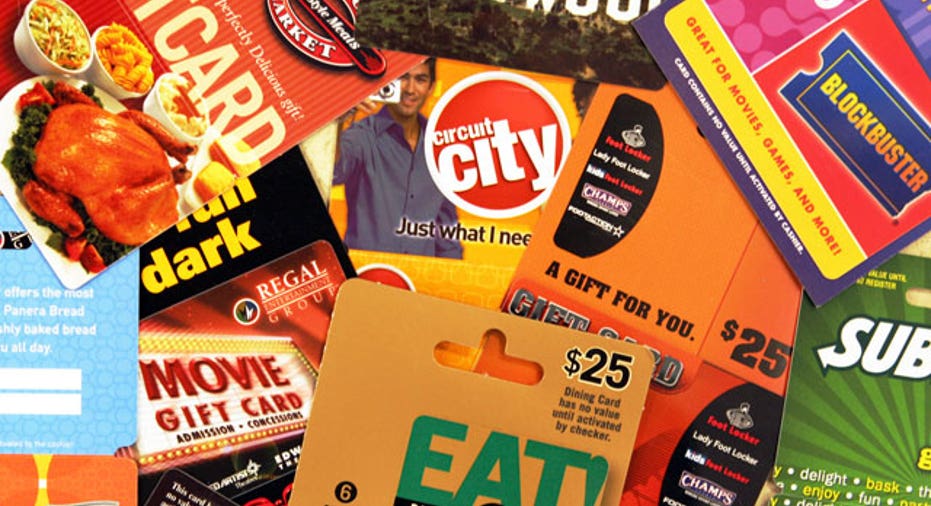 Amp up the "wow" factor when giving gift cards this holiday season. All it takes it a little creativity -- and a personal touch.
Gift cards have a reputation for being easy, one-size-fits-all gifts for everyone on your list. But a piece of plastic on its own can only garner so much excitement. To make them more fun for your recipients, put a little extra effort into the wrapping and presentation, says Shelley Hunter, founder of GiftCardGirlfriend.com, a site dedicated to "guilt-free gift carding" by providing innovative ways to give gift cards.
You don't have to spend a lot to do it. Hunter says you just have to get creative and add a personal touch. "Giving a gift card to the cooking store? Bundle it with a secret family recipe or three busy-day meals your kids never complain about," she says. "A gift card to the bookstore? Deliver it with homemade bookmarks from the kids or a list of the 10 best books you've read."
We've put together 15 of this year's best ideas for personalizing your gift cards tailored to the personality of the recipient.
The humorist
Chances are, there's someone in your family who loves to play practical jokes or is always ready with a pun. Here are a few ideas for turning the tables. The best part of these wraps is watching your recipient try to get to the gift.
1. The ice card cometh: This one's free and simple to do. Just choose a gift-card sized plastic container or mold, float a gift card in water and freeze. Keep it frozen until just before it's time to open presents -- you can present it in a cooler or a box with sawdust with an ice pick.
2. 'Can' you open that? Put your gift card in a clean, empty can that can be opened on both ends and seal with industrial strength glue, such as E6000. You can also create your own humorous label for the can.
3. Boxed in: Given the tiny size of a gift card, be deceptive and wrap it in a large appliance size box (think: refrigerator!) with successively smaller boxes inside. Or think of your "victim's" least favorite item, such as fruitcake, and wrap the card inside.
4. Don't be puzzled: Confound your recipient with one of the puzzle containers from Mag-Nif. The Gift Card Maze ($7.49) and Money Maze ($10.99) both hold gift cards and are guaranteed to keep your loved one busy solving the puzzle to get to the present.
The sentamentalist
These gift wraps are perfect for the people in your life with rich memories of the good ol' days.
5. Twelve Days of Christmas: Twelve heirloom quality gift boxes ($49 for set of 12; pictured at right) that are gift-card sized can help you create a tradition in your family of opening one present on each of the 12 Days of Christmas. The boxes can be hung on your tree as ornaments after they are opened.
6. Frame it: It's so simple, but framing a gift card is two presents in one. For someone who loves to hang photos of loved ones around the house, a frame from you will always be appreciated.
7. Take that old record off the shelf: For people who still remember and love old records, find a favorite artist's album in your local thrift store and tape a gift card to the center of the record. Replace the record in the album sleeve, wrap and presto! Instant nostalgia.
8. Borrow from the Japanese: Wakako Takagi, owner of Baum-Kuchen, created a simple yet beautiful gift card wrap based on the principles of traditional Japanese gift wrapping, which emphasizes paper folding as "a way of giving." (This slideshow on this page will show how to create this unique gift card wrapping.)
The businessman/woman
Giving gift cards to your employees or co-workers this year? Consider this idea:
9. Card case: Pick a nice business card case and tuck a (perfectly sized) gift card inside -- they'll use it throughout the year and think of you!
The eco-friend
Many gift card wraps are dual purpose, so you're not creating waste -- something your environmentally friendly recipients will appreciate. Here are a few more products that are well suited to the "green" crowd.
10. Reusies: Fold your gift card up in a Reusie ($8.95, pictured at left), a reusable alternative to sandwich bags which is also the perfect size for a gift card, and your recipient will have a colorful way to "brown bag" it at work or school.
11. Reusable greeting card: These greeting cards ($5.95) are made for re-gifting. They come with one sheet of paper, which can be swapped out for future use as a card for someone else or a journal. There's a pocket for a gift card, too.
The fun-loving friend or relative
Appropriate for your buddies or the people in your life who live for fun, these gift-wraps are simple and budget friendly.
12. Soda tree: From Todd Ashby, a marketing director in Iowa: "My brother-in-law has a penchant for gas station fountain soda, so we went to the local outlet of the station he frequents and bought enough large cups to make a tree. We drilled holes in the ends of the cups and inserted a string of battery powered Christmas lights, illuminating the cups from within. We then decorated with miniature decorations from a local craft store. We wrapped a gift card from the same gas station like a small present and placed it at the base of the tree."
13. Let's go to the movies: For film buffs, wrap a movie gift card in a popcorn tub (some theaters sell refillable tubs), along with movie theater candy.
14. Pick up the tab: Give a restaurant gift card wrapped up with a place setting of disposable dinnerware and a napkin, a bottle of wine and perhaps a special dessert.
15. Keep that card warm: Crafters will appreciate the time it took you to whip up a knitted gift cardholder (see the free knitting pattern here) which can be reused for business cards or credit cards.
NOTE: Some products were provided for review by the manufacturers.
More from CreditCards.com: