13 Things Not to Buy on Black Friday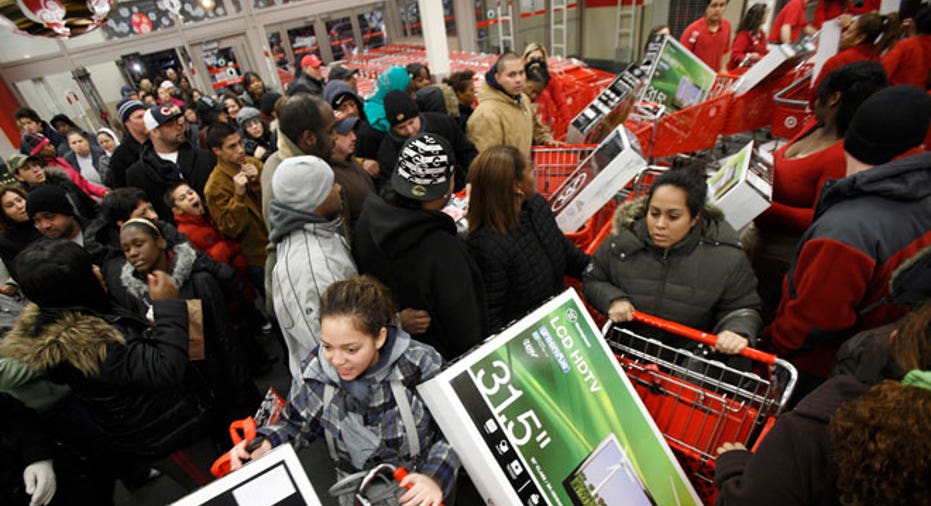 With all the 2013 Black Friday ad leaks and sneak peeks we've unearthed in the past few weeks, this season's shopping extravaganza is looking ripe with deals and discounts for all. But even though many product categories will see new all-time low prices, not everything is at its lowest price on Black Friday. In fact, there are 13 items you definitely shouldn't buy on November 29. This baker's dozen of goods — including toys and brand-name TVs as well as international airfare and digital cameras — will see better discounts in December and the new year.
1. Toys
We've said it many times already, and we'll say it once more: Black Friday is not the best time to buy toys for the holidays. Many will likely see discounts on Black Friday, and it may feel pretty good to get your shopping done early, but you won't love the sinking feeling you'll get when you see the same toys for even less about two weeks before Christmas.
2. Game Consoles Without a Bundled Item
Speaking of toys, if you're looking to buy a video game console this holiday, you'll get more bang for your buck by opting for a console deal that includes a few extras. In years past, the vast majority of Editors' Choice console deals went to holiday bundles that included premium accessories and two or three game titles. These were frequently discounted 30% to 40% off their retail prices.
A note about next-gen consoles: Unfortunately, we don't expect to see any discounts on the new Xbox One or PlayStation 4 this holiday, bundled or not. However, because these consoles are in high demand and will sell out quickly, we consider just finding one at list price — even if it doesn't come bundled with a game or controller — to be a deal.
3. Brand-Name HDTVs
Black Friday is an excellent time to buy a new TV, as we predict a variety of size categories will hit their lowest price points. But don't expect the best deals to be tagged with name brands. Typically, the rock-bottom prices apply to third-tier manufacturers; brand-name TVs tend to see their best price of the year in late December as manufacturers look to clear stock after the holidays.
4. DSLR Cameras
There's no shortage of digital camera deals around Black Friday, but premium current-generation cameras are just a few months away from being replaced by a new line of 2014 models. If you're eyeing a brand new digital SLR, we recommend waiting until after CES and into February for 2013 cameras to become "old," and thus receive aggressive discounts from retailers.
5. Winter Apparel
On Black Friday, we'll likely see some of the best apparel coupons of the year from a variety of retailers. However, if a new coat or jacket is on your list, it's smarter to hold off until January when winter apparel is added to clearance sales that will receive much deeper base discounts. We will inevitably find additional stacking coupons then too, which make end-of-season sales even better for your wallet.
6. Christmas Decorations
While not typically on anyone's "To Buy on Black Friday" list, Christmas decor tends to end up in-cart on impulse buys. Sure, that string of lights or holiday wreath might be on sale, but deals on Christmas items get better the closer we get to the holiday itself — and of course the best deals appear after the holiday. Last year, we listed the Musical Charlie Brown Christmas Tree in early November for $19 shipped. On Black Friday it fell to $15 shipped. By Christmas Eve it was available for $9 at Kmart.
7. Exercise Equipment
For those of you looking to get a leg up on any New Year's Resolutions to get fit, you should resolve to wait to buy any fitness equipment. During Black Friday weekend 2012, we listed just two Editors' Choice fitness deals, while December and January each saw more than five times that amount on a variety of gear including heart rate monitors, ab machines, ellipticals, and yoga equipment.
8. Jewelry and Watches
We're flagging this accessories category "Do Not Buy" for the entire holiday season. Much like Christmas items, there will be lots of sales advertising shiny, metallic objects perfect for him and her. But the discounts on jewelry around the winter holidays are no better than those around Valentine's Day, when baubles are at their most in-demand. Last year, we posted just four Editors' Choice watch deals and three Editors' Choice jewelry deals from Black Friday through Cyber Monday.
9. Apple iPad mini 2 with Retina
The stylish and new iPad mini 2 (with Retina) will set you back the same amount as an iPad 2 — $399 — and if the iPad mini 2 follows the price pattern as its predecessor, it won't see a 10% discount until several months from now. While there's an off-chance that an attention-seeking retailer could offer an iPad mini 2 Black Friday deal, the original, first generation iPad mini is a better buy this holiday season: the Apple Store has already discounted to $299.
10. Kindle HDX
For the past two years, no new Kindle Fire HD tablets have seen any significant discounts on Black Friday. But the device has fallen in price: with the addition of the Kindle HDX to the Kindle tablet lineup, Amazon dropped the price of the Kindle Fire HD to $139. However, we still don't anticipate seeing any dollar-off discounts on the Kindle Fire HD because it's already sold at cost. Moreover, the current generation Kindle HDX is also a "don't buy" for Black Friday — unless you find a bundle deal that increases its value.
11. Bedding & Blankets
While we don't know anyone who doesn't appreciate a seasonal throw blanket, we don't recommend giving them as gifts this year unless you've got a stock of them in the closet from last season. Not only does holiday decor get cheaper after the holiday in question (see Christmas Decorations above), but bedding and blankets fall to their lowest prices of the year come January and February during White Sales, which have been a colorful tradition since the 1950s.
12. Wine & Specialty Foods
Perhaps better received than throw blankets, gift baskets and wine subscriptions are especially popular during the holidays. But as the giver, you'll get a better deal on specialty foods (i.e. Omaha Steak gift bundles, fruit baskets, assorted baked goods) if you wait until December; last year we saw twice as many Editors' Choice deals close to Christmas than around Thanksgiving.
13. International Airfare
If you have your sights set on a trip California or Florida, by all means purchase airfare around Black Friday and even closer to Christmas. Last year we saw up to 50% off coupons from Frontier, JetBlue, and Virgin America. However, if it's an international getaway you're after, we advise you to hold off on booking your flight until the new year. Last year we saw zero Editors' Choice airfare deals between Thanksgiving and New Year's. But in the first two months of the year, Air Canada offered the lowest base rate we'd seen for flights to Toronto; JetBlue took 80% off select flights to the Caribbean; and Lufthansa offered roundtrip fares to Europe for $471.
While we advise against purchasing the above products around Black Friday, keep in mind that nothing is written in stone, and we may still see some stellar deals within these categories; however, it's more likely that we'll encounter so-so offers, so it's best to temper your expectations.
But enough about what you shouldn't buy on Black Friday! Check out our complete Black Friday predictions to see what's good to purchase around our (and Kentucky's) favorite shopping holiday. Then, consider signing up for an email alert so you know immediately when the items of your choice are listed on dealnews.
Related DealNews Features: