12 Veterans Day Freebies, Deals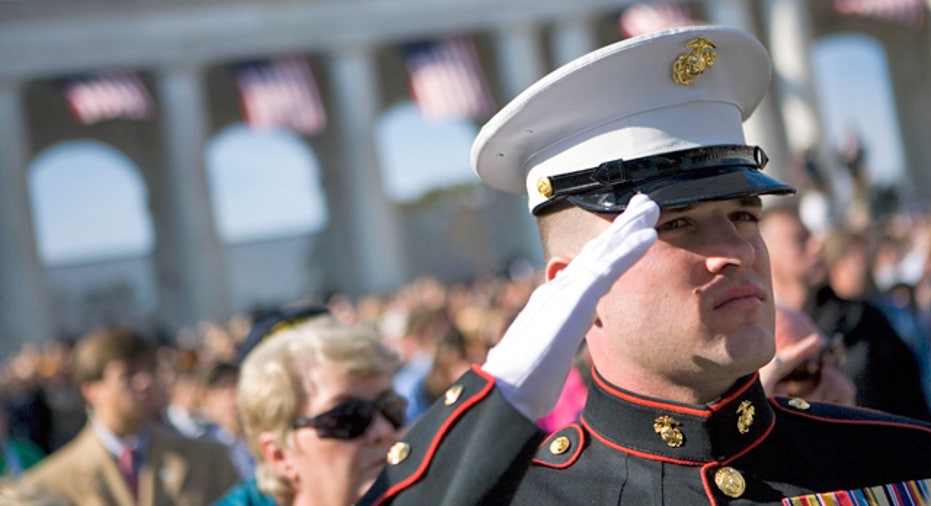 National chains across America are saying "thank you" to the over 18 million military veterans in the U.S. by offering freebies and deals on services in honor of Veterans Day this Friday, Nov. 11.
Many veterans are business owners themselves, with Veteran-owned firms now comprising 7.5 percent of the nation's 5.4 million employer businesses, according to the U.S. Census Bureau.
From restaurant chains to amusement parks, here's a roundup of just some of the many deals for veterans and their family members this Veterans Day. A reminder that many of the offers require proof of I.D. or a uniform.
Applebee's: Free Meals Veterans and active duty military receive a free meal from a limited menu on Nov. 11.
American Family Care (AFC) Offers Free Flu Shots Veterans can receive free flu shots on Veterans Day, Nov. 11 at an American Family Care clinic. Visit AFCUrgentCare.com to find the nearest AFC clinic location.
Bed, Bath and Beyond: 25% Off Entire Purchase for Veterans and Spouses Active military, veterans and their spouses will receive 25% of an entire purchase at all Bed, Bath and Beyond locations from Thurs., Nov. 10 to Sun., Nov. 13.
B&B's for Vets, Complimentary Rooms at InnsHundreds of inns and B&B's across the country will honor active and retired veterans with complimentary rooms on either Nov. 10 or Nov. 11. Participating inns are listed at www.BandBsforVets.org. Booking is done directly with participating inns.
Chipotle: Buy One Get One Free (BOGO) Deal From 3 p.m. to close on Veterans Day, all U.S. military, military spouses and veterans get a buy one get one free burrito, bowl, salad or tacos.
Friendly's: Free MealsVeterans and active duty military receive a free breakfast, lunch or dinner from a limited menu on Nov. 11.
Great Clips Free Haircuts Veterans get a free hair cut from Nov. 11 through Dec. 31, 2016 at Great Clips hair salons across the country. Customers who come in for a service on Veterans Day get a free haircut card to give to veterans, redeemable through Dec. 21, 2016.
iPic Theater: Free Movie TicketsAll veterans and active duty military can get a free movie ticket by showing proof of service with U.S. uniform services I.D. or in uniform. Here's a list of IPic Theater locations.
Legoland Florida: Free Admission, 50% Off Tickets for Six Guests Veterans get free admission from Nov. 1-20, as well as 50% off tickets for up to six accompanying guests at the theme and water park LEGOLAND in Florida.
U.S. National Parks Waive Entrance FeesVeterans will have access to over 100 National Parks that require entrance fees for free on Nov. 11
World of Beer: Free Beer Free beer for all veterans and current service members with military I.D., VA card or proof of service on Nov. 11 at participating locations.