10 Silly Car Gadgets You Have to See to Believe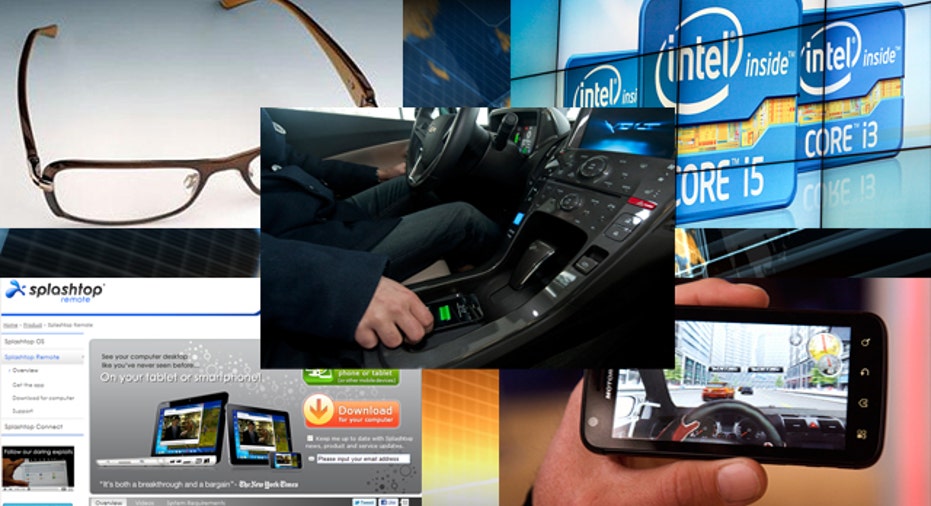 You Bought me WHAT?
Most of us log a lot of hours in our cars these days, commuting, chauffeuring kids, running errands. To make things a little easier, the auto accessory industry is here to help, manufacturing all kinds of gadgets to use while you're on the go.
Some inventions are quite useful. But not all gadgets are cool or even utilitarian. In fact, they might bring this question from the user: "What were they thinking?"
If you're looking for a practical gift for your auto nomad, skip this story. If you want to learn about silly gadgets to avoid, the following list from Bankrate will be educational.
Hey There, Gorgeous
Your car is already the apple of your eye, but even the most gorgeously styled sedan can use a little cosmetic help. Enter CarLashes, a set of 8.5-inch-long plastic eyelashes that use a double-stick adhesive to attach securely to the space above your car's headlights.
Bonus: The feathery lashes are decidedly feminine, so you can settle the long-debated topic of your car's gender once and for all. Buy the optional "crystal eyeliner" to add extra sparkle. The adhesive for both the lashes and eyeliner won't damage your car's finish when you take them off. But why put them on?
Price: $29.95 for CarLashes, $26.95 for eyeliner
Mix It Up
Ever been on the freeway and get a hankering for a freshly prepared glass of Tang? Then you need the Auto-Mixing Travel Mug with Tornado Action, an acrylic tumbler that uses two AAA batteries to mix up sports drinks, baby formula or any kind of blended beverage in an instant. Just press a button, and the mug's "tornado action mixer" whirs to life, turning mere ingredients into true roadside refreshment. The tumbler's leak-proof cap keeps the liquids safely inside while they blend. Forget waiting in the drive-thru at Starbucks, now you can make your own frappes without having to open your car window.
Only one question remains about these gadgets. Where are you going to keep your ice, coffee and whipped cream?
Price: $20.78
Compact Cleaning
Sure, paper towels and napkins are great for handling intravehicular messes, but let's face it: Space is precious, and that inch-long spot in your door pocket could be better occupied by your collection of pocket-sized knock-knock joke books.
Go minimalist with the CommuteMate Instacloths. These tiny tablets instantly grow to a full-size wipe with the addition of a mere splash of water. Just save a little from your Auto-Mixing Travel Mug.
The package comes with 96 tablets, ensuring you'll have the provisions to clean up mishaps for weeks to come -- provided you also have the necessary liquid for "activation."
Price: $21.99
Thin Crust or Deep Dish?
You know what stinks? Rush hour. You know what stinks less? Rush hour with a pizza baking in the passenger seat.
It can happen with a 12-Volt Oven and Pizza Maker, a handy-dandy appliance that plugs right into your cigarette lighter. Just bring along oven-safe cookware, and you can prepare "pizza, hamburgers, roasts, baked potatoes and more," before you even get home from work.
The power cord is 5 feet long, too, so even back-seat passengers can test out their auto culinary skills.
However, riding down the road with a 310-degree box on the floorboard does require some caution. The makers warn that the oven should be kept on a "flat, level surface," away from any flammable liquids or vinyl.
Price: $29.99
How's Your Driving? Read My Sign
Giving mean looks to the guy who almost sideswiped you may be satisfying, but you can never really tell whether they saw you or not. Solve this problem with the Drivemocion Car LED sign, which uses light-emitting-diode technology.
Attached to rear windows with suction cups, these gadgets can display one of five animated facial expressions through the rear windows of cars. A remote-control unit can be used to switch between the various faces.
Not the aggressive type? No worries. The sign also can deliver friendly messages of praise to other drivers with a smiley face or even make the first romantic move with a "flirty face."
Price: $49.95
Getting Cushy
If you've ever wished your car could be more like your overstuffed recliner at home, you could use the AutoSport Console Cushion. Made with a memory-foam top and a polyurethane bottom, this removable cushion provides "soft comfort" for your center console while still allowing access to the lint-covered change and stale Cheetos inside the box.
Worried about ruining your in-car pillow with an ill-timed latte mishap? The microfiber cover can be removed for washing. If you're the creative type, you also can use the cushion for a variety of other purposes, such as lunch-hour naps, a Barbie doll bed or a stress ball.
Price: From $29.95 to $39.95, depending on size
What's New, Pussycat?
A car's size invariably implies a "for grown-ups only" message. If you'd rather make your vehicle look like something a preschooler would drive, you should get the Universal Hello Kitty Exhaust Tailpipe. Made of stainless steel that's been partially polished in order "not to hurt the hand," this accessory is shaped like the head of that ubiquitous mouthless cat character, complete with whiskers, and attaches to the car's exhaust pipe. The metal is corrosion-resistant, so you can display your kitty fandom for years to come. With inventions such as this on the market, can Little Twin Stars rims or Keroppi spoilers be far behind?
Price: $59.03
Avoid the Fuzz
This one made it onto Bankrate's list not for its lack of practicality, but because of its likely illegality: PhotoBlocker license plate spray. Grab a can and douse your license plate. The special formula produces a high-powered gloss that foils red-light and speed cameras as the gloss reflects back the flash from a camera, overexposing the image of your license plate. One can covers four license plates.
But don't take the spray as license to zoom through intersections all over town. The makers insist that PhotoBlocker is designed to protect drivers from faulty cameras only. "We do not condone the use of PhotoBlocker products to defeat toll booth cameras … Always obey traffic laws," the product advertisement says.
Price: $49.99
Table for 1
We've all eaten fast food in the car, but wouldn't it be nice to recreate an in-restaurant experience in the driver's seat? Now you can with this Steering Wheel Laptop/Eating Tray, which clips right to the wheel of your car for an instant table on the go.
A built-in cup holder keeps your drink steady even as you careen down the freeway at top speed. Its sturdy plastic construction enables it to hold up to 20 pounds, which means the tray can support a laptop, encyclopedias or several foot-long sub sandwiches without sagging. Whether you'll be able to safely steer the car and reach the pedals while in use is something to consider.
Price: $20.99
Drink up, Fluffy
Even pet lovers have to be somewhere in a hurry sometimes. So what's Fluffy to do if she gets thirsty while you're on a nonstop loop of bank runs, dry-cleaning pickups and pharmacy visits?
That's when you turn to the To Go Dog Travel Bowls. These sturdy plastic receptacles fit right into your car's cup holder, so your four-legged wonder can lean over and take a sip whenever she pleases. It comes complete with a lid and removable splash guard.
To reduce splashing while in your vehicle, the manufacturer recommends filling the To Go bowl with a maximum of 16 to 18 ounces of water.
Also, the bowl easily transitions from the car's cup holder to the floor or ground by removing the cup holder base.
Price: $19.99