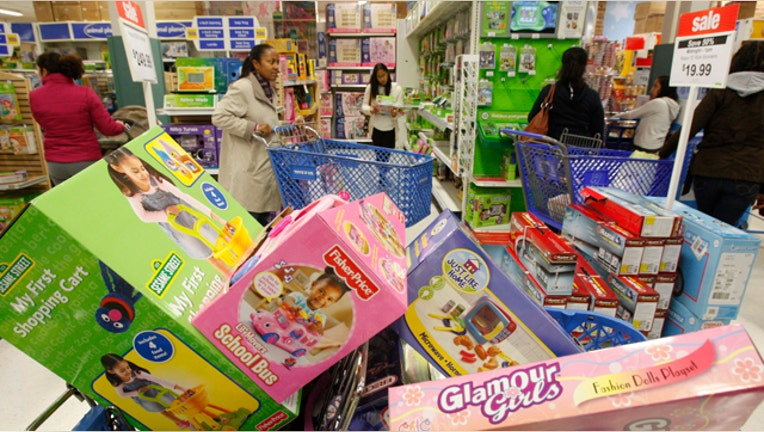 All year I attend trade shows and previews to see what toy makers are up to. This year, I found personalization, tech toys, STEM and empowering girls were the most dominant trends, and they were used to great success across numerous toys. If you're still wondering what to give your kids this season, we've got you covered.
Not sure how you'll afford all those shiny new gifts? Drafting a budget is a good place to start, as is checking your credit to make sure your finances are in tip-top shape. (You can view two of your credit scores, updated every 14 days, for free on Credit.com.) Another option would be to put your cash rewards credit cards to use, since you'll be swiping a lot over the holidays. (Just remember to keep your debt levels low and make payments on time, as not doing so could throw a wrench in your credit.) Now that you've got your finances in order, check out the best toys of 2016 (remember, prices subject to change).
1. Edwin the Duck
Edwin is soft and squishy, and pairs with your smart device to deliver sweet songs, interactive stories and fun games. But he's more than a toy, he's also a water thermometer — yes, he can go in the bath! — white noise machine, night light and Bluetooth speaker. Score Edwin the Duck for $99 online at marblesthebrainstore.com.
2. Budsies
Turn your child's original artwork into a soft, cuddly plush! Simply send a photo of their artwork with any preferences, and the artists at Budsies will work their magic. They also make Selfie Budsies, creating a plush from your very own selfie. (Note: Since Budsies are handmade, you may need to pay for Express Shipping to get it in time for the holidays.) Start customizing your stuffed animal for $89 on Budsies.com.
3. My Kingdom Books
Blending reading with tech, these personalized books feature an augmented reality that is experienced through the My Kingdom Books app. Characters come alive in a way that kids have only dreamed about! Get started on your literary masterpiece for $25 on mykingdombooks.com.
4. VTech Touch & Learn Activity Desk Deluxe Interactive Learning System
This three-in-one desk is educational and fun. The interactive desktop offers tons of engaging content for kids, including lessons on the alphabet, counting, music and more. The desk also transforms into an easel and chalkboard — with room for supplies — for even more fun! You can get the VTech Touch & Learn Activity Desk for $54.99 on toysrus.com.
5. Props in a Bag
Encourage your child's imagination with this clever kit! Choose from The Camper, The Builder, The Superhero and more. Each drawstring backpack comes with character props and a 36" x 28" backdrop. Kids can also download the Props in a Box Movie Maker app to take their play to the next level. You can find Props in a Bag for $30 on propsinabox.com.
6. Barbie Fashionista Doll
This Barbie collection features a ton of new looks and styles, making it the perfect gift for any new or die-hard fan. Mix and match to create a colorful storyline. You can find the collection for $45 on toysrus.com.
7. Green Toys Tool Set 
This environmentally friendly tool kit comes in blue and pink versions for every aspiring carpenter on your list. The 15-piece set includes tough-as-nails tools made from 100% recycled plastic in the USA. You can find the tool set for $28 on shopthegreenlife.com.
8. My Fairy Garden — Freya's Magical Cottage
Here's something new — a real garden that's also a toy! With My Fairy Garden, kids plant the quick-growing seeds and water as usual. In the meantime, they can play with Freya the Fairy and her magical cottage. You can find Freya's Magical Cottage for $27.95 on Fatbraintoys.com.
9. Zing Toys Stikbot Studio Pro
This cool kit, made famous on YouTube, comes complete with a green screen, blue screen and two pose-able Stikbot characters, so budding filmmakers can make their own movies. You can find Stikbot for $16 on kmart.com.
10. Wonderhood Corner Shops
Wonderhood was founded by two mothers to address the lack of quality STEM toys for girls. And with this toy, girls can design and build their own 3D, two-level mini mall. The figurine can run her own business, go shopping, dress her windows and more! You can find Corner Shops for $30 on Wonderhoodtoys.com.
You can find the full list of hot holiday toys your kids will be begging for on Credit.com. 
More from Credit.com
This article originally appeared on Credit.com.
Trae Bodge is an accomplished lifestyle journalist, TV presenter, spokesperson and educator, specializing in beauty, tech, apps, toys, gift guides and smart shopping. She has appeared as an expert on dozens of TV shows and radio networks, including Today, Rachael Ray Show, Steve Harvey, Extra, Inside Edition, CNN, Reuters, CNBC.com, Better.tv, NBC's New York Live, WINS, WNEW, Sirius Radio and numerous FOX, ABC, CBS and NBC affiliates. Trae has been featured as a beauty taste maker in Elle, Redbook, InStyle and Essence, and she has bylined articles for USNews.com, ThisThatBeauty, XOJAne.com, Mainstreet.com, Steveharvey.com, and AllYou.com. More by Trae Bodge