US employers added 304,000 jobs in January, soaring past expectations
U.S. employers added 304,000 jobs in January, soaring past Wall Street's expectations for an increase of 165,000 jobs, seemingly brushing off a 35-day government shutdown as investors braced for mixed results.
It was the 100 straight month of gains.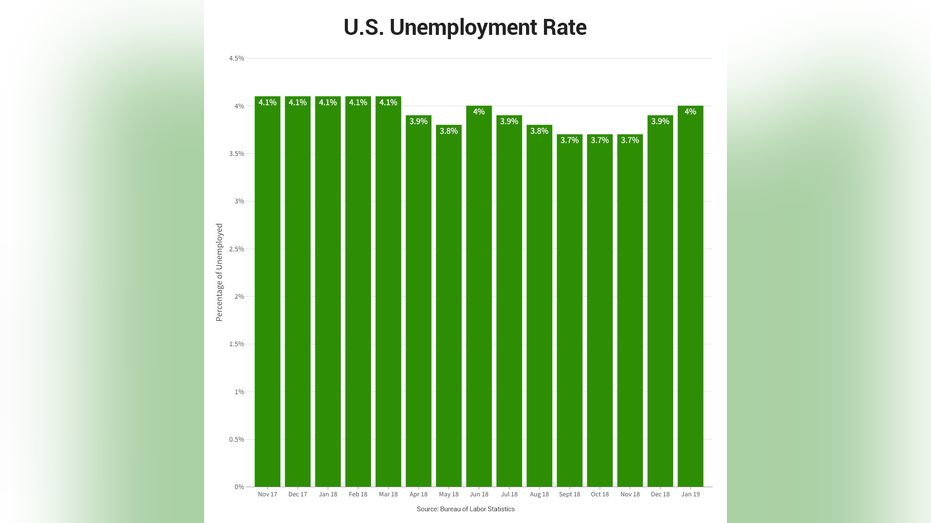 The unemployment rate climbed to 4 percent from 3.9 percent, while the labor force participation rate rose slightly to 63.2 percent. Average hourly earnings, meanwhile, rose by 3 cents to $27.56. Over the year, average hourly earnings have increased by a total of 85 cents, or about 3.2 percent.
The report is also indicative that despite recent geopolitical turmoil -- US-China trade tensions and uncertainty over the Brexit deal in Europe -- the U.S. economy will manage to shake off any market volatility, according to Josh Wright, the chief economist for iCIMS and a former Federal Reserve staffer.
Wright, however, warned that the better-than-expected number could complicate the dovish narrative the Fed is currently pushing.
On Wednesday, policymakers at the U.S. central bank unanimously voted to keep the benchmark federal funds rate unchanged, while signaling a patient approach to future interest rate hikes.
"We still see sustained expansion of ecnomic activity, strong labor conditions and inflation near 2 percent," Fed Chair Jerome Powell said at the time. "But the crosscurrents suggest a less favorable outlook."
But the blowout jobs number could convince the Fed to reverse course before the end of the year, according to Wright.
"As the shutdown fades into the past (and if another one doesn't do more damage), the Fed will lose one of its arguments for pausing, leaving it to rely on global headwinds, trade and Brexit uncertainty," he said. "Financial conditions have already improved considerably. It's going to be a rocky quarter or two for the U.S. central bank, with a lot of risk to its credibility. Yet if markets find the Fed credible, implied interest-rate volatility should be restrained."
Jobs numbers follow a report released on Wednesday from payroll processing firm ADP, which revealed the private sector added 213,000 jobs in December, beating analysts' expectations of 178,000 jobs.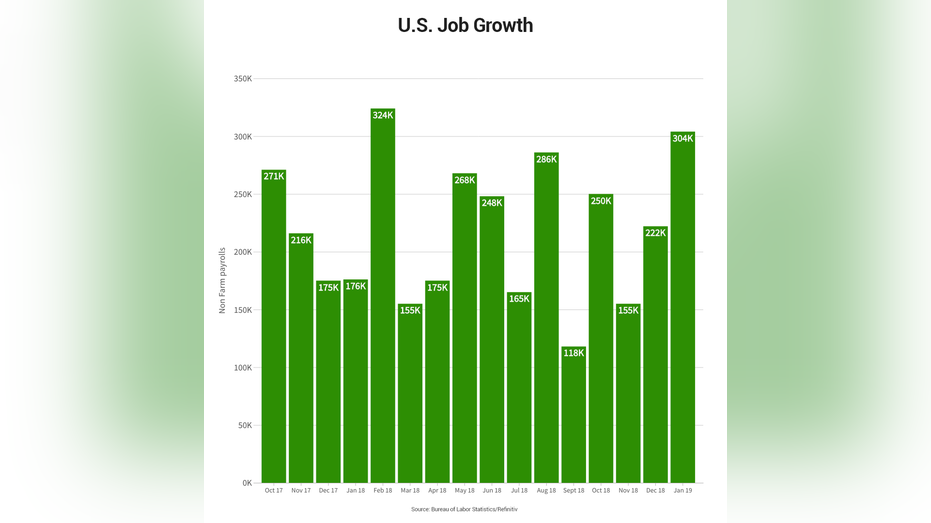 Analysts anticipated that unemployment would hold steady at 3.9 percent, one of the lowest numbers in nearly 50 years, while forecasting the creation of 165,000 jobs, according to economists polled by Refinitiv (formerly Thomson Reuters). In December, job creation was revised to 222,000, down from the original better-than-expected 312,000.
CLICK HERE TO GET THE FOX BUSINESS APP
Initially, the White House was bracing for a potentially negative jobs number in January when the Department of Labor releases the payroll data. However, U.S. labor officials said last week they would count the once-furloughed workers as employed because they're getting paid retroactively once the government is up and running again.