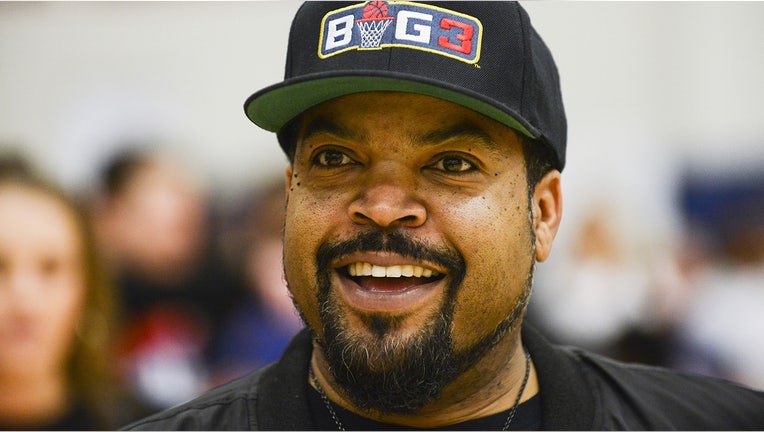 Ice Cube has always done things big. The rapper and actor, born O'Shea Jackson, left the hip-hop group NWA at the height of the group's popularity because he wasn't getting paid correctly. Cube says that's when he learned the true meaning of the words "show business."
"Getting that early lesson let me know that I have to be as serious with the business part of it as the production," he says. "Just never lose sight of it, keep it in the forefront and try to make smart business decisions."
It was that business sense that prepared Cube for his successful departure from NWA. As a solo recording artist, he has sold more than 10 million albums. The bankable actor's films include the popular Friday, Barbershop and Are We There Yet? franchises. Cube is also an experienced writer and producer. One of his most notable accomplishments was the 2015 blockbuster film "Straight Outta Compton." His production company Cube Vision produced the film which grossed more than $200 million worldwide. And now, he's made a big splash in the sports industry with BIG3, the professional 3-on-3 basketball league he founded with entertainment executive Jeff Kwatinetz in 2017.
"Jeff is a visionary like myself, he's fearless and it's a great idea. We work together like peanut butter and jelly," Cube says with a big smile.
Don't make the mistake of confusing the BIG3 with the NBA. Co-founder and co-CEO Jeff Kwatinetz says the league is zeroing in on the future of sports.
"We wanted a league that addressed the next generation of sports fans that want things faster and quicker and appeals to a youthful generation," says Kwatinetz. "3-on-3 is a game that's played everywhere in the world. It's very accessible. There's no reason why there shouldn't be a professional version of it."
The 3-on-3 format isn't the only thing that sets BIG3 apart from a typical NBA game. The league is made up of 8 teams: the 3 Headed Monsters, Ghost Ballers, Killer 3's, Tri-State, Power, 3's Company, Ball Hogs, and Trilogy. The game, which is played on a half court, features professional basketball's first four-point shot. Games are played up to 50 points and a team must win by two points. But the league isn't only changing the game with its playbook.
BIG3 is the first professional league with an African-American owner and commissioner. NBA champion and 10-time all-star Clyde "The Glide" Drexler was appointed the commissioner of BIG3 earlier this year.
"I am excited to help them (Cube and Kwatinetz) move the needle for the future of professional 3-on-3 basketball," says Drexler. "With my many years of experience with the NBA, I've seen how that league has grown and how they have done it, so that's an invaluable asset."
The multi-million dollar salaries you find in the NBA? Not at BIG3. Players are said to receive a salary of $100,000 a season. The league also encourages competition as players vie for a revenue share based on final team standings.
Beginning in the 2018 season, BIG3 announced the legalization of cannabidiol (CBD) for player pain management and recovery, becoming the first professional sports league to do so.
BIG3 also made history this month when Power defeated 3's Company to win the league championship. Power coach Nancy Lieberman became the first female coach of a professional men's team to lead a team to win a championship.
"We don't do things for the sake of being groundbreaking," says Kwatinetz. "We do things the way they should be done. If that pushes the envelope for the evolution of sports and other areas of entertainment, then that's good."
Fans are responding. In the inaugural 2017 season, the average attendance was more than 11,500 across all 10 cities. The average television viewer was 13 years younger than those who watch the NBA. In 2018, average attendance climbed to 13,500.
All BIG3 players and coaches are former NBA players. The 2018 roster included an impressive list of superstars including Killer 3's co-captain Metta World Peace and coach Charles Oakley, as well as Tri-State's co-captain Amar'e Stoudemire and coach Julius "Dr. J" Erving.
"We were lucky," says Kwatinetz. "We were able to get great marquis names, great players. It was great that FOX took a big chance on us and put us on the air."
The 2018 season was broadcast live on FS1, the FOX broadcast network and made available on the FOX Sports app. The games aired in every single TV market in the U.S. as well as 47 international territories and nations, including Thailand, Italy, Australia, and Brazil. According to Nielsen Media Research, FOX Sports' live broadcast of the 2018 championship game reached an average of 1,004,000 viewers, making it the most-watched BIG3 telecast to date. That number is 59 percent higher than last year's average audience of 632,000 viewers.
With their second season behind them, the three businessmen are looking ahead to 2019 and beyond. Drexler says one area of focus for him as commissioner will be marketing and promoting BIG3 while aligning the league with strategic corporate partners. Earlier this year, BIG3 and adidas announced a three-year partnership in which adidas will develop new lines of products including hoodies, t-shirts, uniforms and more.
The ultimate slam dunk for BIG3 would be signing former Los Angeles Laker and 18-time all-star Kobe Bryant. Kwatinetz set the sporting world on fire during a conference call this month when he said he heard from a credible source that Bryant would be joining the league next year. However, Molly Carter, chief marketing officer of Kobe Inc. told the Associated Press that Bryant has no plans to play for the BIG3. Only time will tell what will happen. But for now, BIG3 is focused on its next big play: conquering the world.
"We want to keep the league growing competitively and in popularity," says Kwatinetz. "We have thoughts about maybe expanding a few teams, going international and getting more people to see it internationally."
"Sky's the limit," Cube says emphatically. "I think we've got a worldwide sport. We want to be global with it."
Linda Bell joined FOX Business Network (FBN) in 2014 as an assignment editor. She is an award-winning writer of business and financial content.  You can follow her on Twitter @lindanbell.