8 best private student loans
If federal aid and loans aren't enough to cover your college costs, it's important to find the right private student loan for your needs and budget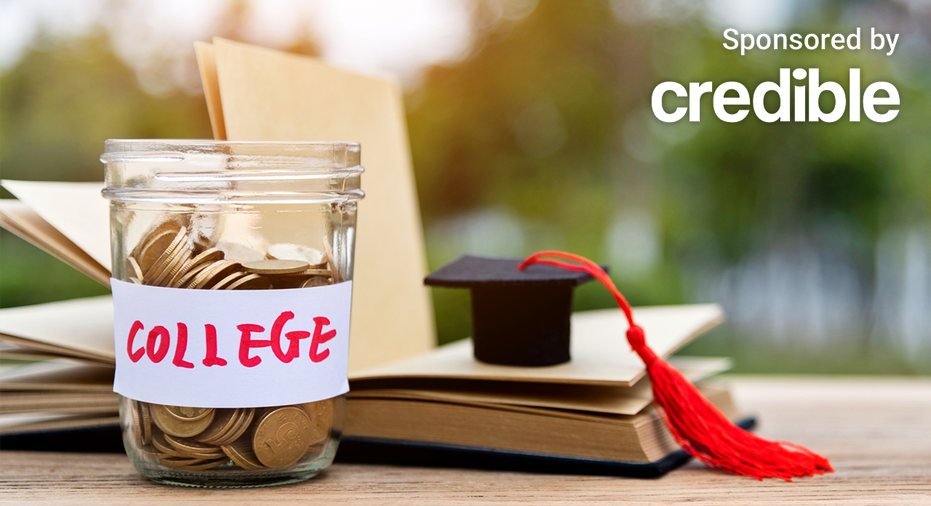 When scholarships, grants, college savings, and federal aid don't cover all your education costs, you might consider a private student loan. For-profit lenders offer these loans, which can help bridge funding gaps. 
To help you find the best private student loans, Credible assessed the following lenders based on factors such as interest rates, fees, repayment options, and customer service ratings. You can compare private student loan rates from some of these lenders when you visit Credible.
8 best private student loans
The following eight Credible partner lenders offer private student loans that can help cover your education costs:
Ascent: Best for personalized repayment terms
Ascent makes it easy to prequalify for student loans online in just a few minutes, with only a soft credit check. The lender offers six different loan repayment terms, as well as loans with cosigners, student loans without cosigners, and even an outcomes-based option for older students (meaning the lender considers factors like GPA for borrowers with no credit history who don't have a cosigner).
Interest rates vary depending on whether or not you use a cosigner, and you'll need at least two years of credit history to qualify for the best rates. If you'd like to borrow without a cosigner and don't meet the income requirements, you'll need two or more years of credit history and must maintain a minimum GPA of 2.9. 
Minimum credit score: 540
Terms: 5, 7, 10, 12, 15, or 20 years
Maximum loan amount: Up to $200,000
Pros
Cosigner release after 24 months
1% cash back reward at graduation
Cons
No parent loan option
Need credit history and minimum GPA to apply without a cosigner
Citizens Bank: Best for high loan limits
Citizens Bank allows for multi-year approval with just a single application, saving underclassmen and those with a lengthy degree program from needing to reapply for loans every year. 
Undergraduates can borrow up to $150,000, and you can borrow as much as $350,000 if you're working toward certain healthcare degrees. Citizens only offers three repayment options — full deferment, immediate repayment, or interest-only while still in school — and three loan terms, though. 
Minimum credit score: 720
Terms: 5, 10, or 15 years
Maximum loan amount: $150,000 for undergraduate; up to $350,000 for healthcare degrees
Pros
Multi-year approval means you don't have to reapply each year
Refinancing available for non-graduates
Cosigner release allowed after 36 months of consecutive, on-time payments
Cons
No online prequalification option for new loans (refinancing only)
Variable APR only offered on refinance loans
Limited repayment terms
HOW TO CALCULATE STUDENT LOAN INTEREST ON FEDERAL AND PRIVATE LOANS
College Ave: Best for borrowers who want in-school repayment
If you want to begin paying down your student loan debt while still in school, College Ave offers multiple options, including a flat amount monthly payment, interest-only payments, or even full repayment. The lender's minimum loan amount is as low as $1,000, and parents taking out a loan can receive up to $2,500 directly — giving parents more control over how students spend loan funds. 
Minimum credit score: Does not disclose
Terms: 5, 8, 10, 15, or 20 years 
Maximum loan amount: Up to 100% of school-certified cost of attendance
Pros
Multiple in-school repayment options
Loans can cover up to 100% of the cost of attendance
$150 cash back on certain loans for completed course of study
Cons
Doesn't disclose minimum credit score requirements
International students require an eligible cosigner
Cosigner release only available after half the loan term has passed
Custom Choice: Best for multiple discounts
Custom Choice student loan borrowers can receive a standard 0.25% autopay discount, as well as an additional 2% principal reduction discount, when they graduate. 
Borrowers can opt for a full deferment until after graduation, making interest-only payments while in school, making a flat $25 monthly payment while in school, or immediately repaying their principal and interest. 
Minimum credit score: Does not disclose
Terms: 7, 10, or 15 years 
Maximum loan amount: Up to 100% of school-certified expenses, with an annual limit of $99,999 and a lifetime limit of $180,000
Pros
Can be used to cover past-due balances
No fees (even late fees)
Additional 2% principal reduction when you graduate
Cons
Cosigners can't be released until 36 qualifying payments have been made
Students must be enrolled at least half-time
Doesn't disclose minimum credit score requirements
EDvestinU: Best for borrowers who need smaller amounts
Available in 24 states, EDvestinU is a nonprofit, private student loan program offered by the New Hampshire Higher Education Assistance Foundation. The lender offers both fixed- and variable-rate student loans for undergraduate and graduate students, as well as refinance options for existing student borrowers. For borrowers who sign up for autopay, EDvestinU discounts the loan's APR by 0.25%. 
Minimum credit score: 750
Terms: 7, 10, or 15 years
Maximum loan amount: 100% of your educational expenses, up to the $200,000 aggregate limit
Pros
Autopay discount available 
Scholarships are available
Refinancing is allowed even if you didn't graduate
Cons
Not available in all states
Cosigner release not allowed until 36 consecutive, on-time payments are made, and only if the borrower has a 750 FICO Score or higher
Most borrowers will need a cosigner with strong credit
HOW MUCH CAN YOU BORROW IN STUDENT LOANS?
INvestED: Best for Indiana residents or students
INvestED is an organization that aims to help families and students find the financial aid, scholarships, and federal loan funding they need for college. If there's a gap, the lender also offers private student loans, parent loans, and refinance loans to Indiana residents as well as out-of-state residents who will be attending Indiana schools. 
Minimum credit score: 670
Terms: 5, 10, or 15 years
Maximum loan amount: up to 100% of cost of attendance
Pros
Multiple payment options, including deferral until six months after leaving school
College planning and financial aid resources available
No application, origination, or disbursement fees
Cons
Only available to Indiana residents or students
Limited repayment terms
Cosigner release only available after 48 months of consecutive, on-time payments
MEFA: Best for low rates
Though MEFA stands for the Massachusetts Educational Financing Authority, the not-for-profit lender's undergraduate, graduate, and refinance loans are available to students across the country. MEFA allows students to borrow up to 100% of the cost of attendance. 
Minimum credit score: 670
Terms: 10 (undergraduates) or 15 years (undergraduates and graduates) 
Maximum loan amount: Up to 100% of certified cost of attendance
Pros
No aggregate limit; borrowers can take up to 100% of their educational expenses
Competitive APR compared to other lenders
Available across the country
Cons
No variable interest rate offered
Limited repayment terms
Cosigner release only available after 48 months of consecutive, on-time payments
Sallie Mae: Best for in-school repayment
One of the most well-known names in educational funding, Sallie Mae offers fixed- and variable-rate student loans to undergraduate students, graduate students, and those in professional or career training programs. Borrowers can defer payments until graduation, but paying interest-only or a flat monthly payment of $25 while in school will unlock lower interest rates on the loan.
Minimum credit score: Does not disclose
Terms: 10 to 15 years
Maximum loan amount: Up to 100% of school-certified costs (including tuition, books, travel, housing, and even laptops)
Pros
Lower interest rates for making in-school payments 
Cosigner release after just 12 months of consecutive on-time payments
Cons
No preapproval option; a hard inquiry is required to check rates or get qualified
No refinancing available
With Credible, you can easily compare your personalized private student loan rates from these lenders in minutes — without affecting your credit.
Other lenders to consider
The following two lenders aren't Credible partners, so you won't be able to easily compare your rates with them on the Credible platform. But they may also be worth considering if you're looking for a private student loan.
Discover: Best for rewards
While you're probably more familiar with Discover when it comes to credit cards, this financial services company also offers student loans. Discover offers a multi-year option that allows borrowers to prequalify for loans for future academic years without having to apply multiple times. And if your GPA is 3.0 or higher, you may qualify for a one-time cash reward equal to 1% of your loan amount for each Discover loan you take. 
Minimum credit score: Does not disclose
Terms: 15 years
Maximum loan amount: Up to 100% of educational expenses (aggregate limit may apply, but is not disclosed)
Pros
1% cash back reward for good grades
Multi-year option qualifies borrowers for future years, so they don't have to apply again
Available to international students
Cons
No cosigner release
Limited loan repayment terms
Aggregate limit not disclosed
Earnest: Best for flexible repayment terms
With availability in nearly every state, Earnest offers competitive student loans with flexible repayment terms to undergraduate students, graduate students, parents, and students in professional programs. Students can also refinance and consolidate their loans with Earnest.
Minimum credit score: 650 (for cosigners)
Terms: 5 to 20 years
Maximum loan amount: Up to 100% of educational expenses
Pros
Rates can be more competitive than other lenders
Nine-month grace period
Available in 48 states and Washington, D.C. 
Cons
Not available in Nevada
No online pre-approval
No cosigner release offered
How Credible picked the best student loan companies
Credible evaluated private student loan lenders in 10 different categories to determine the best lenders for private student loans. This included interest rates, repayment options, terms, fees, discounts, and customer service availability, as well as eligibility requirements and cosigner release options.
How do you apply for a private student loan?
If you think you'll need private student loans to help pay for college, it's important to follow these steps:
Fill out the FAFSA. The FAFSA, or Free Application for Federal Student Aid, gives you access to various forms of federal financial aid when attending school as an undergraduate or graduate student. Schools use the information from the FAFSA to determine what federal loans and financial aid offers you qualify for. Be sure to accept all of these before turning to private loans.
Calculate how much you need. Add up all your educational expenses, including housing, books, and meal plans, and subtract any college savings, federal funding, scholarships, or other aid. This will tell you how much you may need to borrow in private student loan funding.
Choose a cosigner. Most private loan borrowers will require a cosigner. This can be a parent, grandparent, sibling, or other trusted individual who is willing to take on responsibility for your educational debt. You'll need their information in order to process your loan application.
Get prequalified. Many private lenders will allow you to get prequalified for a loan online without affecting your credit. This will give you a good idea of the loan terms and rates available to you.
Compare offers. Once you have your prequalification offers, spend some time comparing them. Look at the interest rates, repayment terms, any applicable fees, available discounts or incentives, and loan features to see which is most affordable and convenient.
Officially apply for your loan. You'll need to submit a formal application. This will involve a hard inquiry (which does go on your credit) and enables the lender to finalize your loan offer.
Sign your loan agreement. Once your loan terms are set and your application is approved, you'll be asked to sign your loan documents. This outlines your promise to repay the debt as scheduled.
Wait for disbursement. The lender will verify everything with your school, then usually send the funds to them directly. If there's any money left over after tuition payments are applied, you can pick up a check from your school.
Benefits of taking out a private student loan
Although you should always exhaust all your federal financial aid and loan options first, private student loans offer certain advantages, including:
Borrowers can shop around for competitive loan terms and interest rates.
Private loans typically offer higher borrowing limits.
Loans are not need-based.
Drawbacks of taking out a private student loan
As with any financial product, private student loans have some disadvantages to consider, including:
Approval is credit-dependent, and many student borrowers will require a cosigner.
Private loans don't come with the same loan forgiveness programs or deferment and forbearance options.
Private student loans typically have higher interest rates than federal student loans.
Fixed rates vs. variable rates: What to know
Many loan products offer variable and fixed interest rates. All federal student loans are fixed-rate loans. But interest rates for private student loans may be fixed or variable. 
Fixed rates are set for the life of the loan, from the day the funds are disbursed to the last day of the loan term. They will not change. This means your monthly payment will remain stable as well.
Variable rates can change according to benchmark rates. The rate a lender offers at the time a student takes a loan may fluctuate — up or down — according to market changes. This can result in either savings or a more expensive loan product, depending on rate trends. And it means your monthly payment amount can change as well.
A fixed rate can offer more stability and a defined loan cost. Variable rates typically start out lower than fixed rates, and have the potential to save borrowers money if rates drop in the future, but that's not a sure bet.
Credible partner lenders offer variable- and fixed-rate loans for undergraduate, graduate, and parent borrowers. Comparing student loan rates takes minutes.
Which private student loan is best for you?
The right private student loan for you depends on your specific educational funding needs. For example, if you want to ensure that your cosigner can be released from the loan after you graduate, Sallie Mae might be the answer. And if you're looking for loans with a wide variety of repayment options, Ascent could be worth a look.
It's important to consider how much you need to borrow, what you'll be able to afford after graduation, what your (and your cosigner's) credit score is, and whether you'll need to take out additional loans in the future when determining the right lender for you.
Student loan FAQs
Here are answers to some frequently asked questions about student loans.
Do private student loans affect financial aid?
College financial aid offers are based on financial need and the net assets available to the student as well as their parent(s). The delta between educational costs and this aid is the amount that the student will be expected to cover between work-study programs, a part-time job, and, of course, student loans. Private student loans will not affect a student's financial aid offer.
WHO IS MY STUDENT LOAN SERVICER?
Is a Parent PLUS Loan better than a private loan?
The U.S. Department of Education offers Parent PLUS Loans, while credit unions, banks, and other financial institutions offer private student loans. However, they behave similarly, in that parents will need to meet certain income and credit eligibility requirements for both in order to qualify. 
Parent PLUS Loans have a fixed interest rate, which may be higher than the rates offered by a private lender — especially if the parent borrower has good to excellent credit. The benefit is that these loans may be eligible for Public Service Loan Forgiveness (PSLF) or income-driven repayment plans, which private parent loans don't offer.
Can you get a student loan without a cosigner? 
Most students will enter college with a limited credit history (if any) and little-to-no income of their own. For this reason, they're unlikely to qualify for a private student loan without a cosigner. As they get older, some lenders may offer outcome-based loan options, which upperclassmen and graduate students may be able to qualify for on their own.
Most federal student loans don't require good credit or a cosigner. Only PLUS loans for parents or graduate students have these requirements.
HOW TO FIND LOW-INTEREST STUDENT LOANS
Do private student loans affect your credit score?
Private student loans are a credit-based product. Parents (and often, students) will have their credit checked during the application process, which will turn up as a hard inquiry on their credit report. The loan will also be reported to credit bureaus and affect both students' and cosigners' credit until it's repaid and ages off the reports. This added debt can adversely affect your score, but a positive payment history can also build your score.
Can you get a student loan with a 600 credit score?
Most private student loans will require the student or their cosigner to have good credit, usually meaning a score of 650 or higher. Some lenders offer student loans for borrowers with bad credit, but these loans may have higher interest rates, shorter loan terms, and higher fees. Some students and cosigners with bad credit will need to consider other avenues for covering educational expenses, such as need-based federal loans.