Georgia Gov. Kemp vows to protect businesses from protestors after anti-police riot in downtown Atlanta
Kemp says Georgia 'not going to put up with' destruction of property during protests
Georgia Gov. Brian Kemp vowed on Tuesday to protect local businesses after violent protestors took to the streets of downtown Atlanta over the weekend, smashing windows and setting a police cruiser on fire.
Kemp appeared on FOX Business' "Cavuto: Coast to Coast" and said the state sent a strong message that Georgians won't put up with the destruction of property.
"We're going to bring these people to justice and man, we're going to send a message," Kemp said. "We did that two years ago during civil unrest when a lot of out-of-state people that, you know, really shouldn't have a dog in this fight or come into our city to destroy businesses and government property like police cars."
Masked activists dressed in all black threw rocks and lit fireworks in front of a skyscraper that houses the Atlanta Police Foundation, shattering large glass windows. They then lit a police cruiser on fire, smashed more windows and vandalized walls with anti-police graffiti as stunned tourists scattered.
ATLANTA ANTI-POLICE RIOTS HURT DOWNTOWN BUSINESSES, WORKERS' WALLETS, EMPLOYEES SAY
Caution tape was also wrapped around several buildings, including a Wells Fargo location that suffered several broken windows, photos at the scene showed.
Protests erupted Saturday in response to the death of 26-year-old environmental activist Manuel Esteban Paez Teran.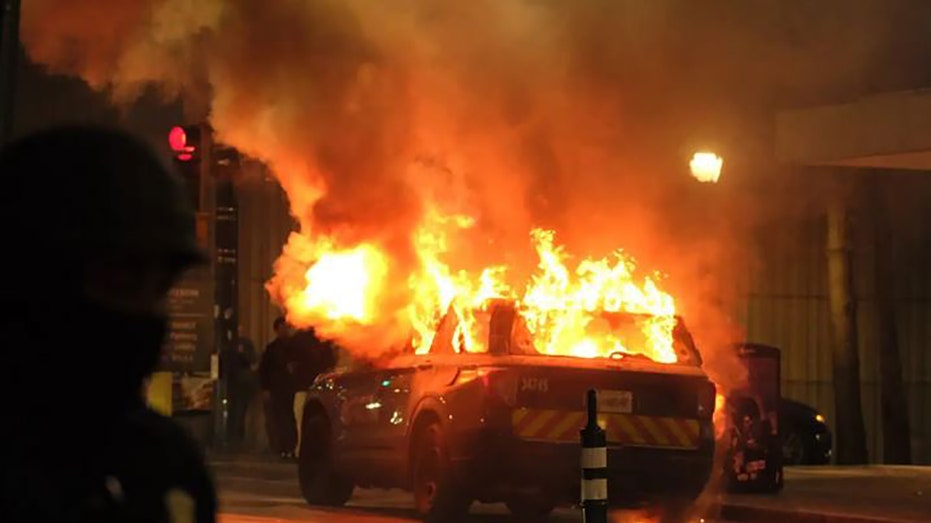 Teran was shot and killed by Georgia State Patrol after authorities said Teran shot and wounded a state trooper who was trying to clear protesters from the construction site of a new public safety training center dubbed by activists as "Cop City."
Kemp said that police "extinguished this uprising very quickly" and that it's been "very peaceful ever since." 
ATLANTA MAYOR REBUKES THOSE CLAIMING ANTI-POLICE RIOTS AREN'T VIOLENT: 'DOMESTIC TERRORISM'
"And I think we send a strong message that, you know, that we're just not going to put up with that here in the state of Georgia," the governor said.
Atlanta police on Sunday identified the six suspects involved in the outbreak of violence. All the suspects face eight misdemeanor and felony charges, including domestic terrorism.
Kemp's office did not immediately respond when FOX Business reached out to inquire who would be responsible for paying for the repairs to the damaged businesses and government property.
The Associated Press contributed to this report.