Businesses across nation board up windows ahead of potential Election Day unrest
DC Metro Police Chief Peter Newsham said Thursday there were no 'credible threats right now of violence'
Businesses and retailers across the country have begun boarding up their storefront windows and taking other security measures in anticipation of potential unrest on or around Election Day as many cities remain on edge following a summer of widespread riots and mayhem.
In Washington D.C., hair salons, restaurants, clothing stores, and banks just blocks away from the White House were covered in plywood Sunday, as business owners prepare for a possible repeat of the violent riots and looting seen over the summer in response to the death of George Floyd in Minneapolis, as well as the decision not to charge officers in connection to the death of Breonna Taylor in Louisville, Ky.
POLICE DECLARE UNLAWFUL ASSEMBLY IN BEVERLY HILLS AFTER TRUMP SUPPORTERS AND COUNTERPROTESTERS CLASH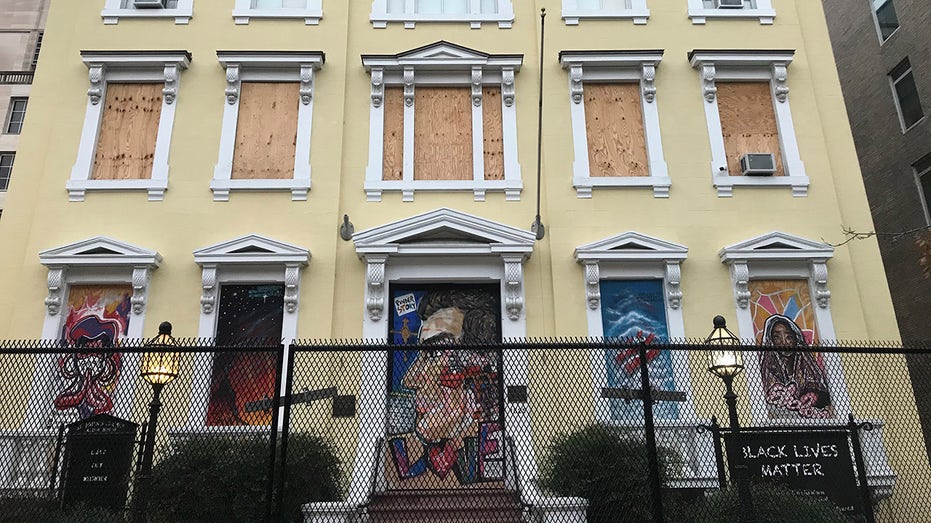 WASHINGTON'S HISTORIC ST. JOHN'S CHURCH DAMAGED BY RIOTERS
One photo showed the first and second-floor windows of one building boarded up and spray painted to include artwork in support of the Black Lives Matter movement. Wells Fargo, Francesca's, CVS Pharmacy and Washington Sports Club were among some of the business with plywood protecting their windows.
AT&T and some other stores Sunday had signs posted to tell potential customers they were still open behind the wooden blockades.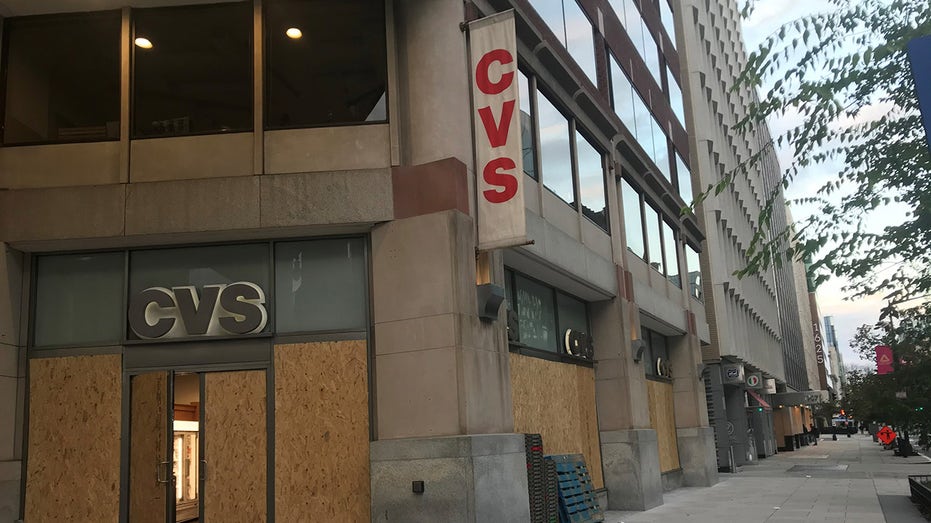 In an email sent to students last week, George Washington University suggested stockpiling frozen meals, medication and other supplies before Nov. 3 to prepare "for the Election Day period as you would for a hurricane or a snowstorm that would prevent you from going outside for several days to grab food or order takeout," according to USA Today.
A representative with the Downtown DC Business Improvement District told the Washingtonian that several prominent businesses plan to close on Election Day or for at least the entire week.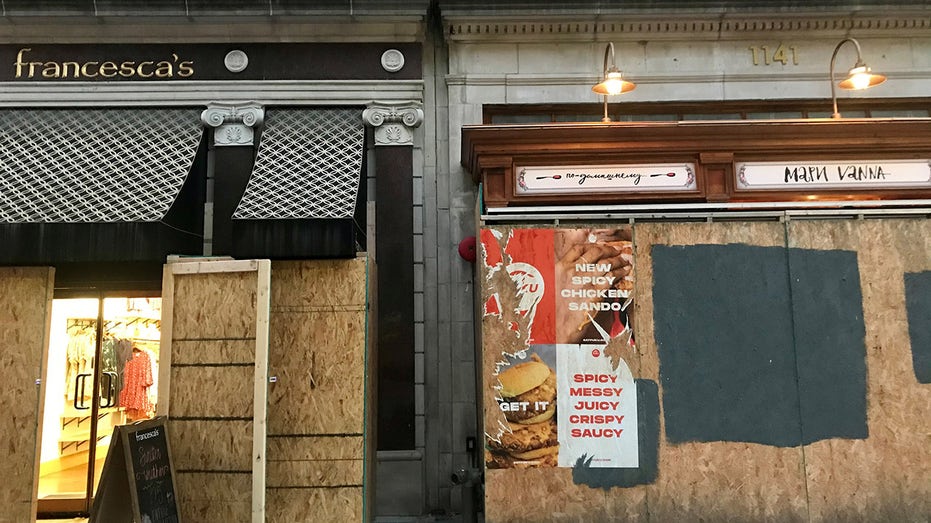 The downtown D.C. office for Fannie Mae, the federal mortgage loan company, will be close all of next week "out of an abundance of caution" of any election-related violence. Additionally, staff for the conservative advocacy group FreedomWorks will not be allowed to enter the office on election night.
PROTESTS TURN VIOLENT OUTSIDE WASHINGTON, D.C. POLICE STATION FOLLOWING DEATH OF 20-YEAR-OLD KARON HYLTON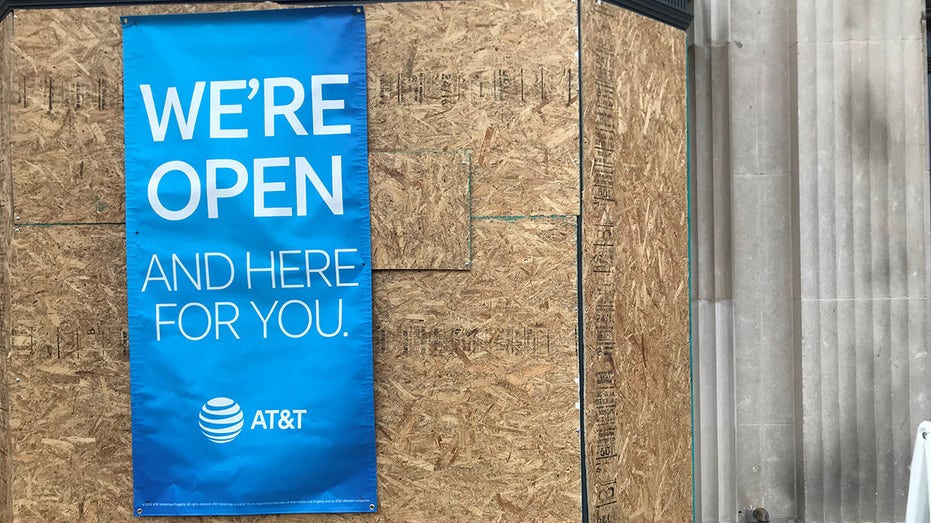 DC Metro Police Chief Peter Newsham said Thursday there were no "credible threats right now of violence," but said a number of groups had applied for permits to conduct large demonstrations and the entire police department would be working on Election Day.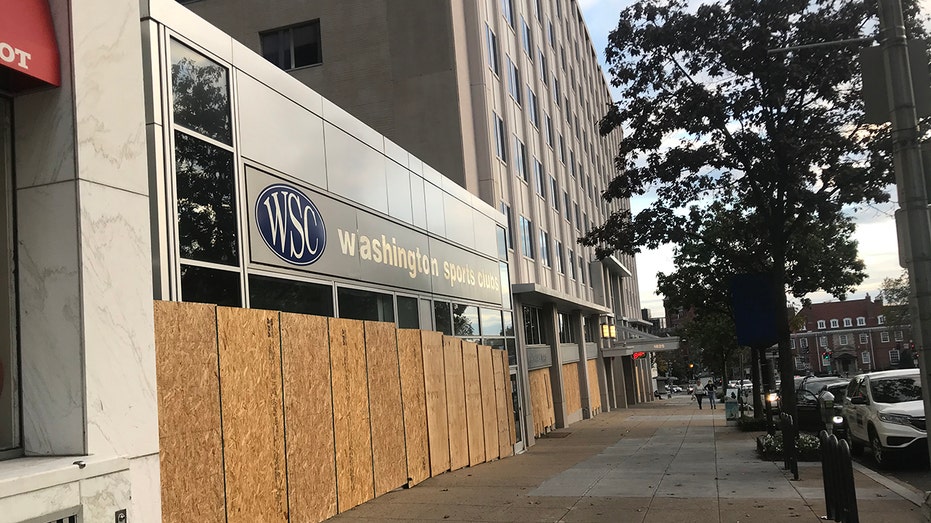 "We ask people if they're going to come, we welcome people to come here to the District of Columbia to exercise their First Amendment rights, but we are not going to tolerate violence or unrest," he said.
In the nation's capital, dozens of overlapping law enforcement agencies control certain landmarks and public spaces.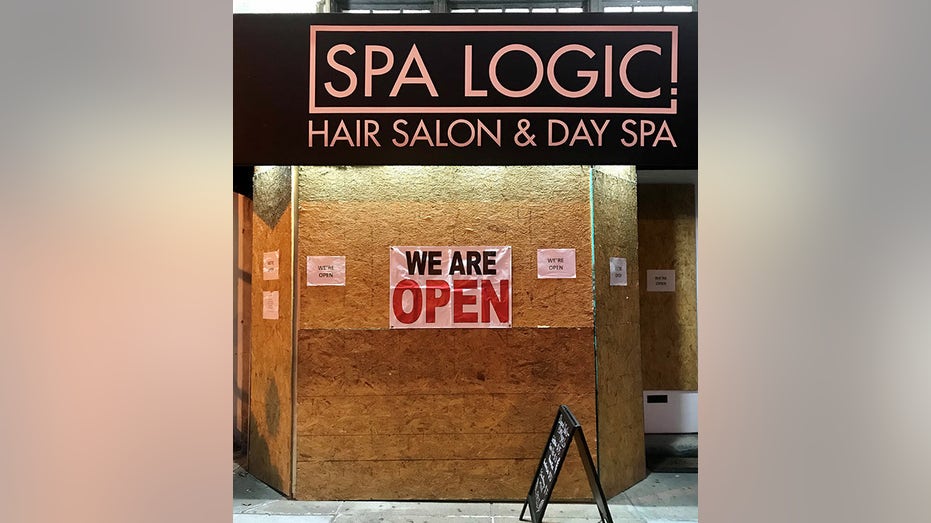 Police officials have restricted which days officers can take off around the election and have spent tens of thousands of dollars on chemical irritants and other less-than-lethal riot-control munitions after much of the agency's stockpile was depleted this summer.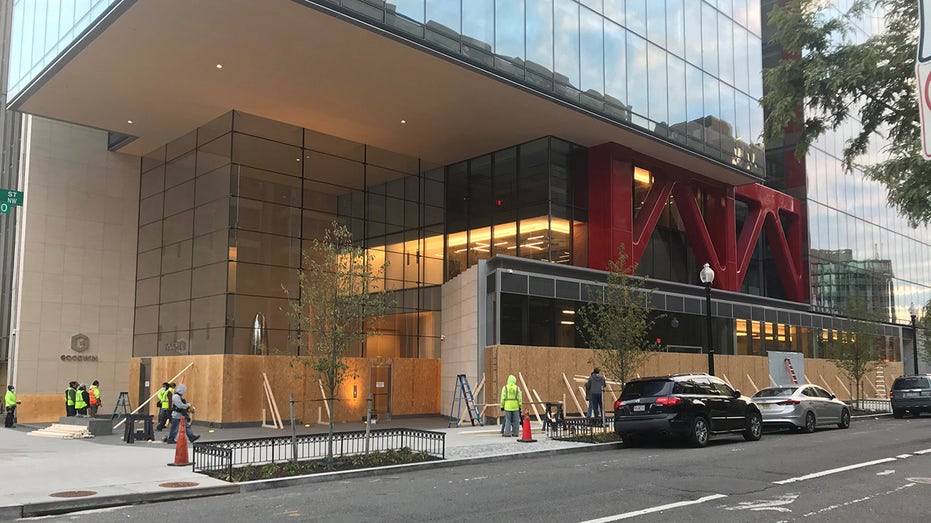 Mayor Muriel Bowser said she had not decided whether to use National Guard troops for election-related violence, though some troops still remain activated amid the coronavirus pandemic.
The precautions come during one of the most contentious presidential elections in recent memory. Clashes between supporters of President Trump and those siding with Joe Biden or Black Lives Matter protesters have repeatedly played out in nationwide demonstrations.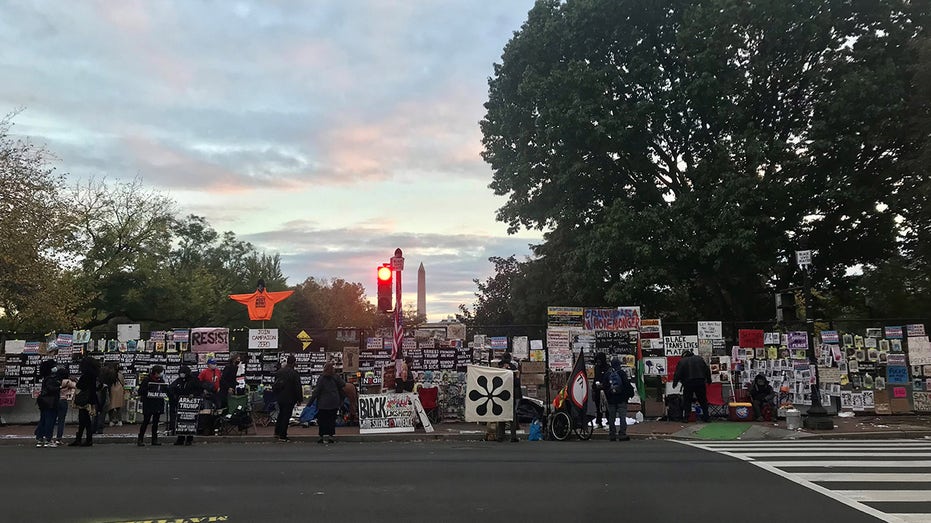 CLICK HERE FOR THE ALL-NEW FOXBUSINESS.COM
In Los Angeles, dozens of downtown businesses have begun securing storefronts following unrest that occurred when the city's Lakers basketball team and Dodgers baseball franchise both won their respective championships in recent weeks.
Celebrations turned into rioting and clashes with police in the downtown area, resulting in vandalism and dozens of arrests.
"We're pretty much going to be doing the same thing as every other business down Broadway. We're going to be boarding and trying to see if we can take any other measurements to ensure that nothing happens," Edwin Juarez, from Jason's Wine and Spirits in the downtown area, told KTTV.
In a statement, the Los Angeles Police Department said it was expecting a peaceful Election Day but that "we are prepared to address any potential violence that may occur on November 3rd or the days following."
Shops on the heavily trafficked corridors of La Brea Avenue and Sunset Boulevard are also securing their operations in anticipation of election turmoil.
Merchants in Santa Monica and Beverly Hills were also taking precautions. Many shops in those areas were looted amid protests over Floyd's death. Beverly Hill's famous Rodeo Drive, home to many luxury boutiques, will be locked down for two days beginning on Election Day.
Workers along New York City's Sixth Avenue and 19th Street were seen with power tools battening down the hatches on the many chain stores in the area. In Manhattan's trendy SOHO neighborhood, high-end storefronts were also boarded up, though some remained open.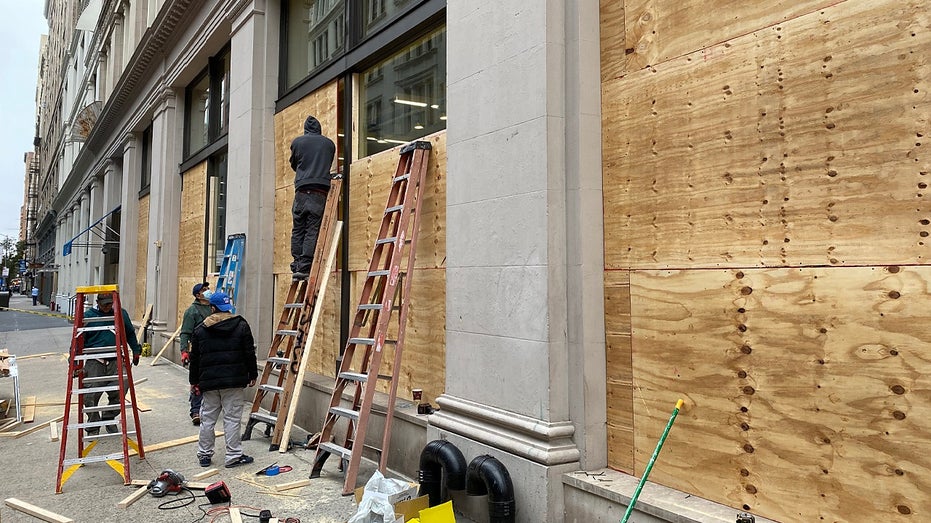 Workers at chain stores in Chelsea were hammering plywood across glass windows in an effort to deter looters.
"No matter who wins, I think there are going to be angry people on both sides," Willy Portacarrero, a manager at a Staples office supply store, told the New York Post. "We intend to be open that day, and hopefully nothing is to happen."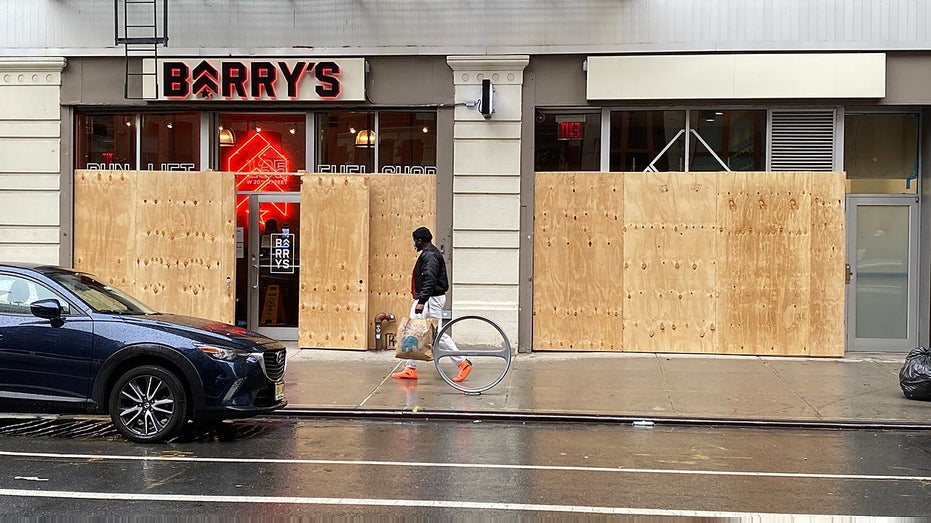 Macy's flagship store in midtown Manhattan, which was looted during the Floyd unrest, was also boarded up. In a letter to businesses, the New York Police Department said it was better prepared to handle protests than it was when demonstrations first took place in May and June, when many cities and law enforcement agencies were caught off-guard.
Multiple department stores are not taking any chances after this summer's unrest. Nordstroms board up around 350 of its stores and hired extra security for Tuesday, the New York Times reported. Messages from Fox News to several retailers, including Target, were not returned.
In a statement to Fox News, Target said its top priority was its customers and staff.
"Like many businesses, we're taking precautionary steps to ensure safety at our stores, including giving our store leaders guidance on how to take care of their teams," the company said. "We'll continue to monitor our communities closely and make decisions accordingly."
A spokesman for CVS Health told Fix News the company was "closely monitoring the situation in our markets, and our local leaders are empowered to take steps that they determine will best support the safety of our stores, employees and customers."
Walmart temporarily removed firearms and ammunition from its sales floors as a safety precaution before walking back the decision last week.
BUSINESSES TORCHED IN ANOTHER NIGHT OF VIOLENT PROTEST ACROSS AMERICA OVER GEORGE FLOYD KILLING
"After civil unrest earlier this week resulted in damage to several of our stores, consistent with actions we took over the summer, we asked stores to move firearms and ammunition from the sales floor to a secure location in the back of the store in an abundance of caution," a company spokesperson said Friday. "As the current incidents have remained geographically isolated, we have made the decision to begin returning these products to the sales floor today."
Stores along Chicago's Michigan Avenue have boarded up, Adam Skaf, a spokesperson for the Magnificent Mile Association, told Fox News. The group, he said, will participate in an auxiliary command center in partnership with the city on Tuesday to communicate to businesses in real-time.
City leaders released a 10-day preparedness plan last week to address its response to any potential unrest, which includes the canceling of all days off for police officers for 10 days beginning Saturday.
Workers at Boston's Prudential Center were spotted putting up plywood on windows. The Massachusetts State Police plans to increase patrols and will be on standby to assist other law enforcement agencies.
In Portland, where violent protests have raged for months, several downtown retailers have hired security personnel to protect their shops in an effort to avoid the property damage and vandalism that have played out almost nightly amid months of protests and riots in the city's downtown.
CLICK HERE TO GET THE FOX NEWS APP
The Portland Police Bureau and Multnomah County Sheriff's Office will increase staffing on Election Day and the days afterward.
"This election season has increased fear and uncertainty for many of our community members," said Police Chief Chuck Lovell. "We want our community to know we are prioritizing public safety by adding resources and collaboration during this important time."
The Associated Press contributed to this report.