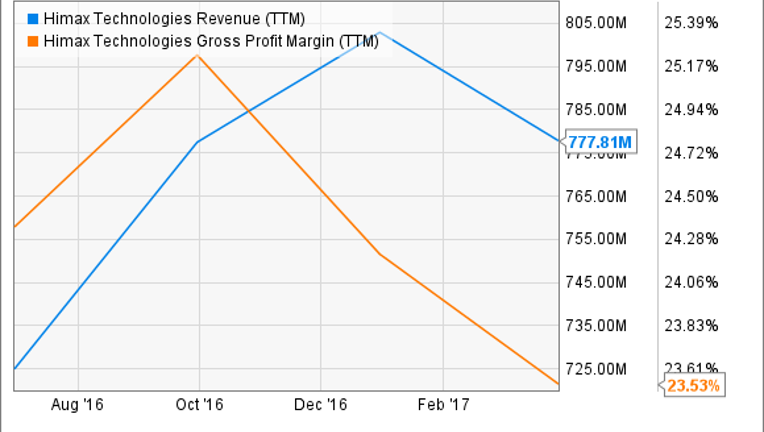 Himax Technologies' (NASDAQ: HIMX)fiscal 2017 first quarter failed to meet Wall Street's revenue and earnings targets, thanks to lower orders from its augmented reality (AR) and smartphone customers. Nevertheless, shares initially jumped more than 12% after the report as the semiconductor and sensor specialisthas potentially landed an important design win with a major smartphone customer.
Why Himax can land a spot at Apple
As it turns out, Himax has received a large order commitment from an unnamed customer for its wafer-level optics (WLO) sensors. Rumors suggest that this could be Appleas the next iPhone is expected to feature 3D sensing technology, so Cupertino could be tapping Himax to supply the 3D scanners.
Image source: Himax Technologies.
Back in March, noted Apple analyst Ming-Chi Kuo predicted that the next iPhone's front camera will come equipped with AR capabilities and advanced facial recognition. What's more, the front camera is also expected to take 3D selfies and scan 3D objects. Morgan Stanley analyst Charlie Chan believes that Himax could become the supplier of choice for Apple given its progress in WLO technology (via Barron's):
Now, Himax has been dropping subtle hints regarding the uptake of its WLO products. Earlier this year, the company pointed out that it will spend between $50 million and $55 million to enhance its WLO and liquid-crystals-on-silicon (LCOS) capacity.
More specifically, Himax had pointed out that the "WLO technology is adopted by our customers to enable new things such as 3D depth scanning," so it was already preparing for a production ramp to meet an anticipated jump in demand. Now, a design win at Apple has probably encouraged Himax to boost investment in this area.
The semiconductor specialist will spend $80 million to build new WLO capacity this year with a major ramp slated to begin in the third quarter. In fact, Himax believes that it will witness "explosive revenue growth" once this technology goes mainstream, and the company is already collaborating with leading OEMs to achieve this goal.
Why a place in the iPhone will be big for Himax
Himax Technologies has struggled to increase revenue in recent quarters, while its margin has also been on the decline as some of its AR customers have decided to scrap current-generation products.
Data by YCharts.
A design win for the next iPhone will bring about a much-needed boost to its financials. Chan believes that 20% of Himax revenue will come from 3D sensing products in 2018.
Consensus estimates placerevenue growth at 14% in fiscal 2018 versus a 6% decline this year. The turnaround makes sense if Apple ends up manufacturingapproximately 100 million units of its next-generation smartphone. That will deliver significant top line gains to Himax, and the adoption of its 3D sensing products will also have a positive effect on the bottom line since they carry higher margins.
10 stocks we like better than Himax TechnologiesWhen investing geniuses David and Tom Gardner have a stock tip, it can pay to listen. After all, the newsletter they have run for over a decade, Motley Fool Stock Advisor, has tripled the market.*
David and Tom just revealed what they believe are the 10 best stocks for investors to buy right now... and Himax Technologies wasn't one of them! That's right -- they think these 10 stocks are even better buys.
Click here to learn about these picks!
*Stock Advisor returns as of May 1, 2017
Harsh Chauhan has no position in any stocks mentioned. The Motley Fool owns shares of and recommends Apple. The Motley Fool recommends Intel. The Motley Fool has a disclosure policy.