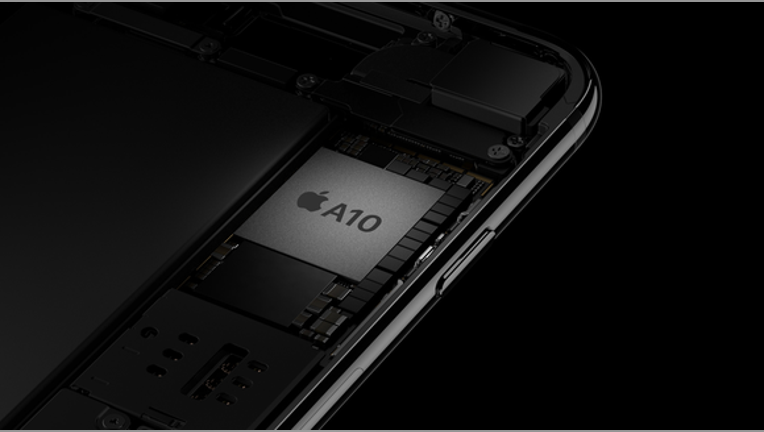 If you've been paying attention to Apple's (NASDAQ: AAPL) increased in-sourcing and vertical integration of core technologies over the past few years, it shouldn't come as a surprise that the Mac maker has decided to drop U.K.-based Imagination Technologies. The British company has been Apple's longtime supplier for graphics technology, which Apple licenses and designs into its A-series of processors. For example, the most recent A10 Fusion chip that powers the iPhone 7 and 7 Plus uses a custom version of Imagination's PowerVR GT7600graphics architecture.
Imagination has just made a devastating announcement that Apple is planning on dropping it within a couple of years.
A10 Fusion chip, which currently uses Imagination's graphics architecture. Image source: Apple.
Imagination's better half
Apple has notified Imagination that it will cease using Imagination's intellectual property within 15 to 24 months, at which point the license and royalty revenue stream will dry up. Apple is Imagination's largest customer -- by far -- comprising half of consolidated revenue.
License fees and royalties from Apple totaled 60.7 million pounds ($75.7 million) in its fiscal year ended April 2016, a hair over half of the 120 million pounds ($149.7 million) in total revenue. For Imagination's fiscal year that ends later this month, it estimates that revenue from Apple will total approximately 65 million pounds ($81.1 million). Ouch.
Getting dropped by Apple has quite literally been Imagination's biggest risk factor for years, and it just happened. It's no surprise, then, that shares are down over 60% today. Apple and Imagination reportedly discussed Apple acquiring the smaller company last year, but Apple decided not to move forward; Apple currently has an 8% stake in Imagination.
Can Apple really get away?
Imagination doesn't quite believe that Apple can avoid using Imagination's intellectual property (IP), though. The company asked for some evidence that Apple will be able to proceed with its own designs without infringing on Imagination's IP, but Apple has opted not to provide it. Imagination says it would be "extremely challenging to design a brand new GPU architecture from basics without infringing [Imagination's] intellectual property rights." Of course, if Apple is subsequently found to be infringing, a legal battle will ensue.
Apple has been working on its own graphics technology for quite some time, and has even been hiring graphics chip engineers in the U.K., further underscoring why today's news should not be all that shocking. Don't be surprised if some of Imagination's engineers go ahead and jump ship to Apple; Apple's corporate office where those positions are located is less than an hour's drive from Imagination's headquarters in northwest London. Let the poaching begin.
Foreshadowing
In addition, consider CFO Luca Maestri's recent explanation for why Apple's R&D spending has risen precipitously in recent years. One important contributing factor has been a strategic focus on bringing more development in-house:
Graphics technology absolutely qualifies as a "fundamental" technology, particularly if you think about how important graphics performance will be for the future of virtual reality (VR) and augmented reality (AR), which Apple is already actively exploring as we speak.
Investors can soon add graphics technology to the long and growing list of crucial ingredients that Apple now develops in-house.
10 stocks we like better than AppleWhen investing geniuses David and Tom Gardner have a stock tip, it can pay to listen. After all, the newsletter they have run for over a decade, Motley Fool Stock Advisor, has tripled the market.*
David and Tom just revealed what they believe are the 10 best stocks for investors to buy right now... and Apple wasn't one of them! That's right -- they think these 10 stocks are even better buys.
Click here to learn about these picks!
*Stock Advisor returns as of April 3, 2017
Evan Niu, CFA owns shares of Apple. The Motley Fool owns shares of and recommends Apple. The Motley Fool has the following options: long January 2018 $90 calls on Apple and short January 2018 $95 calls on Apple. The Motley Fool has a disclosure policy.