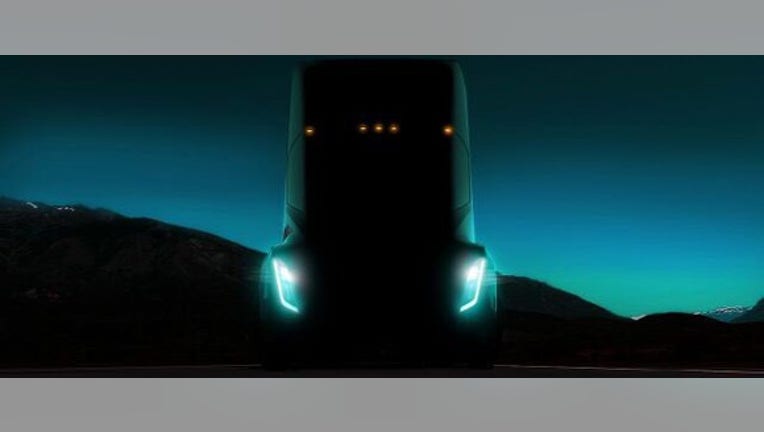 What happened
Shares of electric-car and energy-storage company Tesla (NASDAQ: TSLA) jumped 12.9% in April, according to data from S&P Global Market Intelligence. The gain extends a longer-term upward trend for the stock in recent months, with shares rising about 45% between the beginning of the year and the end of April.
So what
April included a handful of announcements from Tesla that may have helped propel the stock higher.
In the first half of the month, Tesla said it planned to unveil its electric semi in September. And the company even teased an image of the semi later in the month.
Image source: Electrek. Used with permission.
Tesla also announced it would expand its charging network from about 5,400 Superchargers today to over 10,000 Superchargers by the end of 2017, helping build out the necessary infrastructure for its Model 3 launch in July. As its first mass-market priced vehicle, the Model 3 will test the company's charging network.
Of course, Tesla stock's pricey valuation arguably already prices in new products and an aggressive expansion. So, the more concrete theme behind Tesla stock's recent rise may simply be that the company continues to stick to its timeline for its important Model 3, even as the $35,000 vehicle's July launch is now only a few months away. Some investors may have expected Tesla to either delay its launch or lower expectations for the Model 3's production ramp-up.
Now what
What investors should do now is quite clear: Keep an eye on Tesla's Model 3. Given that Tesla expects the vehicle to help take Tesla's annual vehicle production from a run rate today of about 100,000 units to 500,000 units next year, the vehicle's success is crucial to Tesla's business growth.
10 stocks we like better than TeslaWhen investing geniuses David and Tom Gardner have a stock tip, it can pay to listen. After all, the newsletter they have run for over a decade, Motley Fool Stock Advisor, has tripled the market.*
David and Tom just revealed what they believe are the 10 best stocks for investors to buy right now... and Tesla wasn't one of them! That's right -- they think these 10 stocks are even better buys.
Click here to learn about these picks!
*Stock Advisor returns as of May 1, 2017
Daniel Sparks owns shares of Tesla. The Motley Fool owns shares of and recommends Tesla. The Motley Fool has a disclosure policy.