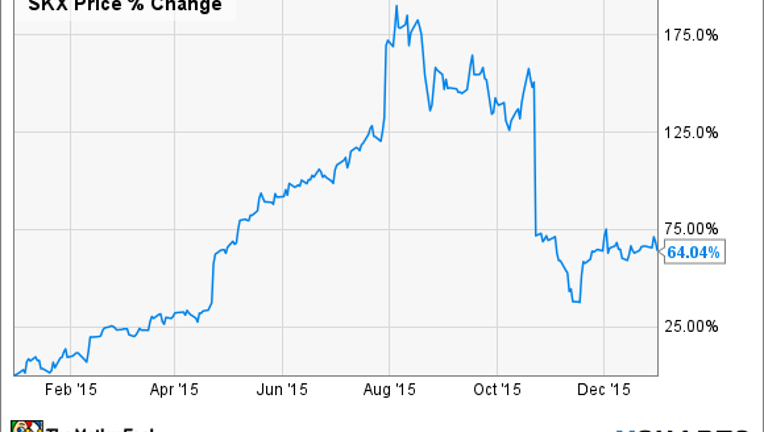 What:Shares ofSkechers sped past the competition last year, jumping 64%, according to data from S&P Capital IQ. The company's attempts to develop its own niche in fashionable casual footwear has paid off, but the stock got ahead of itself in the second half of the year, as the chart below shows.
So what:Sportswear companies were big winners last year, asNikeandUnder Armourboth handily outperformed the market, and Skechers jumped by riding the athleisure trend and by filling a niche in footwear that is often overlooked by other sneaker makers. Until last summer, the stock had steadily risen for nearly four years, but it exploded in the first half of 2015 as the market finally seemed to take notice.
The stock first got a boost in 2015 when it jumped 7% on Feb. 12 after beating revenue estimates in its fourth-quarter 2014 report. Sales had jumped 26.4% in the period to $569.7 million, soaring past analysts' prediction of $542.7 million.
The following earnings report was equally upbeat. The company soared past estimates, posting split-adjusted EPS of $0.37 against estimates of $0.34, while revenue jumped 40%. The stock jumped 15% as a result. Management credited the company's effort to expand its demographic reach with new styles and marketing, targeting tweens and teens, especially with its sponsorship from pop singer Demi Lovato.
The second-quarter report sent the stock even higher as revenue jumped 36% and profits more than doubled, crushing estimates. But after pulling a bit with the market in August, shares crumbled when Skechers' third-quarter report came up short. Its results were still strong as sales grew 27%, but the company missed badly on top and bottom lines, sending the stock down near a third.
Now what:Going into 2016, Skechers seems like a bargain based on its reasonable P/E of 19 and a strong projected growth rate -- analysts are expecting per-share earnings to jump 40%. Though shares have already collapsed once, the stock should bounce back if the shoe company can deliver on those forecasts.
The article Why Skechers U.S.A., Inc. Soared 64% in 2015 originally appeared on Fool.com.
Jeremy Bowman owns shares of Nike. The Motley Fool owns shares of and recommends Nike, Skechers, and Under Armour. Try any of our Foolish newsletter services free for 30 days. We Fools may not all hold the same opinions, but we all believe that considering a diverse range of insights makes us better investors. The Motley Fool has a disclosure policy.
Copyright 1995 - 2016 The Motley Fool, LLC. All rights reserved. The Motley Fool has a disclosure policy.