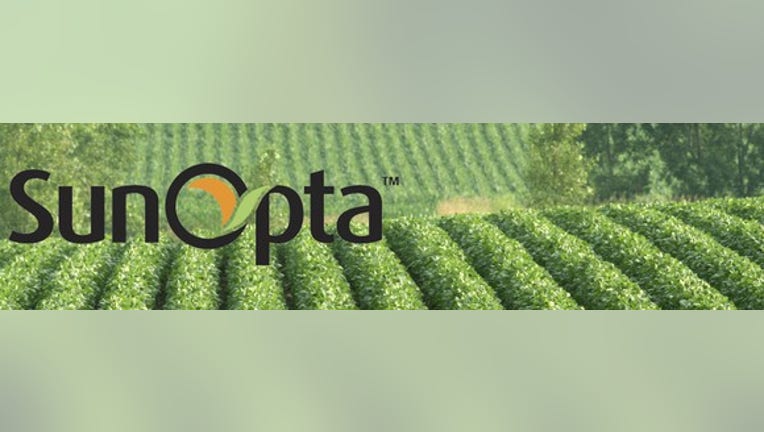 Image source: SunOpta.
What: Shares of natural food company SunOpta surged on Friday following news that Tourbillon Capital Partners, which holds a 9.9% stake in the company, was pushing SunOpta to sell itself. At 3 p.m. EDT the stock was up about 25%.
So what: Shares of SunOpta have tumbled since the beginning of 2015, down about 68% prior to Friday's gain. Tourbillon first disclosed a stake in SunOpta last November, and the company's performance has been lackluster since. During the first quarter, while sales rose 28.6% year over year, the company posted a net loss of nearly $10 million due to a steep decline in gross margin.
In a response to Tourbillon, SunOpta stated that the company would review and evaluate the hedge fund's suggestions. SunOpta also pointed to the progress that the company has made:
Now what: With SunOpta's stock price down so much, the sale of the company may be an attractive option for investors. SunOpta's market capitalization was just $326 million prior to Friday's jump, less than one-third of annual sales. SunOpta's gross margin has been in free fall for the past decade, declining by nearly half since 2006.
As always, buying a stock solely on the hopes of a buyout is rarely a good idea. There's no guarantee that any kind of deal will take place, and Friday's gains may prove to be temporary if a sale doesn't happen.
The article Why Shares of SunOpta Inc. Soared Today originally appeared on Fool.com.
Timothy Green has no position in any stocks mentioned. The Motley Fool has no position in any of the stocks mentioned. Try any of our Foolish newsletter services free for 30 days. We Fools may not all hold the same opinions, but we all believe that considering a diverse range of insights makes us better investors. The Motley Fool has a disclosure policy.
Copyright 1995 - 2016 The Motley Fool, LLC. All rights reserved. The Motley Fool has a disclosure policy.