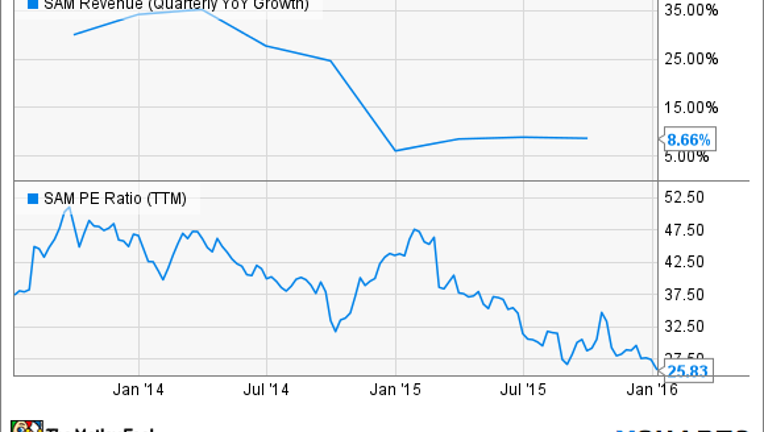 What: Shares of craft beer maker Boston Beer Co Inc dropped in 2015 as the company lost a bit of its growth luster. According to S&P Capital IQ data, the stock dropped a whopping 30.3% last year.
So what: No company has been a pillar of the craft beer boom more than Boston Beer's Sam Adams brand. It didn't start the craft beer industry in the U.S., but it's been the most successful beer of its type. The brand has also driven the company's growth since it was founded. As a result, investors put a premium on Boston Beer stock, one that demanded growth to be justified.
That growth narrative took a blow at the beginning of last year. The stock dropped 10.3% the day fourth quarter 2014 results were announced,as growth fell short of expectations. The results never picked up after that.
SAM Revenue (Quarterly YoY Growth) data by YCharts
The principal reason Boston Beer's stock dropped in 2015 is because its P/E ratio fell from the 40s to the mid-20s. That's what happens when you go from a high growth stock to a single-digit growth stock.
Now what: While 2015 wasn't a good year, I don't see a lot of upside coming in 2016 either. There are no obvious growth drivers, and the craft beer business has brought in more competition than ever before. I don't see that helping Boston Beer's stock. And with a P/E ratio still in the mid-20s I don't see this as a value stock either. If Boston Beer has another bad year in 2015 I may be interested in jumping in, but for now it's still too expensive for my taste.
The article Why Shares of Boston Beer Co Inc Plunged in 2015 originally appeared on Fool.com.
Travis Hoium has no position in any stocks mentioned. The Motley Fool owns shares of and recommends Boston Beer. Try any of our Foolish newsletter services free for 30 days. We Fools may not all hold the same opinions, but we all believe that considering a diverse range of insights makes us better investors. The Motley Fool has a disclosure policy.
Copyright 1995 - 2016 The Motley Fool, LLC. All rights reserved. The Motley Fool has a disclosure policy.