Why Oil Could Make a Major Move Next Week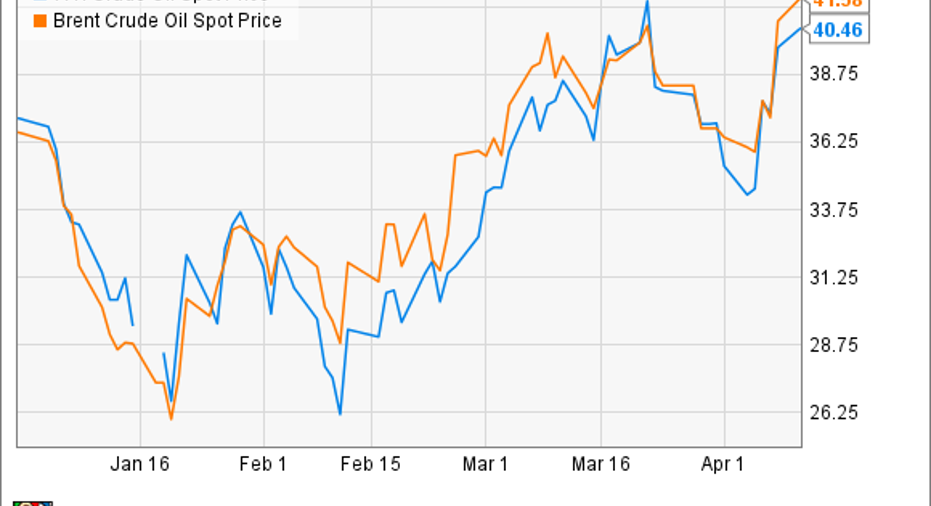 Image source: Flickr user Day Donaldson.
The oil market has been anticipating this moment for more than a year and a half. It's a moment that will finally take place on Sunday in Doha, Qatar, when the leaders of OPEC are expected to sit down with leading non-OPEC producer Russia and try and hash out an agreement to finally do something to at least stabilize the price of oil. The outcome of that meeting could send oil on an epic ride next week, which is really just par for the course in the oil market lately:
WTI Crude Oil Spot Price data by YCharts.
However, if nothing else the outcome of that meeting should provide some more clarity on where oil will head in the future, which is something the market has been pining for since the middle of 2014 when crude began its descent. Here's a look at three possible outcomes of that meeting, and how it will impact oil prices and oil companies.
The base caseInvestment bank Morgan Stanleylaid out the three possible scenarios for the upcoming meeting, including a base case, a bull case, and a bear case. Under its base case, which it estimates has a 70% probability of coming to fruition, OPEC and Russia will agree to a production freeze this weekend. However, they will not put a cap on Iran's production. Furthermore, there would be no real commitment to future action if needed by the market.
This is the scenario that is currently being priced in by the market and is a reason crude has zoomed from a bottom in the mid-$20s to its current price of more than $40 a barrel in the past couple of months. It's that rally in crude that led to an epic short squeeze in oil stocks, with deeply indebted oil and gas companies like Chesapeake Energy and Freeport-McMoRan doubling off their lows.
That said, because this freeze has already been priced in, the upside in crude oil and in oil stocks appears to be fairly limited over the near term. In fact, that's what the International Energy Agency sees, noting that "if there is to be a production freeze, rather than a cut, the impact on physical oil supplies will be limited." That's because it still expects oil stocks to grow by 1.5 million barrels per day for the first six months of the year before slowing to just 200,000 barrels per day in the second half due to the drop in U.S. shale production. As such, the oil market won't be back into balance until the second half of this year, which will likely keep a lid on oil prices. Under this scenario some analysts think oil could fall by as much as $5 per barrel next week, while others are more bullish and see the agreement causing crude to rebound because it will wipe away some uncertainty. That said, both the upside and downside are much more muted under this scenario than the other two possible outcomes.
Image source: Flickr user Anders Sandberg.
The bull caseThe potential outcome with enormous upside is the bull case, which would be if OPEC and Russia not only agree to a production freeze, but also place a cap on Iran's production (even if that cap is higher than its current output). Even better would be a commitment for further action at the June OPEC meeting if action is needed to provide additional support for the oil market. That said, Morgan Stanley only gives a 15% probability to this outcome, so investors shouldn't get their hopes up.
Given its low probability, such an agreement would be viewed very positively by the oil market, likely sending crude oil soaring, potentially topping $50 a barrel. That's because it would send the market a clear signal that OPEC is serious about ending the oil glut and propping up its price. This would be a boon for companies like Chesapeake Energy and Freeport-McMoRan because the ensuing improvement in oil prices would provide an immediate boost to their cash flow.
Freeport-McMoRan, for example, would see a $170 million improvement in its operating cash flow over the course of a year if oil averaged $5 per barrel higher than its base case. So, if oil were to improve to $50 a barrel, it could pour an additional $250 million into Freeport-McMoRan's coffers over the final three quarters of the year than if oil averaged its current $40 a barrel for the balance of the year.
The bear caseUnfortunately, there's just as much potential for disappointment as there is for an upside surprise, according to Morgan Stanley, which gives its bear case a 15% probability. Under that scenario there would be no firm commitment on a production freeze, likely due to an unwillingness from Iran to agree to cap its production, leading to a complete breakdown of the production freeze talks.
If this were to happen, it could cause crude oil to plunge next week amid concerns that OPEC and Russia will renew their market share battles. It's possible that oil could even quickly retest its 2016 lows, especially considering that there's still a glut of it in storage and the oversupply isn't going to improve until the second half of this year when shale production really starts to fall off. Such a downward move could cause a crescendo of events in the oil patch, potentially leading to a rash of bankruptcy filings. That said, bankruptcy is not something Chesapeake Energy has to worry about this year after its banks gave it some much-needed breathing room.However, it will make it much harder for the company to address its looming debt maturities as well as sell assets at decent prices. Suffice it to say, this is not the outcome energy investors want to see.
Investor takeawayInvestors can pretty much bank on oil making a big move next week. Even if an agreement is reached, it could send crude up or down by as much as $5 a barrel depending on how much the market had priced in that outcome. That said, there's potential for even bigger upside or downside if the outcome of the meeting isn't what the market is currently expecting, suggesting that next week could be a wild one for the oil market.
The article Why Oil Could Make a Major Move Next Week originally appeared on Fool.com.
Matt DiLallo has no position in any stocks mentioned. The Motley Fool owns shares of Freeport-McMoRan Copper & Gold,. Try any of our Foolish newsletter services free for 30 days. We Fools may not all hold the same opinions, but we all believe that considering a diverse range of insights makes us better investors. The Motley Fool has a disclosure policy.
Copyright 1995 - 2016 The Motley Fool, LLC. All rights reserved. The Motley Fool has a disclosure policy.